By Pat Harty
IOWA CITY, Iowa – Izaya Fullard finally is healthy again and playing a key role for the surging Iowa baseball team.
He also recently played a game with his mother watching from the stands.
So, life is starting to feel normal again after a brutal and scary two-month stretch in which Fullard's mother was diagnosed with cancer.
Fullard already was sad and frustrated from having to deal with what ultimately proved to be a broken left hand that required surgery in February, and that caused him to miss most of the nonconference part of the schedule.
But to hear that you mother has cancer makes everything else seem almost irrelevant.
"Especially with what I've been going through right now, she's helped me a lot," Fullard said Friday before practice. "There were times where I was like, why is this happening to me?' What did I do? I just want to be playing. And she'd always text me every single day, even when she was in the hospital, saying stay positive. Things are going to work out.
"For her to be able to do that for me, it just showed me that what I'm going through is nothing compared to what she's battling right now. It really put things in perspective."
Fullard's mother, Reiko Fullard, appears to be winning the battle right now as she was released from the hospital about one month ago after having spent nearly one month in the hospital being treated for a form of Leukemia.
She still is receiving chemotherapy, but her progress has been encouraging, and puts a smile on her son's face.
"She is doing good," Izaya Fullard said. "It's just been great to see her at home and a lot happier being in her own bed and being able to do the things she wants to do."
A blessing in disguise
Izaya Fullard considers his mother lucky in one respect in how she learned she had cancer.
She was playing with the family dog, a mini golden doodle named Scout, when the dog scratched her.
But instead of healing, a bruise formed around the scratch.
Reiko Fullard, who had shown no symptoms, then went to the hospital and was told she had cancer.
"It was kind of a blessing in disguise," Izaya Fullard said. "I remember when I got that call, I just broke down. I didn't know how to react. She called me and texted me and let me know what was happening. I was just overwhelmed with emotion. I didn't know how to react."
Izaya Fullard will forever be grateful to Scout for helping to uncover what was happening to Izaya's mother from a health standpoint.
"I love him," Fullard said. "He honestly might have saved my mom's life.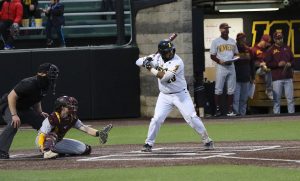 "She may have not known. She probably would have been traveling and coming to my games, and who knows what could have happened. So, it's really a blessing."
The support from family and friends has also been a blessing for Izaya Fullard, and for his mother and father.
That covers a large group of people, including Reiko Fullard's older sister, Yoko Ono.
Yes, that Yoko Ono, wife of Beatles legend John Lennon.
"Her whole family has been supportive," Izaya Fullard said. "My aunt, uncles, they've all been super supportive. Anything she has needed, they've all helped out and reached out."
Izaya said his mother speaks on a somewhat regular basis with Yoko Ono, who lives in New York City, but his mother speaks even more to Yoko and John Lennon's son, Sean Lennon.
"They talk a good amount," Izaya Fullard said. "Sean has kind of been there for her."
Izaya Fullard's baseball family has also played a key role in helping him, and his mother, deal with the emotional pain and suffering.
"I have some of the best teammates ever," Izaya Fullard said. "The coaches are great. They're always supportive. If I ever need to talk to anybody, they're always there for me, and the same with my teammates. They've really helped me a lot during this time."
Izaya Fullard helped Iowa win its Big Ten opening series at Michigan this past weekend, and just having his presence on the field provided an emotional boost.
"It's just a really good thing for the team to see and have Izaya back out there," said Iowa head coach Rick Heller said. "First of all, he's done a real good job in the dugout, and in the clubhouse with the guys as far as supporting them and giving advice and talking to the hitters and trying to get them to get their minds right.
"And you could just feel the happiness from the team when he was out there last week against Michigan."
It'll be the same when Iowa faces Illinois this weekend in a three-game series, beginning with a doubleheader on Saturday at Duane Banks Field.
Because from a baseball standpoint, Izaya Fullard gives Iowa a potent designated hitter who also can play first, second or third base.
He made third-team All-Big Ten last season after hitting .296 with nine doubles and 21 RBI.
"It just feels good to know that you've got a guy out there that they really have to pay attention to that's a threat and that once he gets going is going to be a big part of our offense," Heller said. "If we can get things going and make a run this season, he's going to be a big part of it."
Heller has a built a culture at Iowa in which the players function almost like a family.
"It was really tough on Izaya and the close-knit team that we have I think everybody tried their best to give Izaya as much support as they possibly could," Heller said. "And hopefully, it did some good."
Izaya Fullard's hand injury had lingered since last fall. He took some time off here and there as he describes it and that helped to lessen the pain.
But the pain never completely went away, so he took some anti-inflammatories, and that helped to a point.
Until Izaya tried to start hitting again this winter.
He couldn't even make a fist, and after thinking at first that it was a torn tendon, Izaya learned that his hand was broken and that he would need surgery.
"I knew if I just gave it time that things were going to happen the way they're supposed to," Fullard said. "There was a point a few weeks ago where I was getting pretty concerned. I thought, why isn't this getting better? Am I doing something wrong?
"But I think it was really just giving it time and let it heal."
McCaffery family offers support
After word spread that his mother had been diagnosed with cancer, Izaya Fullard said he heard from countless friends, including Iowa men's basketball coach Fran McCaffery, from Fran's wife, Margaret McCaffery, and from the McCafferys two oldest sons, Connor and Patrick.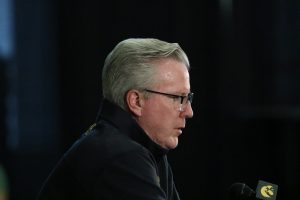 Izaya grew up with Connor McCaffery and Patrick McCaffery, and all three were members of the Iowa City West basketball team.
Izaya and Connor also played high school baseball together, and they were baseball teammates at Iowa until Connor McCaffery decided to focus solely on basketball this past season.
Connor, a 6-foot-5 guard, and Patrick McCaffery, a 6-9 forward, both are key players for their father's team at Iowa.
The McCaffery family has been impacted by cancer with both of Fran McCaffery's parents having died from cancer, and with Patrick McCaffery having had a malignant tumor removed from his thyroid in 2014.
Fran and Margaret have made it their life's mission to help spread awareness and raise money to fight cancer.
"Connor texted me and told me that I've got his support and that he loves me, and that anything I need he'd be there for me, the same with Patrick, Margaret, Fran, they all reached out to me," Izaya Fullard said. "They've been extremely helpful with my mom, and they've been helping out my dad and things like that. They've really made this a lot easier."
Fullard's father is former Iowa basketball player Kenny Fullard. He and Fran as parents used to watch a lot of West High sporting events together, and with that a friendship was formed.
Izaya said his mother reached out to Fran and Margaret McCaffery shortly after being told she had cancer because she wanted them to know.
"They were one of the first people that my mom told, honestly, because they know about it more than anyone and they've been such a huge help for us," Izaya Fullard said.
The past two months have shown Izaya Fullard just how unpredictable and painful life can be.
He has experienced the lowest of lows, but he also has persevered from watching his mother persevere with the help of family, friends and top-notch medical care.
His baseball family also has persevered on the field, winning eight of its last 11 games after a difficult stretch.
"It's awesome," Izaya Fullard said. "We had a lot of excitement coming into the season, and we started off really good and then we hit a rough patch, which every team does, especially with this many new guys.
"And I really think it just goes back to our captains and the coaches and what they said, just sticking with it and our approach. Don't try to do too much. It's a long season. Things are going to happen. You kind of just have to ride the waves, good or bad."
https://t.co/hyhOj7ZnpL My mother means the world to me and she is the strongest person I've ever met. Please keep her in your prayers! The support my family has received already means so much❤️ #CancerSucks

— Izaya Fullard (@IzayaFullard23) February 8, 2022