By Pat Harty
IOWA CITY, Iowa – In the wake of Sunday's 9-5 loss to Illinois in which his bullpen unraveled, it probably wouldn't be an exaggeration to say that Iowa coach Rick Heller is desperately looking for a closer.
Iowa still has six Big Ten series to play, but the fact that Iowa's best closer, Dylan Nedved, is now the Friday starter has put Heller in a difficult situation as he tries to figure out his bullpen.
Nedved finished second in the Big Ten last season with nine saves.
He was switched to a starter this season after Connor Schultz was injured.
"We've got to figure something out," Heller said. "When Nedved had to go into the starting role when Schultz went down, we didn't have another closer. I mean he's our closer. And if he's not starting, we're probably not talking about this.
"We felt like there were guys who are capable on the staff. And you've had a chance to see those guys, and they, unfortunately, haven't got the job done. But that's why I was so hesitant to bring Dylan into that starting role. When you've got a gut that's a bonafide, lights-out closer, and that's where you want him because then you don't have to deal with this."
While Nedved has excelled as a starter the bullpen has been wildly inconsistent, causing Iowa to losing the final two games of the series against Illinois.
Iowa allowed seven walks in Sunday's loss, including five by the bullpen, and four in the ninth inning when Illinois scored five runs on just one hit.
"Extremely stressful," Heller said when asked how hard it is to manage a bullpen in a close game. "Because if you think about it, you're going matchups at that point. You've got to have a quick trigger when going to the pen. And that isn't always the best thing for the pitcher. He doesn't get a chance to work out of it.
"But late in the game, there is no time. You've either got to get it done or you don't, and you try to get the next best matchup when you don't have that one guy that you're going to go to versus a right or left."
It wasn't just that his bullpen struggled that upset Heller, it's how it struggled by falling behind hitters and allowing free bases.
"I'll tip my hat if they get three singles and score or a double and two singles," Heller said. "If they hit us, I can live with that.
"It's just really hard to go home and stomach five runs on one hit in the top of the ninth inning. That's just unacceptable."
Iowa was flying high after winning two of three games at Michigan last weekend to open Big Ten play.
Iowa also defeated Bradley last Wednesday in 13 innings and won the first game of the doubleheader against Illinois on Saturday, but then lost the final two games of the series.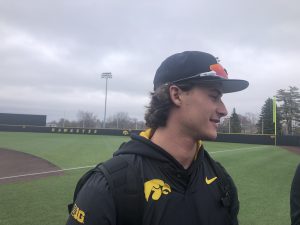 Heller indicated that he might consider using heralded freshman Brody Brecht as a closer. Brecht has a fastball that has consistently been clocked at around 100 miles per out, but he also has struggled to throw strikes.
"Brody's kind of trending that way," Heller said. "It would be great to be able to throw him out there and know that he's going to pound the strike zone and do a good job with the running game and field his position and all those things that a closer has to do. And at least to this point, that would be outstanding if we could get him to that point."
Junior Duncan Davitt has shown some flashes in relief this season, including on Sunday when he didn't allow a run over 1 2/3 innings after having replaced Langenberg in the sixth.
"I'd prefer two (closers), but it's a lot easier when you have the mainstay that you know the lights then everybody can then kind of accept their role that I've got to get one a weekend and Dylan is going to get two," Heller said. "We just haven't really been able to establish that setup guy.
"We were kind of getting there. Duncan Davitt has shown flashes of been really, really good. But we just don't have that one guy thought now that you can say here's the ball and the game's over. Any time you don't have that , or any team that I've ever been a part of in my career that didn't have that, you end up in situations like today until that gets established."
Iowa was leading 2-0 after five innings behind the pitching of starter Ty Langenberg.
However, he encountered problems in the sixth as Illinois scored three runs.
Heller then went to his bullpen, and the situation would only get worse for Iowa after Davitt left the game.
The Hawkeyes scored two runs in the bottom of the seventh to pull even at 4-4, but it just wasn't meant to be.
"I thought going into the sixth it was one of those days where maybe he was going to go a complete game because he was sharp enough early on a day when the wind is blowing out like it was," Heller said of Langenberg. "I thought he was doing a great job, but boom, a couple extra base hits got his count up a little bit and he wasn't as sharp.
"How we fought back and tied it, it just looked like one of those days where we were going to have a chance to win it in the bottom of the ninth and feel good walking off and call it a tough, hard-fought weekend where we won the series. But unfortunately, we took a big step back with our bullpen."
Iowa (16-12) will play at Milwaukee in its next game on Tuesday before returning home to face Minnesota in a three-game series, beginning next Friday.