By Pat Harty
IOWA CITY, Iowa – The Iowa football team is so fortunate to have Tory Taylor as its punter, but not just because of his performance on the field.
Iowa's best punter since the legendary Reggie Roby is so much more than just a punter, and he proudly told the media that on Tuesday.
Taylor was among a handful of Iowa players that met with the media on Tuesday to give an update on spring practice.
And like always, the Melbourne, Australia native didn't disappoint.
He was funny.
He was informative.
He was patient.
And he was spot-on with his message about what truly matters in life.
Taylor said over and over to the media that his No. 1 goal is to be a better person than a better football player.
He wasn't trying to minimize the importance of playing college football, because it's obviously important to Taylor or he wouldn't have traveled nearly 10,000 miles from his home in Australia during a global pandemic to be a Hawkeye.
Football is helping to change the course of Taylor's life.
But it never will define him as a person because as Taylor points out, football is just a game.
That could be why the Iowa coaches have encouraged the 24-year old Taylor to be a team leader, because besides being the oldest player on the team, he lives his life with integrity, with compassion and with the right purpose.
"It's kind of funny because the coaches will be saying I know you don't really want to, but sometimes, you just don't really have a choice, which I kind of take as a compliment because it means that guys kind of look up to me, which I think makes me feel good about myself," Taylor said of being a leader. "But I think the big thing for me from a relationship standpoint is just being able to help guys that need it mostly off the field. I can help them as much as I can on the field.
"But like I said and wish the Iowa fans would probably understand this a bit more that it's better to be a better person than a football player. So, I'll always judge people on what they are as a person and never as a football player because it's two or three hours on a Saturday. And the way I see it, I'm only going to be a football player for so long. But I'm going to be my own individual until I'm dead. So, I just want to be a good person instead of a good football player, and that's why I'm thinking of trying to tell the other guys that football is only for so long."
Taylor will turn 25 years old on July 10.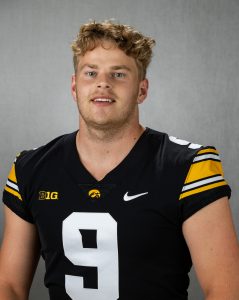 To help put that in perspective, former Iowa defensive back Amani Hooker, who is preparing for his fourth season in the NFL, will turn 24 on June 14.
"I think I would have been a senior in high school when some them were in grade six or grade seven, which is kind of crazy to think about," Taylor said of some of his Iowa teammates. "But it does probably just come from an age thing."
Taylor is part of a growing trend in which more and more college football teams are recruiting punters from Australia where kids learn to kick with power and with accuracy at a young age as part of playing Australian rules football.
Much of what they learn in Australia is easily transferrable to punting in college football.
Taylor never had experienced, or even watched, the kind of football that's played in the United States until he made his Hawkeye debut at Purdue in 2020.
He would go on to become the Big Ten's Punter of the Year as a freshman that season, and then he averaged 46.1 yards on a Big Ten-leading 80 punts this past season.
So, from a football standpoint, the decision to send Iowa special teams coordinator LeVar Woods to Australia to recruit Taylor has to be one of Kirk Ferentz's best decisions as the Iowa head coach.
But again, Iowa got more than just a star punter.
Taylor was talking to the media about being a leader when a reporter praised him for having an infectious personality, and for going out if his way to be nice to people.
"It's really not that hard to be nice," Taylor said. "Sometimes, people find it harder than others. But that's just how I am and that's not just me saying it to the camera. I think I'm pretty easy going. I don't really take too much seriously just because I feel life's too short. There is no point in worrying about it."
Taylor also had a message for the Iowa fans.
While he loves the loyalty and the emotional commitment shown by Hawkeye fans, he doesn't understand why some fans get so upset and accusatory after losses.
"What frustrates me is we're the ones putting in the work, we're the one wanting to win more than the other people," Taylor said. "We're the ones that started this back in January. We're not the ones sitting at home and drinking a beer and eating a hot dog on the couch like most of them.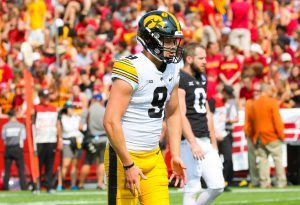 "We want to win more than anyone else. And I think that's one thing that people don't quite grasp. The losses hurt as much as anything because were the ones that are putting in the work."
Taylor deals with the critics and the trolls on social media by not dealing with them.
"A lot of the time I haven't even met any of these people," he said. "And that's one thing I try to tell others, if they're not your friend or your family, I really wouldn't be too worried about what they say.
"Sometimes, I just want to be like, why don't you come do it. It's not as easy as people think."
Taylor has shared that advice with Iowa quarterback Spencer Petras, who has faced criticism as the starter over the past two seasons.
Petras talked after the Citrus Bowl about how the criticism has bothered his parents, and especially his mother.
"He can take it on the chin, it might be a little bit different for his mother," Taylor said. "People say those things, not that I've had too many hateful tweets or anything like that. But that's one thing I always just say to mom, 'can you just stay off social media because it doesn't help anything.
"And Spencer is really good about that, and I have spoken to Spencer about it, and he says, "I don't really worry about it.' But I think it would upset his mom, although, she might not say it."
Taylor's popularity can be measured by how many "Punting is Winning" t-shirts that Iowa fans now seem to wear on a regular basis.
He came up with the idea for a t-shirt as a way to raise money through his name, image and likeness.
Taylor helped to raise $11,000 and all the proceeds were donated to a non-profit called Count the Kids, whose mission is to help save premature babies.
Taylor came up with the idea as a way to pay tribute to Savvy Ferentz, the daughter of Iowa offensive coordinator Brian Ferentz and his wife Nikki, who passed away at 21 weeks.
It was just another example of Taylor practicing what he preaches about being a better person.
He's one heck of a football player, one of the best punters in college football.
But Tory Taylor the person is even more impressive.