By Pat Harty
IOWA CITY, Iowa – Iowa forward Kris Murray has decided to test the NBA draft process, while Iowa forward Patrick McCaffery has decided not to.
Both of them made the right decision because they did what they feel is in their best interest at this stage in their college career.
Kris Murray apparently wants to see how he stacks up in the opinion of NBA scouts, and if he likes what he hears and believes that he will be selected in the two-round draft, he probably would join his twin brother Keegan Murray and stay in the draft.
It seems highly unlikely that the 6-foot-8 Kris Murray would be selected in the first round where the money is guaranteed, but you never say never because all it takes is one team to like you.
But even if he learns that he won't be drafted in either round, testing the process will allow Kris Murray to know exactly where he stands and what he has to work on in college.
We're talking about a silky-smooth combo forward who scored 29 points and grabbed 11 rebounds in a win over Indiana this past season,
In that game, Kris Murray looked like a future NBA player, and was Iowa's best player, even better than his twin brother, who is considered a potential lottery pick as a third-year sophomore.
"My focus is being able to grow as a player in every way possible," Kris Murray said.
This experience will allow Kris Murray to do just that, grow as a player, but without severing ties with Iowa.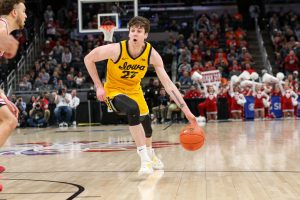 Patrick McCaffery, meanwhile, certainly has NBA potential as a 6-9 forward, but he also has to get stronger and gain a few more pounds before thinking about playing at the next level.
It would have done no harm to test the draft process, but Patrick chose not to and there is no harm in that, either.
Patrick McCaffery is the son of Iowa head coach Fran McCaffery, so it's reasonable to assume that Patrick has access to plenty of information to know where he stands without having to test the draft process.
Patrick also had a malignant tumor removed from his thyroid in 2014, and his body still sometimes shows the effects.
But assuming Kris Murray returns to Iowa next season, he and Patrick McCaffery probably would be the top two scorers on the team as fourth-year juniors.
And if they both play well next season and lift their games to another level, their NBA stock would almost certainly rise.
Former Iowa players Luka Garza and Joe Wieskamp both tested the draft process before returning to Iowa, and now they're both playing in the NBA with the Detroit Pistons and San Antonio Spurs, respectively.
It would've been a mistake for Kris Murray to declare for the draft without maintaining his college eligibility because the risk of him not being selected in the first round is just too high.
At this point, Kris Murray might be a longshot to be taken in the second round.
But it doesn't matter because he has maintained his college eligibility.
He is simply trying out for the draft without jeopardizing anything.
Kris might not like what he hears, but perhaps that would serve as motivation.
As strange as it might seem, Kris Murray and his twin brother at the age of 21 are considered old by NBA draft standards.
But that still isn't reason to be in a hurry and risk making the wrong decision.
It would've made no sense for Keegan Murray to have maintained his college eligibility because he is considered a lock to be taken in the first round after having earned consensus All-America honors this past season.
Kris Murray, on the other hand, isn't considered a lock to be selected in the draft, so that's why the Cedar Rapids native is leaving open the option of returning to Iowa.
It's really a win-win situation for Kris.
He gets to learn where he stands as an NBA prospect, while still having the option of returning to Iowa where his father played basketball in the 1990s and where Kris and Keegan both dreamed of playing since they were old enough to dribble.
https://twitter.com/KrisMurray24/status/1514657607901929474?s=20&t=Xspt5gSzRojV7Nd5GMs_Mw