By Hawkeyesports.com
LINCOLN, Neb. – Redshirt sophomore Adam Mazur was dominant, tossing a two-hit complete game shutout to lead the University of Iowa baseball team to a 1-0 series-opening victory at Nebraska on Friday afternoon at Hawks Field at Haymarket Park.
The win moves the Hawkeyes' record to 25-13 overall, 9-4 in Big Ten play. It is the team's sixth straight series opening victory dating back to March 25 against Central Michigan.
"Adam was the story, he was light's out, in total command," said Iowa head coach Rick Heller. "You don't see many 1-0 complete game, two-hit shutouts in college baseball anymore. It was a special performance by Adam."
Mazur pitched his way out of self-induced trouble – two walks and a hit by pitch – in the third before striking out Griffin Everitt on three pitches to end the inning. Nebraska didn't tally its first hit until a leadoff single in the fifth and the only other traffic was a two-out single in the seventh.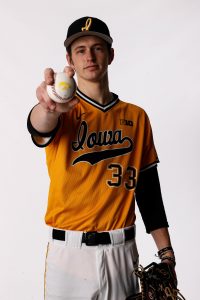 "I felt like I had good control of all four pitches today and I was locating well," said Mazur. "I was getting ahead, throwing a lot of strikes and trusting my defense. They made a lot of great plays; I couldn't have asked for anything better, they were perfect."
Mazur retired the final seven Huskers in order and 18 of the final 20 batters he faced to notch his fifth win and his first career complete game shutout. The Minnesota native needed just 102 pitches (73 for strikes) to record Iowa's first complete game shutout since Tyler Peyton in 2016 (at Penn State, W, 8-0).
"(Pitching coach) Robin (Lund) came over and he told me I was at this many pitches (after the eighth) and I was like, 'I am going out for the ninth,'" said Mazur. "(Robin) told me to stay locked in, lock back in and go fill the zone and keep throwing strikes.
"It was nice to gain a little more trust and keep stacking good starts and go out and give my team the best chance to win."
Over his last three starts, Mazur is 3-0 with a 0.72 ERA, going at least eight innings in all three starts. He has allowed four runs (two earned) on 14 hits and has 28 strikeouts to two walks.
Iowa's offense had traffic in the first and third innings, getting two base runners on in both frames. The Hawkeyes got on the scoreboard in the fourth when redshirt senior Izaya Fullard hit a full-count pitch to right field for a solo home run. It was Fullard's second straight Friday homer.
"When he hit, I thought he hit it well, but it was probably going to be a fly out," said Heller. "It kept going. Their park sits down, it has been dug out. I think it stayed low enough that the wind didn't affect it as much like it did with the balls that were getting up quick. It had enough carry to get out and today it was enough."
It was all the Hawkeyes would need to tag Nebraska's Shay Schanaman (2-7) with the loss. The right-hander was strong, scattering six hits over seven innings, while fanning eight.
QUOTING COACH HELLER
"It was a great pitcher's duel. Mazur was tremendous for us, and Schanaman did a nice job for Nebraska. It was one of those days where runs were going to be at a premium with how the wind was blowing.
"(Adam) has been consistent. We knew all along his hip was bothering him (after getting drilled by a line drive in the start against Wichita State in Frisco) and he was toughing it out for us. You see the results when he is healthy, that's for sure."
OF NOTE
– The shutout is Iowa's third of the season. The Hawkeyes also shut out Bucknell (3-0) and Cornell College (8-0) this season.
– It is the team's seventh game this season allowing three or fewer hits, the seventh allowing one or fewer runs and the 16th game allowing two or fewer runs.
– Iowa didn't commit an error for the seventh time in its last eight games.
– Redshirt freshman Keaton Anthony and redshirt sophomore Peyton Williams had four of Iowa's seven hits. They are their 16th and 15th multi-hit games this season.
UP NEXT
Game two of the three-game weekend series is set to begin at 2:02 p.m. (CT) on Saturday.