By Pat Harty
IOWA CITY, Iowa – Testimonials, of course, mean something.
When Iowa defensive back Kaevon Merriweather says the culture within the Iowa football program has changed for the better since the racial unrest from the summer of 2020, which he has said multiple times to the media, that carries a lot of weight.
It shows that progress has been made since multiple former Iowa black players accused the program of racial disparities in June 2020.
Merriweather, who is black, has been very outspoken about the positive changes that have occurred with race relations, as have other black players on the team.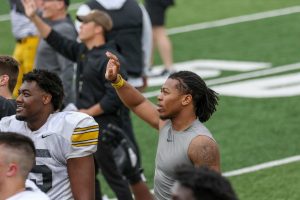 But even their words only go so far when facing skepticism.
The best way to show that Iowa's culture is improving is with actions and activity, or in Iowa's case, a lack of activity.
Monday marked the deadline for student-athletes to enter the transfer portal and still be eligible to compete next season.
And as of late Monday afternoon, the Iowa football team had only lost five players to the transfer portal, and that ranks as one of the lowest totals in the Big Ten, and in the country.
The five players are receivers Tyrone Tracy Jr., Quavon Matthews and Desmond Hutson, tight end Josiah Maimen and quarterback Deuce Hogan.
And though four of the five players are black, none of the four black players have said publicly that their reasons for leaving had anything to do with race.
Each case seems to be more about playing time, considering Tracy was the only one among the five who started games at Iowa.
Tracy also has been outspoken about how the culture has improved within the football program, saying it feels more like a home with warmth and togetherness than a house, which is simply a structure.
But Tracy fell behind Keagan Johnson on the depth chart last season, and that meant a diminished role for Tracy as a receiver.
That's why Tracy transferred to Purdue where he is expected to play a key role for a pass-happy spread offense in his home state of Indiana.
Unless something comes out to suggest otherwise, Tracy's decision to transfer appears to have been strictly football related.
He even came back to Iowa City on April 23rd to attend the open practice at Kinnick Stadium, and to see his former teammates.
This isn't to suggest that the culture is fixed entirely because for that to happen takes time.
Seven former black Iowa players also have filed a discrimination lawsuit in which Iowa offensive coordinator Brian Ferentz and assistant defensive coordinator Seth Wallace are both defendants.
Former Iowa offensive lineman David Porter, who is black, was also relieved of his duties as chairperson for an alumni advisory committee that was formed to help address the racial issues.
Porter was dismissed after he said in a group message that Kirk Ferentz and the entire football staff should be replaced.
So, yes, there still is work to do.
But to have so few players, black or white, entering the transfer portal would seem to indicate that progress is being made with race relations, and that the environment is more stable and inclusive than it was two years ago.
There could be some late additions to the portal with 11:59 p.m. Monday being the deadline for entry to secure eligibility for next season.
A late rush of players, however, would seem unlikely at this stage.
Iowa head coach Kirk Ferentz has vowed to fix the culture, and to have so few players enter the transfer portal would suggest that Ferentz is following through on that promise.