By Pat Harty
IOWA CITY, Iowa – The Big Ten's best pitcher currently plays for the Iowa baseball team and Adam Mazur showed again on Friday why he currently deserves that distinction.
The third-year sophomore, who transferred to Iowa from South Dakota State, came just one out from throwing a second consecutive complete game shutout as Iowa defeated Purdue 5-2 at Duane Banks Field.
Iowa coach Rick Heller went to his bullpen after Mazur gave-up a 2-run single to Purdue third baseman Troy Viola with two outs in the top of the ninth inning.
The fans showed their appreciation by giving Mazur a standing ovation as he walked from the mound to the Iowa dugout where he was greeted by his teammates and coaches.
Senior southpaw Ben Beutel then recorded the final out to give Iowa the win in the first game of a three-game series.
"I kind of figured it was coming when that single went through," Mazur said of being lifted. "I wanted a shot, but I understood it was what's best for the team."
Asked if it bothered him to be lifted from game, Mazur said:
"Personally, just because I knew I could have done it, but relationship-wise, not at all. I'm just happy the team got the win."
Heller didn't hesitate to pull Mazur after Purdue scored the two runs, calling it an easy decision under the circumstances.
"Just felt like it was time and didn't need to go any farther," Heller said.
Mazur only recorded three strikeouts while throwing 96 pitches. But he also allowed just one walk and consistently got ahead of the hitters, throwing 10 or fewer pitches in four innings.
"It makes it a lot easier," Mazur said of getting ahead of batters. "The hitters are very defensive then and then you get to kind of spin it and make them chase more."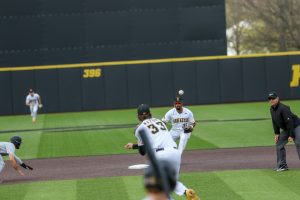 Mazur has pitched well pretty much throughout the season, although, his progress was hindered after he was hit by a line drive while pitching in the Frisco Classic in early March in Texas.
"That just set him back like four or five weeks," Heller said. "He pitched through it and was still productive.
"But you're seeing what I think we would have seen all year long had that not happened."
Mazur's dominance hardly comes as a surprise to Heller, who spoke highly about the lanky right-hander from Minnesota heading into the season.
Heller had high expectations for Mazur and those expectations are being met in spectacular fashion.
In fact, Heller compared Mazur's dominance to what Trenton Wallace did on the mound for Iowa last season when Wallace was named the Big Ten Pitcher of Year.
Wallace consistently pitched deep into games as the Friday starter and that made it easier on the bullpen.
And now Mazur is doing the exact same thing and is clearly the favorite to be named Big Ten Pitcher of the Year this season.
"Last year we had the pitcher of the year in Trenton Wallace and it was pretty much the same story," Heller said. "I think we won nine Fridays in a row and Trenton was giving us seven, eight and nine (innings) most of the time.
"And when you've got an ace, a frontline guy like that, that's what you want out of your Friday guy. That's always the goal, at least here to recruit and have a Friday night guy that you don't really have to go to the pen very often, or if you do, it's a short stint, not a long one."
Heller was asked Friday what he saw in Mazur from a talent standpoint that made him think Mazur could be a star.
"It was a fast arm, an electric arm and a really good slider," Heller said. "Lots in the tank to work with. And a guy that competes."
The question now is how long will Mazur remain as a Hawkeye since he figures to be a top prospect heading into the Major League draft as a third-year sophomore.
Iowa only has eight conference games left in the regular season.
Iowa scored all five of its runs in the third inning on Friday, including two on a single by Ben Wilmes.
Senior second baseman Izaya Fullard led Iowa with three hits and drove in one run in the third.
Fullard was also part of an Iowa defense that performed well for Mazur, who just a week ago defeated Nebraska 1-0 in Lincoln, Nebraska, allowing just two hits.
"Last week at Nebraska Ben Beutel kind of joked that it's Mazur and we only need one and that's actually how it turned out," Fullard said. "We know every Friday he's going to go out there and give us a really good effort and just score a couple early and then just play defense for him and he's going to do a great job."
Mazur had a five-inning stretch in Friday's game where he didn't record a strikeout.
But he continued to pound the strike zone and repeatedly got ahead of the hitters.
And when the Boilermakers did make contact, the Iowa defenders were usually in the right spot to make a play.
Mazur credits the Iowa coaches, especially pitching coach Robin Lund, for creating the right environment for him to excel.
"Once I got on campus, I knew Robin and the coaching staff would be able to develop me to kind of what I expected of myself," said Mazur, who improved to 6-2 on the season. "So it's been nice to kind of come into the limelight with that."
Iowa improved to 27-15 overall and 11-5 in the Big Ten with Friday's win, while Purdue fell to 25-15 and 6-8.
The teams will meet again on Saturday with the first pitching coming at 11 a.m. at Banks Field.