By Pat Harty
IOWA CITY, Iowa – The Iowa football team's 2022 season opener against South Dakota State on Sept. 3 at Kinnick Stadium is now less than four months away.
So, here is a peek ahead to what could happen next season with 20 predictions in no particular order.
Quinn Schulte, a walk-on from Cedar Rapids, will start the season opener at free safety: He certainly fits the mold to start at free safety as a former walk-on from instate. Derek Pagel and Brett Greenwood both started at free safety for Iowa after having joined the program as walk-ons from instate. Schulte was listed as the starter at free safety throughout spring practice, and he received a strong endorsement from Iowa coach Kirk Ferentz for how he conducts himself.
2. Senior tight end Sam LaPorta will lead the team with at least 50 catches: This is hardly going out on a limb since he led the team with 53 receptions this past season. LaPorta has a knack for getting open, for making tough catches in traffic and is a favorite target for Iowa quarterback Spencer Petras.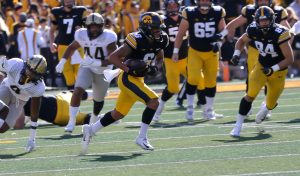 3. Sophomore receiver Keagan Johnson will lead the team with more than 600 receiving yards: He will edge LaPorta in receiving yards due to his ability to stretch defenses, and from having one year of playing experience under his belt. Johnson still was learning how to play at this level last season, but that adjustment period should now be over.
4. Iowa will be 3-0 heading into conference play: All three nonconference games against South Dakota State, Iowa State and Nevada will be played at Kinnick Stadium, and all three opponents will be heavy underdogs. You never say never when it comes to upsets, but Iowa shouldn't lose to South Dakota State or Nevada under any circumstance, while Iowa State's starting lineup was gutted by graduation and by the transfer portal.
5. Iowa will not average at least 150 rushing yards per game: Iowa only averaged 123.6 rushing yards per game last season with All-America center Tyler Linderbaum leading the way, and with 1,000-yard rusher Tyler Goodson starting at running back. They both have since moved on to the NFL as juniors.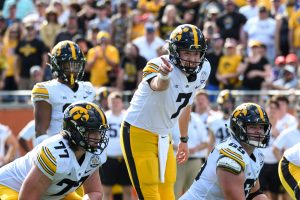 6. Fifth-year senior Spencer Petras, barring injury, will start every game at quarterback: This prediction will undoubtedly upset some fans who are tired of Petras after having watched the offense struggle for two seasons with him as the starter.
But Petras has the trust and respect of Iowa head coach Kirk Ferentz, who seems convinced that Petras gives Iowa its best chance of winning. That seems unlikely to change if Iowa keeps winning this coming season.
7. Senior linebacker Jack Campbell will lead the Big Ten in tackles: The Cedar Falls native ranked second in the Big Ten last season with 143 tackles, which is the fifth highest total in program history. He also recorded double-digit tackles in five games last season, including 14 stops in the Citrus Bowl.
Campbell should be even better this coming season.
8. Charlie Jones will return both a kick and a punt for a touchdown: The Big Ten's top return specialist will show why by accomplishing this rare feat.
9. Lukas Van Ness will lead the team in sacks: This star on the rise tied for the most sacks on the team last season with seven despite only playing part time as a reserve. His playing should increase this season, along with his sack total.
10. Logan Jones will ultimately win the competition at center: He was switched from defensive tackle to center for a reason, as was the case with Linderbaum. It would be unfair to say that Jones will be the second coming of Linderbaum, but it seems unlikely that Kirk Ferentz would've made this switch without thinking Jones would eventually become the starter.
11. Freshman Xavier Nwankpa will start at least one game at safety, and will be a force on special teams: His immense talent as a five-star recruit and the fact that he enrolled early should make him ready to contribute right away.
12. Iowa will defeat Nebraska for the eighth year in a row: Scott Frost will blame the loss at Kinnick Stadium on unruly fans being fueled by alcohol and jealousy, and from fans clapping too loud when his team is on offense.
13. Junior cornerback Jermari Harris will lead the team in interceptions despite being suspended for the season opener due to his arrest for drunken driving: It's reasonable to think that teams will try to avoid testing All-Big Ten cornerback Riley Moss by throwing more to Harris' side of the field. That should create more opportunities for Harris to make plays.
14. Iowa will split its two games against Michigan and Ohio State: Jim Harbaugh still hasn't proven that he can win at Kinnick Stadium and that is where the teams will meet on Oct. 1.
15. Arland Bruce will score at least two rushing touchdowns: He had three rushing touchdown this past season as a true freshman receiver on just 10 carries.
16. The Iowa offense from an approach standpoint won't look much different than previous offenses under Brian Ferentz: There was a lot of chatter during spring practice about the offense evolving, but spring is always the time for chatter and optimism. It still seems more likely that Kirk Ferentz will emphasize trying to get better at what Iowa does on offense more than trying to make changes.
17. Iowa will lead the Big Ten in rushing defense: Iowa's front seven on defense has a chance to be special, and it starts with shutting down the run.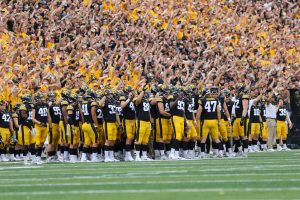 18. Former Iowa football player Dalles Jacobus will sing his new version of the Wave at the season opener: The greatest tradition in college sports will be even better with a former Hawkeye singing his song.
19. Somebody with the last name of Williams will lead Iowa in rushing next season: Gavin or Leshon; take your pick.
20. Iowa will win at least nine games under Kirk Ferentz for the 10th time in 24 seasons and for the fourth time in the last five seasons: Defense and special teams led the way to 10 wins last season, and if the new starting kicker performs well, the pieces should be in place for Iowa to win at least nine games this coming season, and contend for the West Division title.