By Pat Harty
IOWA CITY, Iowa – There is a price to pay for being a traditional power in college football and Ohio State coach Ryan Day recently shared what he believes it'll take in NIL money on an annual basis to keep fueling the Buckeye talent machine.
That price: $13 million.
Day and Ohio State athletic director Gene Smith told business leaders in Columbus, Ohio that they'll need at least $13 million in NIL money just to keep their roster intact,  according to Cleveland.com. Day believes that total would include money generated through collectives that have been created since the NIL policies went into place.
"One phone call, and they're [players] out the door," Day said. "We cannot let that happen at Ohio State. I'm not trying to sound the alarm, I'm just trying to be transparent about what we're dealing with."
Ohio State has sustained dominance in college football for most of the past half century and beyond due to multiple factors, but having better players than the opponent is No. 1 on the list.
Ohio State recruits mostly four- and five-star prospects and often competes against fellow blue bloods such as Alabama and Clemson for the cream of the crop.
The passing of name, image of likeness has taken the competition to a new and expensive level in which donors will be challenged to hold up their end of the deal, or risk losing star players.
Like it or not, name, image and likeness is here to stay because the Supreme Court says it's here to stay.
You either accept this new reality and figure a way to navigate through it, or you ultimately will suffer.
Iowa athletics director Gary Barta recently shed some light on Iowa's NIL initiative, saying that it would be tied to charities and academic performance.
It was also reported on a Hawkeye Report podcast that Iowa's NIL collective would be called the Swarm Collective and the plan is to raise roughly $2 to $4 million on an annual basis to fund football and men's and women's basketball with a monthly stipend of $1,000 to $2,500 per month.
The collective could expand to include all student-athletes should the funding allow for it.
This approach isn't really a surprise because it falls under the "Win, Graduate and Do It Right" narrative that Iowa so proudly promotes.
Iowa wants to use NIL to do good deeds, to make itself look good, and to control the narrative.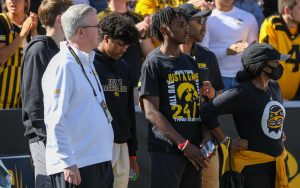 There isn't anything wrong with that approach if the student-athletes get what is now legally considered their money.
Iowa also doesn't want NIL to become a bidding-war circus in which the student-athlete is treated more like a free agent.
But that's already happening at places like Ohio State where donors are being asked to dig deep in their pockets.
The NIL money that Iowa hopes to raise is a considerable amount, but pales in comparison to what the traditional powers will have to spend on NIL.
As long as Kirk Ferentz is the head football coach at Iowa, and Fran McCaffery is the head men's basketball coach at Iowa, it's hard to envision Iowa's conservative approach to NIL changing.
Iowa will do what's necessary to stay afloat in NIL waters, but the odds of Kirk Ferentz landing a star recruit, or a key transfer, due to a lucrative NIL deal would be slim to none because that just isn't how Kirk Ferentz wants to operate, and because there won't be enough money to go around.
You never say never, however, because the Swarm Collective will not have a monopoly on raising NIL money.
Other groups or individuals could do something outside of the Swarm Collective to raise NIL money.
Iowa is one of the finalists to land Southeast Polk five-star offensive lineman Kadyn Proctor, but it's uncertain how much of a factor NIL will be in making his decision.
As important as it is for Iowa to land Proctor, he is the exception to the rule, an outlier when it comes to recruiting.
Most of the players that Iowa signs in football and men's basketball aren't in position to demand large sums of NIL money.
So, while NIL has changed the landscape and shifted the power and leverage to the student-athlete, some things still are pretty much the same.
Iowa rarely competed against the blue bloods for four- and five-star recruits before NIL, and that will continue to be the case with NIL.
Money from NIL is supposed to used for student-athletes that are currently enrolled in a college, but it would be naive to think that it's not being used to entice high school recruits.
Iowa has been impacted probably more by the transfer portal than by NIL, as shown by Charlie Jones' recent decision to transfer from Iowa to Purdue as a sixth-year graduate student in football.
It's uncertain if NIL played a factor in Jones' decision to transfer to Purdue.
But his case might give a hint about what could prove to be Iowa's biggest concern with NIL.
Because what's to stop an established student-athlete from transferring from Iowa if another school should offer a lucrative NIL deal?
The product on the field will ultimately determine if Iowa's approach to NIL is working.
The Iowa football team won the Big Ten West Division last season, and has won 10 games in two of the last three seasons, while the Iowa men's basketball team won the Big Ten Tournament and 26 games list season.
Kirk Ferentz and Fran McCaffery both have momentum on their side, and with momentum comes leverage and influence.
But it's also early in the life of NIL, coming up to just a year now since the Supreme Court voted unanimoulsy (9-0) that a lower court's decision that NCAA restrictions on "education-related benefits" for college athletes violated antitrust law.
Iowa's world has certaintly been changed by NIL, but not at a cost of $13 million annually.
The worry is that NIL will widen the gap between the haves and the have nots.
That could happen, but would definitely come at a steep price for the haves like Ohio State.