By Pat Harty
IOWA CITY, Iowa – The thought of Des Moines North High School producing two football players with Power Five scholarship offers in a two-year span would've seemed silly and too far-fetched to even consider – until it just happened.
David Caulker's verbal commitment to Iowa this past Sunday came less than two years after his former North High teammate, Deavin Hilson, had committed to the Iowa football team as a running back.
Hilson was redshirted as a true freshman this past season.
He and Caulker both have accomplished what no player from North High School had accomplished since Mark Butts signed with Iowa State directly out of high school in 1978.
North High has suffered through some long and miserable stretches in football that dates back for decades.
Just last season the Polar Bears snapped a 36-game losing streak.
But there is also a belief that things are moving in the right direction under current head coach and North High graduate Eric Addy, and helping to fuel that growing belief is Hilson and Caulker both getting scholarships offers from Iowa.
"It shows, the old saying of, hey, it doesn't matter where you're at, if you're good enough people are going to find you," Addy said."
Caulker, who plays on the defensive line, was offered a scholarship from Iowa this past Sunday after he had participated in a one-day camp. He then committed on the spot. He is the 10th player to commit to Iowa's 2023 recruiting class.
Addy accompanied the 6-foot-4, 250-pound Caulker on his trip to Iowa City last Sunday, and Caulker made it clear during the drive up that he was determined to get a scholarship offer that day.
"I know that he had been talking a lot about, 'hey, I'm going to earn this Iowa offer, coach,'" Addy said of Caulker.
And earn it he did despite having a small body of work that includes playing in just five varsity games in high school.
Caulker didn't even play football as a high school freshman.
Addy saw Caulker in the hallway one day at school and asked if he had any interest in playing football. Addy knew that Caulker played basketball, but Addy also thought that Caulker had the frame to play football.
He remembers Caulker standing slightly over six feet at the time and weighing about 190 pounds, but with long arms.
"I was like, I know you're a basketball player, David. But your personality is perfectly set up for somebody that could be a great football player," Addy said. "I don't even care if you're good or not, I want you on our team because you make our team better.
"He came out sophomore year and got his feet wet and found out at practice that, obviously, he didn't have any football knowledge and he wasn't great."
Caulker also had to deal with the global pandemic during his sophomore season in 2020 as North High only played two games. But that still was enough to convince Caulker that playing high school football would be worth his time and commitment.
He embraced the sport and has worked hard over the past two years to build on the physical gifts with which he was born, including his large hands.
"We can't get him gloves at a store. We have to go online and try to find gloves for him," Addy said. "Obviously, he walks in the room and he passes the eye test. But there are a lot of big, fast, strong, tall, long, big-framed guys that aren't as special as David Caulker because of the stuff you can't measure that makes David special, like how coachable he is.
"How he's a natural leader and how he comes every day with a smile on his face and he's thankful for every opportunity that he has to get better."
Missouri was the first Power Five school to offer Caulker a scholarship, and there was a reason for that.
Addy had reached out to Missouri assistant coach Erik Link in early May to let him know about Caulker, who was mostly flying under the radar with summer camps having not started yet.
Link and Addy both graduated from North High School and have been friends for years.
So, it was basically one Polar Bear reaching out to another Polar Bear to let him know about a current Polar Bear.
Link set up a time with Addy to watch Caulker workout in the North High weight room and that's all it took to convince Link that Caulker was worthy of a scholarship.
"He came to the weight room because I was like, hey, coach, you need to come and check this guy out," Addy said. "I've got a dude that nobody knows about and I'm telling you, if you walk in here and see him move around, you're going to say, oh man, holy crap. And he came in and after about 15 or 20 minutes, he's like, man, I'm glad I stopped by coach. And he called me later that night and said he was going to offer David.
"He was like, hey, if he goes to Missouri, or if he wants to go to Iowa and that's his dream school, I'm going to be happy for him. But I want to make sure that his first power five offer comes from Missouri, and it comes from me. I'm a Polar Bear and I'm offering a Polar Bear."
Iowa was able to overcome the Polar Bear connection to land Caulker, who also has scholarship offers from Iowa State, Nebraska, Minnesota, Northern Illinois, Northern Iowa and Kent State.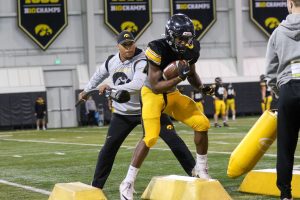 Addy said the Iowa coaches have stood out for one reason.
"I respect the heck out of them because they're as honest as anyone," Addy said. "They're not going to feed you a line."
And while NCAA rules prohibit college coaches from talking publicly about a recruit before the recruit has signed a letter of intent, Addy has had some very telling conversations about Caulker with Iowa defensive line coach Kelvin Bell.
"I talked to coach Bell before the camp and we were talking about, man, his ceiling is as high as he wants it to be," Addy said of Caulker, who is ranked as a three-star recruit by Rivals.
Addy said Caulker and Hilson both serve as inspiration for the younger kids who are affiliated with North High School.
They're an example of what can be accomplished with hard work, perseverance and with a willingness to dream big no matter what obstacles might be in the way.
"We are a tight-knit group of we have worked really hard at developing that," Addy said "We talk to each other how you talk to your family. We're okay with calling each other out all the time on both sides. And our kids have been great at being able to accept hard coaching. That hasn't always been the case, and that speaks to Deavin and then just recently with David.
"David is extremely coachable. He is like a sponge to coaching. He looks at me, he looks at coach Niemann, coach Bell, coach Ferentz, whoever it is, he's looking at us like he is a ninth-grade player trying to get jersey to get off the bus just to stand on the sideline for three hours. He's a yes-sir, no-sir kid. He's a phenomenal young man, and so is David. Both of those guys have tremendous personalities that draw people to them."