By Pat Harty
IOWA CITY, Iowa – The hope was that Ladell Betts could help the Iowa football team recruit in Florida, and hope has since turned into a promising reality.
Because for the second year in a row, Iowa has landed a four-star running back from Florida as Naples native Kendrick Raphael announced his commitment to Iowa Monday night on Twitter.
His commitment comes less than a year after Pompano Beach, Florida native Jaziun Patterson committed to the Hawkeyes.
For Iowa to even land a four-star running back is rare. But to do it in back-to-back recruiting cycles, and the fact that both are from Florida is extremely rare, and yet, there could be a simple explanation.
It hardly seems a coincidence that Iowa has landed two four-star running backs from Florida since Betts was hired as the Iowa running backs coach in March 2021.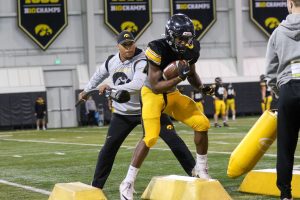 Betts was a high school football coach at Pine Crest High School in Fort Lauderdale before accepting Kirk Ferentz's offer to return to his alma mater to coach running backs.
Betts is also Iowa's second all-time leading rusher with 3,686 yards and he played nine seasons in the NFL.
He played his final three seasons at Iowa under Kirk Ferentz from 1999 to 2001 and helped lay the foundation that still is sturdy to this day. Betts played behind some inexperienced, and sometimes overmatched, offensive lines at Iowa, but he had a knack for gaining the tough yards and that earned the respect and admiration from Kirk Ferentz.
Betts' success as a player, coupled with his connections to South Florida are paying huge dividends in recruiting because four-star running backs from Florida aren't easy to land.
Raphael, who visited Iowa this past weekend, has at least 23 scholarship offers from schools that included Purdue, North Carolina State, Louisville, Minnesota, West Virginia and Iowa State among others.
Patterson, who is part of Iowa's 2022 recruiting class, reportedly had at least 32 scholarship offers at one time from schools that included Alabama, Ohio State, Arkansas, Auburn and Florida.
That's a lot of scholarship offers in both cases from schools that have a lot to offer.
Rivals ranks Raphael the No. 15 running back nationally in the 2023 class and the No. 50 player overall in Florida for the cycle.
As a junior, the 5-foot-10, 190-pound Raphael rushed 126 times for 1,374 yards (10.9 yards per carry) and 18 touchdowns.
Kirk Ferentz's decision to hire Betts as the Iowa running backs coach made a lot of sense, and now we're seeing why as Iowa has quickly increased its recruiting presense in talent-rich South Florida.
Recruiting is about building relationships and trust and having credibility.
And while these are different times now with the transfer portal, and with name, image and likeness having changed the college landscape, recruiting in most cases still comes down to building trust and providing an opportunity to excel.
It also helps that former Iowa All-Big Ten linebacker and South Florida native Abdul Hodge is now on Kirk Ferentz's staff as the tight ends coach because that gives the Hawkeyes another respected voice in South Florida.
Hodge knows exactly what it takes to excel at Iowa as a South Florida native because he did it in spectacular fashion.
So, it seems pretty apparent that his presence, along with Betts coaching the Iowa running backs has made a strong impression in South Florida.
The guy who used to gain the tough yards under Kirk Ferentz more than two decades ago, is now landing recruits that are usually tough for Iowa to sign.
https://twitter.com/RaphaelKendrick/status/1536526252949000194?s=20&t=0WfGTF5ZgI3mlU2AYK0WcA