By Pat Harty
IOWA CITY, Iowa – Ranking Caitlin Clark is much easier than trying to guard her.
Here is my list of the top 10 University of Iowa women's student-athletes for the 2021-22 sports calendar year.
And though compiling the list was difficult like always, picking the No. 1 spot, thanks to Clark's greatness, was perhaps the easiest pick I've ever made while doing these rankings, which dates back nearly three decades.
Caitlin Clark, sophomore, basketball: No disrespect to the other student-athletes on the list, but this was obviously a no-brainer.
The former West Des Moines Dowling Catholic standout is only halfway through her legendary career and already has a staggering list of accomplishments.
This past season, Clark led the nation in points per game (27.0), assists per game (8.0), total assists (257), total points (863), free throws made (200), triple doubles (5) and 30-point games (11). Clark is the only women's basketball player to lead the country in both assists per game and points per game in a single season.
The 6-foot Clark registered five triple-doubles this past season, leading the country in most career triple-doubles by an active player with six. Clark's six career triple-doubles ties former Hawkeye Sam Logic's Big Ten record (2011-15) for most in a career and ties for the fifth most single season (5) and career (6) triple-doubles in NCAA Division I history.
Clark was named the Nancy Lieberman and the Dawn Staley Point Guard of the Year. The Nancy Lieberman Award, in its 23rd year, recognizes the top point guard in women's NCAA Division I college basketball.
She also led Iowa to the Big Ten regular-season and tournament titles.
2. Anthe Nijziel, senior, field hockey: She earned first-team All-America honors after being named the NFHCA West Region Player of the Year, the Big Ten Co-Player of the Year and the Big Ten Defensive Player of the Year. She was also a unanimous first-team All-Big Ten selection and a NFHCA first-team All-West Region selection.
During the 2021 season, Nijziel anchored an Iowa defense that was one of the nation's best. The Hawkeyes tied for the NCAA lead with 11 shutouts and limited opponents to 110 shots – just 62 on goal – in 20 games. The team posted a school-record eight consecutive shutouts in September.
Offensively, Nijziel, a native of Eindhoven, Netherlands, scored five goals, including one game-winner, and tallied four assists as a key part of the Hawkeye penalty corner unit. Nijziel was a three-time Big Ten Defensive Player of the Week and two-time NFHCA National Defensive Player of the Week honoree during the regular season.
3. Monika Czinano, senior basketball: She is the other half of what is arguably the best inside-outside combination in women's collegiate basketball.
Czinano made first-team All-Big Ten and first-team All-Region last season.
The Watertown, Minnesota native led the country for the second consecutive season in field-goal percentage (67.9), while ranking sixth in field goals made (277), 10th in total points (656), 13th in points per game (21.2) and 52nd in free-throw percentage (84.3).
She also recorded three double-doubles and averaged 21.2 points, 6.2 rebounds and shot 277-of-408 from the field, earning Associated Press All-America recognition.
The 6-3 Czinano is taking advantage of her free Covid year and will play for a fifth year at Iowa next season.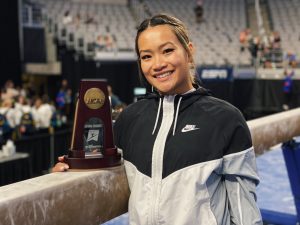 4. Adeline Kenlin, sophomore, gymnastics: The Iowa City native finished as the NCAA runner-up on beam after scoring a 9.950 while competing as an individual at the NCAA Championships. That is the highest finish by a Hawkeye all-time and the score is the highest beam score by a Hawkeye at the NCAA meet in program history.
Kenlin earned first-team All-America honors at the NCAA Championships, becoming the sixth such All-American in program history. She is the second Hawkeye to earn All-America distinction on the beam. She also finished second to Olympic gold medalist Suni Lee of Auburn, who scored a 9.965.
5. Maddy Murphy, senior, field hockey: She earned her fourth career All-America distinction – all second team honors – after tying for the team lead with 27 points in 2021. The Tasmania native scored seven goals, which included three game-winners, and had a team-high 13 assists.
Murphy earned her school record fifth All-Big Ten honor, earning first-team distinction, in 2021 and she also garnered her fifth career NFHCA first-team All-West Region nod.
Murphy became just the second Hawkeye all-time, joining Kristy Gleason, as a four-time All-American
She earned second-team All-America honors as a fifth-year senior to go along with first-team All-West Region and first-team All-Big Ten honors. She was also selected to the NFHCA Division I Senior Game.
6. Nia Carter, junior, softball: She was named first-team All-Big Ten and first-team All-Region by the National Fastpitch Coaches Association.
The Rancho Cucamonga, California native hit .405 with 66 hits, 18 RBI, slugged .466 and had an on-base percentage of .464.
Her .405 batting average ranks seventh in single season school history, and she led the team in batting average, hits, runs scored (26), triples (3), and total bases (76).
Carter is the first Hawkeye to earn first-team honors since Megan Blank in 2015. It is the first all-region honor of her career.
7. Grace McGuire, senior, field hockey: She earned second-team All-America honors after posting a 0.75 goals against average and making 46 saves on the year. The St. Louis, Missouri native finished with an NCAA-best 11 shutouts, 17 victories and had a .754 save percentage. McGuire was also a first-team All-West Region and second-team All-Big Ten honoree.
8. Courtney Buzzerio, senior, volleyball: The Chino Hills, California native was named to the All-North Region team by the American Volleyball Coaches Association.
She is the first Hawkeye in program history to be a two-time selection. She was the fifth Hawkeye to earn All-Region accolades in school history as an honorable mention selection last season.
Buzzerio was named second-team All-Big Ten and is the 10th honoree in school history to earn Big Ten postseason accolades multiple times.
9. Sara Wheaton, senior, soccer: She was a second-team All-Big Ten honoree and shared team Co-MVP honors. She also made the North Region third-team. She played the entire contest in 19-of-20 games and logged a team-high 1,826 minutes. She was also voted Iowa's Defensive Player of the Year for the second straight season.
10. LaSarah Hargrove, sophomore, track and field: She was the runner up in the 200 meters (23.55) and took third in the 60 meters (7.35) at the 2022 Big Ten Indoor Championships, and she also finished fourth in the 200 at the Big Ten Outdoor Championships.
Hargrove put her name in the school record book by breaking Hawkeye great Brittany Brown's 100-meter school record with a time of 11.20 seconds at the NCAA Outdoor Championships. She earned Second Team All-America honors with her 13th-place finish overall.
Also considered: McKenna Warnock, basketball, Hailey Rydberg, soccer, Alyssa Walker, soccer.