By Pat Harty
IOWA CITY, Iowa – When listing the most important players on the Iowa men's basketball team, Kris Murray and Patrick McCaffery would certainly deserve serious consideration.
The junior forwards could very well end up being Iowa's top two scorers next season and should be a handful for opposing defenses because of their length and versatility.
However, their success could depend a lot on what happens at the point guard position, and that's why junior Ahron Ulis also should rank as one of Iowa's most important players.
Some will say that a team is only as good as its point guard, and if that's true, Ulis should have a lot to say about whether Iowa reaches its potential next season.
The Chicago native is considered the frontrunner to start at point guard where Iowa has to replace five-year starter Jordan Bohannon and senior Joe Toussaint, who transferred to West Virginia after starting the first 21 games last season.
"I'm viewing it as a big opportunity for me," Ulis said before a summer workout on Tuesday. "I'm going to have to take the next step in my game. Coming into next season, I'm going to have to communicate more, lead on and off the court and just be more consistent in my game and just go out there and be the best player I can be."
Ulis saw action in 35 of 36 games last season, but he rarely played for long stretches due to Bohannon and Toussaint getting most of the minutes at point guard.
There were times, though, when Iowa coach Fran McCaffery stuck with Ulis because Ulis was playing well, like against Illinois when the 6-foot-3 Ulis scored 11 points, grabbed seven rebounds and had three steals.
Or the time against Penn State when Ulis played a career-high 27 minutes and scored all seven of his points from the free throw line in overtime.
Ulis also had a career-high eight assists against Western Michigan last season, so he's far from being raw and inexperienced.
But there's a big difference from being the backup to the backup point guard to being the starting point guard.
Incoming freshman Dasonte Bowen will also be in the mix at point guard, but he has yet to play a game at the collegiate level, so for now, the starting position would seem to be Ulis's to lose at this point.
Ulis seems to understand what's at stake and is taking steps this summer to prepare himself for a starting role.
"Just staying in the gym as much as I can," Ulis said. "That's the greatest way to create better opportunities for yourself and just be a better player on the court and communicate and just build a better relationship with the players on my team and be that guy where they can come to me for things and such. Just being more of a leader on the team."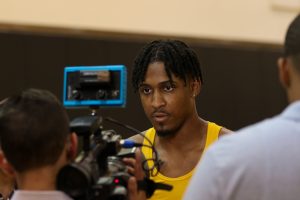 Without Bohannon, Iowa loses the Big Ten's all-time leader in 3-point field goals made, and without Toussaint, Iowa loses a cat-quick and tough defender.
The depth at point guard last season is one of the reasons Iowa won the Big Ten Tournament and 26 games overall. But now that depth is gone, leaving Ulis with the task of trying to make sure there is no significant decline at point guard.
His perimeter jump shot still is suspect at this point, but Ulis is working hard this offseason to address that part of his game.
"I would say just improving on my jump shot and just being more vocal on the court," Ulis said. "Just getting outside my comfort zone and being the best player I can be and just playing more of my game."
Fran McCaffery meets with his players individually after each season, and his message to Ulis was to be ready.
"Saying that it starts now, it starts in the summer, not in November when the season starts," Ulis said. "The work starts now, just continue to grow and get better."
Ulis is working on becoming a more vocal leader, and he feels that being a starter should help with that process.
"Just being more vocal is going to be better for me and my teammates," Ulis said.
Ulis is the younger brother of former Kentucky point guard Tyler Ulis, who also considered Iowa before picking the Wildcats.
Ahron wasn't as highly recruited as his older brother, but Ahron could end up being a multi-year starter for the Hawkeyes.
He has waited for his chance to start and now after two years that chance has arrived, thanks largely to Toussaint's decision to transfer.
Toussaint left for a more promiment role because he would've likely shared the point guard position with Ulis next season.
His departure came as no surprise to Ulis.
"I was here for two years with him, so I pretty much knew about the information that he was going to be leaving," Ulis said. "We have a great relationship and still speak to this day.
"He encourages me and I encourage him to just be the best he can be and just wish the best for him."