By Pat Harty
IOWA CITY, Iowa – Just once I'd love for a college administrator to say the real reason why some schools are bolting from one conference to join another.
The college sports landscape received a major jolt on Thursday when news broke that both USC and UCLA would be leaving the Pacific-12 Conference to join the Big Ten Conference.
The Big Ten chancellors and presidents voted to accept membership applications from USC and UCLA, and the vote reportedly was unanimous.
The move will come in 2024, after the Pac-12's current media rights contracts with Fox and ESPN expire.
"We are excited about the addition of UCLA and USC to the Big Ten Conference. Both institutions fit our department's "Win. Graduate. Do it right" culture," said Iowa Athletic Director Gary Barta in a release. "There are many logistics to work out over the coming months, and we are eager to begin the process."
UI President Barbara Wilson also released a statement.
"The addition of UCLA and USC to the Big Ten will enhance the conference's existing comprehensive excellence in academics, research, and athletics," she said. "I look forward to welcoming our new colleagues to Iowa City and the UI campus."
USC and UCLA are both fine institutions of higher learning and they will enhance the Big Ten's excellence in academics, research and athletics.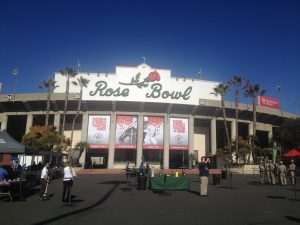 But the driving force behind both Los Angeles-based school switching conferences is money, plain and simple.
Television's power and influence is changing college sports more than anything else right now.
More than the transfer portal.
More than Name, Image and Likeness.
And more than the NCAA ever could hope to change.
That isn't necessarily a bad thing because big-time college sports are all about making big-time money.
Academics certainly plays a role, but the quest for knowledge isn't the driving force behind these decisions to switch conferences.
Oklahoma and Texas aren't switching from the Big 12 Conference to the Southeastern Conference in 2025 for any reason other than money and the exposure and power that comes from making money.
School administrators push the academic narrative whenever schools switch conferences because it sends the right message, and it sounds better than saying that we're doing it for money.
The news that UCLA and USC will join the Big Ten came as the conference was in the middle of negotiations for a new television deal for some of its games. Fox and ESPN currently hold the national rights to broadcast Big Ten games, paying $430 million a year combined under a contract that ends next year.
The addition of two more high-profile universities from the nation's second-largest media market will add to what's expected to be a massive amount of television revenue.
The Big Ten will become the first conference that stretches from the Atlantic to the Pacific, and will have its footprint in five of the seven largest television markets.
Adding USC and UCLA will also help the Big Ten keep pace with the SEC as both conferences continue to gain power and influence.
Much of the burden and responsibility will fall on the student-athletes to handle whatever changes that come from conference expansion.
Football players from USC and UCLA will soon learn what it's like to play games in the Midwest, and on the East Coast in November. It will undoubtedly take some adusting, but it's all part of cashing in financially.
So again, just once couldn't we have an academic administrator admit publicly that the growing desire to make even more money through television revenue is what's driving these decisions to switch conferences?
Academics certainly matter. But making money matters even more because there is so much money to make these days thanks to television's power and influence.
I just wish somebody in power would have the courage and nerve to admit it.