By Pat Harty
IOWA CITY, Iowa – A message to Iowa offensive coordinator Brian Ferentz:
I've said it before and I'm saying it again; run the ball!
Run it right.
Run it left.
Run it up the middle.
Run it until the defense starts to unravel due to the persistent push from your ground attack, and then run it some more.
Run it so your offense stays ahead of the chains, and so your embattled senior quarterback has the luxury of using play action.
Run it like Wisconsin runs it on a regular basis despite often facing a loaded box.
Run it so Iowa can finally live up to its mostly undeserved reputation as one of the Big Ten's best running teams.
And run it so your job as the play caller becomes easier.
Of course, that's easier said then done as Hawkeye fans fully understand.
Because of all the storylines involving the Iowa football team, the inability to sustain a productive ground attack is one of the hardest to understand, and to explain.
While Brian Ferentz and senior quarterback Spencer Petras have shouldered most of the blame for Iowa's offensive inadequacies, the problem goes beyond just their perceived weaknesses.
Petras certainly deserves part of the blame because he has struggled with accuracy, and that combined with his lack of mobility is a recipe for trouble.
Brian Ferentz deserves part of the blame because he's the offensive coordinator, and the offense has without question been the team's biggest weakness under his watch.
The fact that he is also Kirk Ferentz's son just makes it easier to blame him.
But in fairness to Brian Ferentz, Iowa's struggles with running the ball date back way before he took over the offense in 2017.
Since 2004, only three times has Iowa averaged more than 175 rushing yards per game for a season, and just seven times has Iowa averaged more than 150 yards per game.
On the flipside, Iowa has averaged fewer than 140 rushing yards per game in eight seasons since 2004.
That's just not getting it done regardless how you look at the numbers.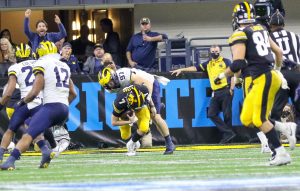 Say what you want about Petras, and much has been said about his performance at quarterback, but he has yet to have the luxury of working with a potent rushing attack.
It was the same for his predecessor at quarterback, Nate Stanley, as Iowa averaged less than 150 rushing yards per game in each of his three seasons as the starter from 2017-19.
Stanley still finished with a respectable 27-12 record as Iowa's starting quarterback, including 3-0 in bowl games.
But just imagine how much better his record might have been with a more productive running game.
Iowa won the Big Ten West Division and 10 games last season despite only averaging 123.6 rushing yards per game.
Iowa's inability to sustain a productive rushing attack might be the hardest thing to explain under Kirk Ferentz because the offensive line is his area of expertise. He coached the Iowa offensive line for nine seasons under Hayden Fry from 1981 to 1989 and was an offensive line coach in the NFL for six seasons.
George Barnett is entering his second season as the Iowa offensive line coach, and has coached the offensive line for nearly two decades at the college level.
So, he's paid his dues and learned a lot along the way.
And now he's learning from one of the best in Kirk Ferentz.
"He oversees everything, but every now and then you can just hear him yelling at you and telling you little things that he sees and notices when he's with the (offensive line) a lot," senior offensive tackle Jack Plumb said of Kirk Ferentz's practice routine. "He loves the o-line."
Some say that Iowa's zone blocking schemes are outdated and the biggest reason why the running game often sputters.
But if that truly were the case, wouldn't Kirk Ferentz be aware of it and then make the necessary adjustments?
Some say that Kirk Ferentz is too stubborn to change his blocking schemes, but that seems a little presumptuous and short-sighted.
He obviously knows how to identify and then develop standout offensive linemen just based on the number of unheralded offensive linemen recruits that have flourished at Iowa under his watch.
Iowa has had 19 offensive linemen selected in the NFL draft under Kirk Ferentz, the most recent being center Tyler Linderbaum who was picked in the first round of the 2022 draft by the Baltimore Ravens.
Linderbaum came to Iowa as a three-star defensive tackle recruit, from Solon, but Kirk Ferentz's instincts and vision told him that Linderbaum had more upside as a center, and now Ferentz looks like a genius.
Linderbaum is the latest in a distinguished list of Iowa offensive linemen who have thrived under Kirk Ferentz after having switched positions. Some other examples include Robert Gallery, Eric Steinbach and Bruce Nelson, all of whom came to Iowa as a tight end before switching to the offensive line.
Iowa has had 18 offensive linemen make first-team All-Big Ten under Kirk Ferentz, and that includes Steinbach, Gallery and Brandon Scherff twice being honored.
Iowa has also had two offensive linemen – Gallery and Scherff – win the Outland Trophy under Kirk Ferentz, and there have only been four Outland Trophy winners in program history.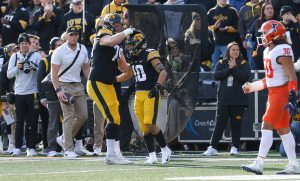 And yet, despite all the individual star power and success, and despite Kirk Ferentz's expertise, the running game still has struggled, at least from a statistical standpoint.
Some will counter by saying statistics only tell part of the story.
"We come in Sunday and if we watch the film from the sideview, and if the line of scrimmage is moving, we know we're doing our job," Plumb said. "So, that's what we look at."
Okay. Fair enough.
However, the problem is that when Iowa loses, it's often due to the running game failing to produce.
In Iowa's three losses to Purdue, Wisconsin and Michigan last season, the running game was held to 76, 24 and 104 rushing yards, respectively.
It would sure help if Iowa could have more success throwing downfield. But it's hard to achieve that without having play action working to your advantage.
Iowa has defied the odds by having success as a team despite having a sputtering ground attack.
The 2004 squad, for example, won a share of the Big Ten title and finished 10-2 despite only averagng 72.6 rushing yards per game.
The 2009 squad finished 11-2 despite only averaging 114.2 rushing yards per game.
But those examples are few and far between, outliers.
Iowa should have one of the top defenses in the Big Ten this coming season, and also has one of the nation's top punters in junior Tory Taylor.
But if the running game continues to sputter, it's hard to see Petras overcoming that obstacle, and it's hard to see Iowa being elite.
Sophomores Gavin Williams and Leshon Williams (no relation) are expected to share the load at running back this coming season, and they both showed in the Citrus Bowl loss to Kentucky that they can move the chains.
They both ran hard between the tackles and gained the tough yards that are such a big part of playing Big Ten football.
So, they both seem capable of getting the job done under the right circumstances, which as Plumb stated, means moving the line of scrimmage.
Replacing Linderbaum at center is a daunting task, but even with the nation's top collegiate center leading the way last season, Iowa still finished 11th in the Big Ten in rushing.
There is no one person to blame for Iowa's rushing woes, and Kirk Ferentz has shown that he can win without a productive ground attack.
But there is also no denying that Iowa's offense climbs to a much higher level when the running game is moving the chains and averaging at least four yards per carry.
Everything becomes easier, especially for the quarterback.
So, again, run the ball.