By Pat Harty
IOWA CITY, Iowa – Caitlin Clark has what will most likely be a long and productive career in the WNBA waiting for after she finishes college.
But unlike many of her male counterparts who achieve elite status in college, there is no hurry for Clark to turn pro because the college game is giving her everything that she could need or want at this stage of her life, including what appears to be a substantial amount of money thanks to her name, image and likeness.
Iowa's junior All-America guard is a hot commodity on the NIL circuit, having recently signed a deal with the Topps Company, which is best known for manufacturing sports trading cards.
Her autographs will be some of the first University of Iowa cards officially licensed by Topps.
Clark also has an NIL deal with H&R Block and is a spokesperson for Hy-Vee.
In other words, she's doing just fine from a financial standpoint without having to play professional basketball.
Clark also uses her popularity and influence to help raise money for charitable causes that are important to her.
"I think it's been interesting, NIL," Clark said Friday morning after practice. "I think it's a real good thing and something that kids should have for a really long time. It's been cool to see really what a lot of different Iowa athletes have been able to do.
"I think a lot of us have really given back to our community, which is really the best thing about it. When it's used in the right way, I think it's really good for not only the student athlete, but the people around them as well."
The fact that the WNBA doesn't pay anywhere close to what the NBA pays its players is probably the biggest reason why more women's players haven't left early for the draft.
But now it would seem even less tempting for a superstar such as Clark to leave early because of what she could earn through NIL.
Just from a business standpoint, it makes more sense for Clark to finish college because she only has four seasons to be a Hawkeye, and she wants to cash in on those four seasons as a Hawkeye.
Clark's legend will live on forever, but her career as a Hawkeye will be over in two years.
Clark has been meticulous in her approach to NIL, and careful to make sure that the companies in which she aligns share similar values and visions.
"I've been super selected," Clark said. "Obviously, I don't have a lot of time to do many things. I always want to partner with pretty big companies that are usually long-term deals, and they kind of align with my values as who I am as a person. I think those are kind of the main things I look at when I'm choosing the companies to partner with."
Iowa coach Lisa Bluder also met with reporters on Friday and she called the current situation with NIL and the transfer portal "crazy times."
But instead of being stubborn and resistant, Bluder has embraced this new world and she appreciates that her employer has included women's basketball in the NIL collective.
"It's just different," Bluder said. "But as coaches, we have to adapt. If you're going to push back on it, you're going to get left in the dust. I mean you've got to embrace it and that's what we're trying to do with the collective. I'm so proud that we're at a school like the University of Iowa that has men's, women's basketball along with football in that collective.
"I see schools all over the country where it's only football or only men's basketball and football. And for the University of Iowa to include women's basketball just speaks volumes about the culture of this university, and also the guys in charge of those program. So, I'm really proud that we're going to be part of that collective. And it's obviously something that we can sell to our recruits."
Bluder said Clark's experience with NIL will help to prepare Clark for life after college.
Some of Clark's teammates, including All-Big Ten center Monika Czinano, also have NIL deals.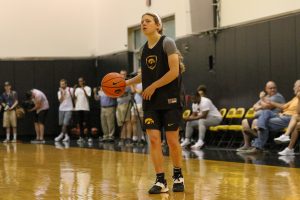 "She's learning how to market herself, how to sign contracts, how to be responsible to show up," Bluder said of Clark, who graduated from West Des Moines Dowling Catholic. "It gives her more time to market herself. Those are all transferrable skills into her next life. And she's learning those at a real rapid pace. So, I think it's great.
"But she's not the only one."
As for on the court, Iowa returns all five starters from a team that won both the Big Ten regular-season and tournament title last season.
Clark also earned first-team All-America honors and led the nation in scoring and assists.
She was among five players that met with the media on Friday, along with starting guards Kate Martin and Gabbie Marshall, incoming freshman forward Hannah Stuelke and Central Michigan transfer Molly Davis, who plays both guard positions.
Iowa, which has 15 players on scholarship, will likely be ranked in the top 10 heading into the season. And with that will come a lot of pressure.
"There's always going to be those expectations for us," Clark said. "We're a program that wants those expectations. We wouldn't want it any other way."
The way last season ended with an upset loss at home to Creighton in the second round of the NCAA Tournament is also helping to fuel Clark and her cohorts.
"I wouldn't say it keeps me up at night, I think, obviously, it makes you want to work harder," Clark said. "I think that's the beauty of March Madness. It's the greatest postseason tournament in sports in my opinion. I mean your season can end in the blink of an eye. That's why it's so great and that's why people love it because there are those upsets.
"But when you're on the wrong end of them, you don't like it as much, So, it's definitely upsetting and not something I want to think about much. But I don't want to let myself feel that again. I don't want our fans to feel that again. And I think it will really bring that fire to us this year."
https://twitter.com/Topps/status/1551930772642316291?s=20&t=XpbY9zm7TSGcECc0v2jp0Q