By Pat Harty
IOWA CITY, Iowa – When listing the biggest strengths on the 2022 Iowa football team, defense and punting would obviously be the best places to start.
Iowa's front seven on defense is rock-solid, maybe one of the best under Kirk Ferentz, and the secondary is led by fifth-year senior cornerback Riley Moss, the 2021 Big Ten Defensive Back of the Year.
Junior punter Tory Taylor is also a force for the Hawkeyes, having averaged about 45 yards per punt over the past two seasons.
But there is another part of the 2022 Iowa football team that might be its greatest overall strength even though it can't be measured or graded by statistics.
And that's leadership, or more specifically, the veteran leadership on the team.
Every team has veteran leaders and how they lead usually goes a long way in defining each team, and each season.
Kirk Ferentz isn't one to lay it on thick when promoting his teams, nor does he make bold statements.
Ferentz believes that actions speak louder than words, but every now and then Iowa's all-time winningest head coach will drop subtle hints about a player, or players, that make you think that he might have something brewing.
Ferentz dropped a few hints at Big Ten Media Day this past Tuesday in Indianapolis that suggest that he feels great about Iowa's veteran leadership heading into his 24th season as head coach.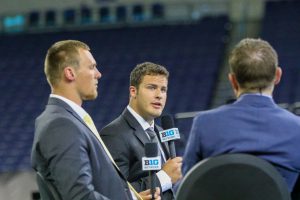 Here's one for example:
"I think I said this in the spring, it felt like our team has a little bit more personality in April than some of the teams," Ferentz said. "Usually, it's more through the summer. But the experiences I've had with them, we've done some off-the-field stuff together, and I can't say enough about those guys, especially those top 25 or 30 guys.
"We've got some guys that just model the right things. They really have a great attitude. They work hard. So, that's a pretty good starting point, and that's good for the younger guys that haven't really been around as much or done as much to have them exposed to that and see things done the right way. It can be really powerful, but we still have to do it."
Iowa's senior class stands out for what has been accomplished on the field, but the best players also seem to be among the best leaders.
From linebacker Jack Campbell to tight end Sam LaPorta to defensive backs Kaevon Merriweather and Riley Moss, Iowa's 2022 senior class leads by example, but also with the right words.
Merriweather came to Iowa from Michigan as a lightly recruited defensive back who was known more for his success in basketball coming out of high school, and for his rim-rattling dunks.
But Iowa defensive coordinator Phil Parker, a former defensive back himself, saw something in Merriweather that other Division I coaches apparently didn't see.
And now Iowa is being rewarded for Parker's vision with Merriweather expected to start at free safety this season after having played a key role in each of the past two seasons.
Merriweather's influence stretches far beyond football, however.
That became abundantly clear in the summer of 2020 when multiple former black players from Iowa accused the program of racial disparities and bullying.
Chris Doyle lost his job as Iowa's strength and conditioning coach as part of the fallout, and the accusations brought shame and embarrassment to the program.
But through adversity leaders emerge and Merriweather embraced that role during the racial unrest. He defended his right to kneel during the National Anthem, and he explained why in interviews, and on social media, without being confrontational or dismissive.
Merriweather posted a tweet shortly after the allegations surfaced in which he asked fans "not to support us during the football season if they don't support players' decision to take a knee during the national anthem."
It took courage to address such a polarizing issue. But Merriweather spoke from his heart, and as a proud black man, and his words have been instrumental in helping to fix the culture.
"I think it's been great," Kirk Ferentz said when asked about Merriweather's support for certain causes and his outspokenness. "That's just Kaevon, the Kaevon I've known the entire time. He speaks very plainly and honestly and candidly. He's been great. He's a great sounding board.
"He's one of the guys we lean on. We've got a great group of guys, but he's just a tremendous individual and a really good football player on top of it. So, it's a real good thing for us."
Merriweather believes that his tweet about kneeling for the national anthem is when he truly emerged as a team leader.
"Most definitely," he said. "I think before that I was a pretty quiet, laid-back guy. I really didn't use my voice as much."
Merriweather was outspoken in high school, but that part of his personality didn't surface at Iowa until the racial accusations were made public.
The team needed leadership at a critical time and Merriweather accepted that responsibility.
"When I got the opportunity to kind of use my voice, it was something that kind of came naturally to me," Merriweather said. "It wasn't really something that I had to be forced to do."
Phil Parker has found many hidden gems on the recruiting trail, but in the case of Merriweather, Parker also found a gifted leader.
"You get the right person with some potential and athleticism and the right attitude, then there's a great opportunity for growth," Kirk Ferentz said. "I'm so glad he's on our team, not only as a player, but also as a person and a leader. He accepts that and loves that. He loves being one of the guys that guys look to.
"And that's one of the reasons why I feel good about this team is we've got more than a handful of guys like Kaevon or Jack or Sam. They get it. They understand that what they do is important for everybody else, not just themselves."
Merriweather was among three players that represented Iowa at Big Ten Media Day, along with Campbell and LaPorta.
All three are accomplished on the field, having helped Iowa win the Big Ten West Division last season, and 10 games overall.
But they also excel as leaders in their own unique way.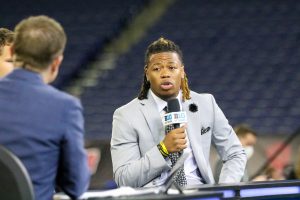 This past February, Merriweather was one of the driving forces within the team as players produced educational content highlighting African American leaders during Black History Month. The video series was shared on multiple social media platforms and had thousands of views from Iowa fans and beyond.
The videos hightlighted the accomplishments of Black inventors who made key advances in the development of light bulbs, portable refrigeration and home security systems.
Merriweather also was among 100 Big Ten student athletes that took part in the Big Ten Conference's "Big Life Series in July." He was joined by Iowa junior defensive tackle Logan Lee.
The group spent July 15-17 in Alabama learning about the historic march from Selma to Montgomery that took place in 1965 during the rise of the Civil Rights movement.
"I'm going to do another presentation, me and Logan on what we learned and our experiences and what we got to see on the trip," Merriweather said. "And hopefully, I can convince some of my teammates to actually go down there to Selma and to Montgomery and see it for themselves as well."
Campbell, meanwhile, is soft-spoken, but his message always comes through loud and clear.
He talked about being a leader at Big Ten Media Day.
"How you present yourself matters," Campbell said. "Showing up on time matters. And working hard matters. A lot of things a lot of people don't think about it. I would say all that stuff is probably is going to help me in future endeavors. But just being a guy that's willing to raise his first to do the job no one else wants to do, whether that be on punt, punt return, field goal, field-goal block.
"Special teams carving out a role right there. But just being able to be a great teammate as well. Be a guy that young guys can come to and ask questions and be a sounding board for them. I think that will be important as well. So, I'm looking forward to that."
And though Tory Taylor isn't a senior, he is 25 years old and one of the best in the country at his position heading into his junior season.
Taylor has credibility with his teammates because of his performance, of course, but also because of his age, experience and maturity.
Combine Taylor's presence with the senior leaders and that's a lot of leadership and maturity.
A cynic would read this column and point out that leadership only goes so far, that it also takes scoring touchdowns to win games, but right now the Iowa offense leaves much to be desired, and that Iowa also has to play both Ohio State and Michigan in the regular season.
And while those are all fair points, team chemistry also can make a big difference during the course of a season, and it starts with having strong veteran leaders.
Riley Moss considered leaving for the NFL after last season before deciding to take advantage of a rare fifth season of competition due to the free Covid year.
Lots of players spend five seasons in college, but it's usually from taking a redshirt season.
Moss, on the other hand, hasn't been redshirted at Iowa. He has made 26 career starts and has appeared in 41 games overall. He appeared in 13 games and made five starts as a true freshman in 2018.
Ferentz had a message for Moss as he mulled over his decision to stay at Iowa or leave for the NFL.
"I told Riley, if you're not sure don't come back because we're going to coach you harder this year than last year," Kirk Ferentz said "So, if you don't want to come back and get coached, then go ahead and do it. I think it speaks a lot abou t Riley, who he is because he's killing it right now. He's just been training out of his mind."