By Pat Harty
IOWA CITY, Iowa – How many games would you have the 2022 Iowa football team favored to win this season?
I asked myself that question before writing this column, and it proved to be nine games.
Here is a breakdown of each of Iowa's 12 regular-season games and Iowa's chance of winning from a percentage standpoint.
Date, opponent, location, Iowa's percentage chance of winning
Sept. 3, South Dakota State, Kinnick Stadium, 75 percent: A lot would have to happen for Iowa to lose to an FCS opponent, but the making of a potential upset starts with having one of the best teams from the FCS Division trying to pull it off.
And that certainly describes South Dakota State, which is ranked second nationally in FCS behind North Dakota State in Athlon Sports' 2022 preseason magazine.
Star quarterback Mark Gronowski returns to lead an explosive offense after missing last season due to a knee injury. He was named the Missouri Valley Conference Offensive Player of the Year in the 2021 spring season.
The Jackrabbits also have one of the best running backs in FCS in Isaiah Davis, who has rushed for 1,519 yards and averaged 8.0 yards per carry in 17 games.
The defense is also strong and filled with experience, including linebacker and Solon native Adam Bock, who had 125 tackles last season as a sophomore.
Iowa should win this game, and probably will win this game.
But you never say never as Hawkeye fans witnessed in 2016 when North Dakota State upset Iowa 23-21 at Kinnick Stadium in the second game of the season.
North Dakota State would go on to finish 12-2 that season, but fell short of winning the national title, losing in the semifinals, while Iowa finished 8-5 and scored 14 or fewer points in six games.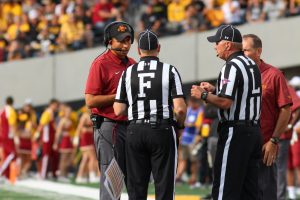 2. Sept. 10, Iowa State, Kinnick Stadium, 65 percent: Matt Campbell has lifted Iowa State to unprecedented heights, but he still hasn't figured out how to defeat his cross-state rival.
Campbell is 0-5 against the Hawkeyes and falling to 0-6 seems likely based on several factors, including Iowa State's personnel losses from last season and with this year's game being played at Kinnick Stadium.
It was thought that Campbell had his best chance to defeat Iowa last season at home, but Iowa prevailed 27-17 against an Iowa State team that was loaded with veteran players at most positions.
Iowa State would go on to finish a disappointing 7-6 last season, so maybe the loss to Iowa was one of the first signs that Iowa State was overrated.
There won't be nearly as much pressure to meet expectations this season as some believe that Iowa State is now in a rebuild mode based on having to replace its starting quarterback, starting running back and eight starters on defense.
3. Sept. 17, Nevada, Kinnick Stadium, 85 percent: This percentage probably would've been lower a year ago with former Hawkeye defensive back Jay Norvell still coaching the Wolf Pack.
He could've given his team an emotional edge, and he also had a veteran offense last season that helped pave the way to eight wins.
However, Norvell is now the head coach at Colorado State, and his former team has nine starters to replace on offense and eight on defense.
First-year head coach Ken Wilson, who was previously the Oregon defensive coordinator, faces a daunting rebuilding job.
His team will also face a sellout crowd under the lights at Kinnick Stadium, so, it's hard to see Iowa losing this game.
4. Sept. 24, Rutgers, Piscataway, New Jersey, 60 percent: Based on what each team's offense accomplished last season, points could be hard to come by in this game.
If I had to pick a score right now, I would see Iowa winning 24-14 or 21-10, or a score similar to that.
Iowa finished last season ranked 121st nationally in total offense, while Rutgers finished 120th in total offense and scoring offense.
This could be the only game in which Iowa junior Tory Taylor isn't the best punter on the field as Rutgers senior Adam Korsak is widely regarded as the best punter in college football.
Korsak could be very busy in this game because the Iowa defense should be the best unit on the field.
Rutgers appears to be moving in the right direction under Greg Schiano, who is in his third season as head coach after having previously been the Rutgers head coach from 2001 to 2011.
Schiano has had success at Rutgers before, but it's probably asking too much for his team, even with home-field advantage, to defeat an Iowa squad that is expected to compete for the West Division title after having won it last season.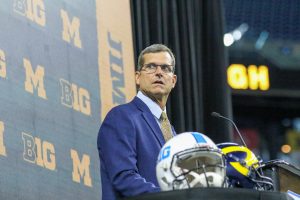 5. Oct. 1, Michigan, Kinnick Stadium, 51 percent: The Jim Harbaugh-led Wolverines certainly got the best of Iowa last season, cruising to a 42-3 victory in the Big Ten Championship game.
But Harbaugh, a former Michigan quarterback, is yet to win at Kinnick Stadium as a player or as a head coach.
He also has to replace some key pieces from last season, most notably All-America defensive end Aidan Hutchinson, All-Big Ten running back Hassan Haskins, Al-Big Ten linebacker David Ojabo and All-Big Ten defensive back Daxton Hill.
The good news for Harbaugh is that his top two quarterbacks from last season – Cade McNamara and J.J. McCarthy – both return along with explosive running back Blake Corum.
Some might call me a homer, but until Harbaugh shows that he can win at Kinnick Stadium, Iowa gets the slightest edge.
6. Oct. 8, Illinois, Champaign, Illinois, 60 percent: Illinois fell one win short of making an unexpected bowl game in Bret Bielema's first season as head coach last season.
Illinois also led Iowa 10-0 in the first quarter of last season's game at Kinnick Stadium, but couldn't hold the lead as Iowa ultimately prevailed, 33-22, in a game that Bielema missed due to Covid-19 safety protocols.
Charlie Jones helped trigger the comeback by returning a kick 100 yards for a touchdown with Iowa trailing 10-0 late in the first quarter.
However, Jones has since transferred to Purdue, and it's uncertain who will replace him as the kick returner.
Assuming Bielema is on the sideline for this game, he will give Illinois a huge emotional lift as a former Iowa defensive lineman.
So, this game could be dangerous should Iowa come out flat or self-destruct on offense.
Illinois has the advantage with some of the intangibles, but Iowa still should have the advantage in overall talent.
7. Oct. 22, Ohio State, Columbus, Ohio, 20 percent: These teams haven't played since Iowa did the unimaginable by crushing the Buckeyes 55-24 in 2017 at Kinnick Stadium.
Nearly everything that could go wrong for Ohio State in that game did go wrong.
But Iowa also deserves credit for rising to the occasion in spectacular fashion.
The problem is that game was five years ago, and almost all the players from both teams have moved on.
Ryan Day also has replaced Urban Meyer as the Ohio State head coach since the teams last met.
Ohio State is clearly the best team on paper, will be playing at home and most likely playing for a spot in the college playoff.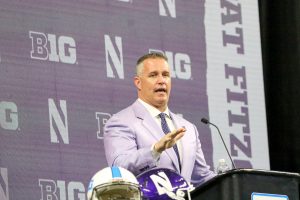 8. Oct. 29, Northwestern, Kinnick Stadium, 60 percent: Northwestern is coming off a disappointing 3-9 season, which based on its track record means it'll probably win the Big Ten West this season.
I say that only half-jokingly because the Fighting Fitzgeralds are hard to read.
Just when you think Northwestern is set to struggle, it often finds a way to prove the prognosticators wrong under Pat Fitzgerald.
Maybe that will happen again this season.
But until proven otherwise, Iowa looks better on paper, and will have home-field advantage.
9. Nov. 5, Purdue, West Lafayette, Indiana, 45 percent: This game will be filled with emotion with Charlie Jones and another former Iowa receiver, Tyrone Tracy Jr., both now playing for Purdue.
Iowa also has lost four of the last five games against Purdue, whose head coach Jeff Brohm has a knack of winning the head-to-head matchup against Iowa defensive coordinator Phil Parker.
Purdue will be without former star receiver David Bell, who has moved on to the NFL. But the Purdue spread offense still should be explosive.
Combine the Purdue offense with Purdue also having home-field advantage and that's why Iowa isn't favored from a percentage standpoint.
10. Nov. 12, Wisconsin, Kinnick Stadium, 40 percent: The Badgers defeated Iowa 27-7 in Madison last season and have won eight of the last 10 games in the series.
Iowa was held to just 24 rushing yards on 30 carries in last season's game.
Enough said.
11. Nov. 19, Minnesota, Minneapolis, 55 percent: This game should scare Iowa fans even though Iowa has won the last seven games in the series.
Iowa escaped with a 27-22 victory at Kinnick Stadium last season despite Minnesota having a 189 to 71 advantage in rushing yards.
Assuming senior running back Mohamed Ibrahim makes a full recovery from a ruptured Achilles tendon, which he suffered in the 2021 season opener, the Gophers should be a force on the ground.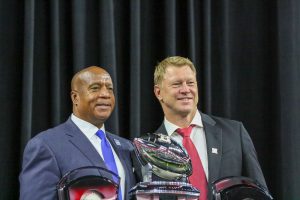 Four starters will have to be replaced on the offensive line, but Minnesota head coach P.J. Fleck has built the program to where there is a level of expectation at those positions.
Minnesota will also have home-field advantage.
But until Fleck shows that he can beat Kirk Ferentz, Iowa has a slight advantage, even on the road.
12. Nov. 25, Nebraska, Kinnick Stadium, 55 percent: This game also scares me because Iowa has won the last four games against Nebraska by just a combined 19 points.
Iowa won the last two games at Kinnick Stadium by scores of 26-20 in 2020 and 31-28 in 2018.
Scott Frost has made the Cornhuskers competitive in this series. They just haven't gotten over the hump, partly due to woeful performances on special teams.
Frost is likely coaching to save his job at his beloved alma mater, so there could be a lot riding on this game from a personal standpoint.
The worry is that Frost will finally get over the hump after having been so close in recent games.