By Pat Harty
IOWA CITY, Iowa – The word is indispensable is defined as "absolutely necessary" and the following 10 players fit that description for the 2022 Iowa football team.
They're not necessarily the 10 best players on the team, but rather than 10 most important players that are crucial to Iowa's success on the field because of their talent, of course, because of the position they play, and because of the circumstances surrounding their position.
A strong case usually could be made for the Iowa quarterback to top this list, or to be near the top. But two-year starter Spencer Petras has struggled for much of his time behind center, while his backup, junior Alex Padilla, won all three games that he started when Petras was injured last season, but Padilla also completed less than 50 percent of his passes and was replaced by Petras in the regular-season finale against Nebraska.
Petras isn't one of the most indispensable players on the team, partly because of how he has performed, but also because he has Padilla as his backup, while Padilla isn't one of the most indispensable, either, because other than his ability to scramble, he didn't perform any better than Petras did last season.
You will notice there isn't a kicker on the list because right now all of Iowa's kickers are unproven and inexperienced.
The position will obviously play a huge role, but it's uncertain who will fill the position between at least three candidates.
A running back also didn't make the list because none of the returning running backs have played enough to know just how indispensble they are at this point.
Gavin Williams and Leshon Williams (no relation) both ran hard between the tackles in the loss to Kentucky in the Citrus Bowl last season and showed they could move the chains.
It's just that neither has a big enough body of work after playing behind Tyler Goodson last season to know their true value.
10. Lukas Van Ness, sophomore, defensive line: The redshirt sophomore from Barrington, Illinois is part of a deep and talented group of defensive linemen, but he might have the highest upside.
He finished tied for the team lead with seven sacks last season and also had 8.5 tackles for loss despite playing less than half the time.
His ability to play both defensive end and defensive tackle should add to his value this season.
9. Seth Benson, senior, linebacker: The South Dakota native gets overshadowed by fellow linebacker Jack Campbell, but Benson is solid and dependable in his own right.
He started all 14 games last season and finished second on the team with 105 tackles. He also tied for the team lead with eight quarterback hurries.
Benson has made 21 career starts and has played in 37 games overall.
He and Campbell, and junior Jestin Jacobs, gives Iowa one of the most experienced linebacker triumvirates in the Big Ten.
8. Kaevon Merriweather, senior, strong safety: The Michigan native is a force on and off the field.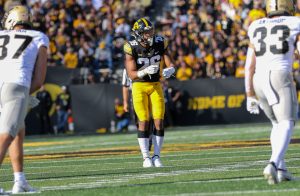 He has played a significant role in each of the past two seasons at strong safety and is expected to be the full-time starter at that position this coming season.
Merriweather is also one of the most respected leaders on the team. He was very outspoken during the racial unrest in the summer of 2020 and has embraced being a leader ever since.
Iowa needs Merriweather's influence on the field, in practice, and in the locker room.
7. Arland Bruce, sophomore, receiver: His ability to play in the slot makes him a key piece to the offense.
He finished fourth on the team last season with 25 catches for 209 yards and one touchdown. But he also ran for three touchdowns on just 14 attempts.
The fact that he might also be part of the return game adds to his value.
6. Mason Richman, sophomore, offensive line: The Kansas native is currently listed as the starting left tackle after having started 13 games at that position last season as a redshirt freshman.
The left tackle has the responsibility of protecting the quarterback's blind side, and with Spencer Petras lacking mobility, that just adds to the responsibility.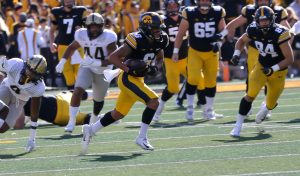 A case also could be made for offensive lineman Connor Colby, who started 11 games at right guard last season, earning freshman All-America honors.
But Richman was given a slight edge due to the position he plays.
5. Keagan Johnson, sophomore, receiver: Iowa can't afford to lose any receivers with the position being so thin, but to lose Johnson for any stretch of time would be a crushing blow.
His ability to stretch defenses is what the sputtering Iowa offense so desperately needs.
Johnson averaged 19.6 yards on his 18 catches last season. He also ranked second on the team with 353 receiving yards despite being ranked sixth on the team in catches and despite missing the Citrus Bowl because of an injury.
4. Riley Moss, senior, cornerback: The Ankeny native is in a unique position as a fifth-year senior with four seasons of extensive playing experience under his belt.
He thought about leaving for the NFL before deciding to take advantage of his free Covid year.
Moss now gets to play a key role for a fifth season, which puts him in select company.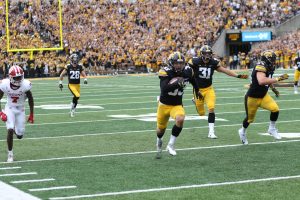 He has started 26 games as a Hawkeye and has played in 41 games overall.
Moss also has a knack for making big plays as he showed by returning two interceptions for touchdowns against Indiana in the 2021 season opener.
He was named the Big Ten Defensive Back of the Year last season despite missing three games because of a knee injury.
It's reasonable to think that whoever starts at the other cornerback position will be tested on a regular basis as opposing offenses stay away from Moss's side of the field.
3. Sam LaPorta, senior tight end: A quarterback that struggles to sustain a consistent down-field passing attack needs a good security blanket and Spencer Petras has that with LaPorta.
LaPorta led Iowa with 53 receptions for 670 receiving yards last season, while no other player on the team had more than 31 catches.
The tight end position always has a significant role in the Iowa offense as a receiver and blocker.
But the current offense seems even more reliant on LaPorta than usual because of his ability to get open and make tough catches in traffic, but also because many of his catches have come on shorter routes where completing the pass isn't as difficult as throwing to a receiver down field into coverage.
It would be a surprise if LaPorta didn't lead Iowa in catches again this season.
2. Jack Campbell, senior linebacker: The Cedar Falls native, besides being a tackling machine, is also a respected team leader who leads by example, and with his play on the field.
Campbell led the Big Ten with 143 tackles last season, and he also had six pass break-ups and six quarterback hurries.
He makes plays all over the field and he makes those around him better just from how hard he competes in practice and in games.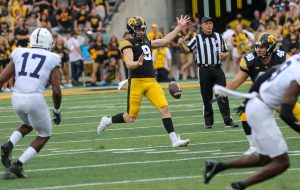 Nobody prepares harder than Jack Campbell, and when one of your best players is also one of your hardest workers, that's a huge bonus.
A case could be made for Campbell to top this list, but that distinction was given to his 25-year old teammate from Australia due to the circumstances on offense.
Tory Taylor, junior punter: Every team relies on good field position to win games, but Iowa seems more reliant than most teams due to its conservative approach on offense and because of its history of playing in close games under Kirk Ferentz.
Taylor's punting, coupled with a rock-solid defense and kicking game, carried Iowa to the Big Ten West Division title last season.
Iowa won 10 games last season despite having the 121st ranked offense, and the fact that Taylor averaged a whopping 46.1 yards on 80 attempts helps to explain how it was accomplished.
The Melbourne, Australia native had 39 punts that were downed inside the opponent's 20-yard line, and 27 that traveled beyond 50 yards.
There were many instances in which Taylor shifted field position after the offense had failed to move the chains in its own territory.
The importance of that can't be overstated.