By Pat Harty
IOWA CITY, Iowa – In a little over two years, Tory Taylor has gone from knowing very little about how football is played in the United States to being arguably the Iowa football team's most indispensable player.
He is part of a growing trend of Australia natives that have found success as college punters, and it's a good thing the Iowa coaches found him way down under because Taylor is now one of the top college punters in the country, and a weapon whose importance to his team can't be overstated.
Iowa probably wouldn't have escaped with a 7-3 win over FCS opponent South Dakota State in the season opener last Saturday without Taylor having averaged 47.9 yards on 10 punts.
Seven of his punts were downed inside the opponent's 20-yard line.
On a day when the Iowa offense performed woefully, the combination of Taylor's punting and rock-solid defense rescued Iowa from what would have been an embarrassing defeat against an FCS team with just 63 scholarship players.
Up next for Iowa is Iowa State on Saturday at Kinnick Stadium and it's reasonable to assume that Taylor's punting will have a huge impact on the game.
Iowa coach Kirk Ferentz obsesses over field position, and when your offense is severely lacking, as is the case with the Iowa offense, it helps immensely to have a good punter.
The 25-year old Taylor has become a fan favorite even though he represents failure by the offense, because every time Taylor takes the field to punt, the offense has just failed to sustain a drive.
The cheers got louder for Taylor as last Saturday's game progressed because fans realized how important his punting would be to the outcome.
"It does mean a lot," Taylor said of the fan support. "And I'd be lying if I said I didn't hear it when I went out there, that last punt everyone was kind of going nuts.
"It felt like we had just scored. I was like, 'this is pretty cool. And then I kicked it in the end zone, so that was pretty disappointing."
Taylor has not let success go to his head as he is his own worst critic.
But he appreciates the support from a fan base that he didn't even know existed just a few years ago.
"It really means a lot to me and my family that all the fans have helped me feel welcome since I got here," Taylor said.
A Culture of Winning
Taylor credits Iowa's culture, and its emphasis on special teams for helping him be successful.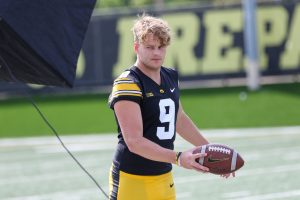 Special teams have become a strength since LeVar Woods, a former Iowa and NFL linebacker, was named special teams coordinator in 2017.
Woods was largely responsible for convincing Taylor to be a Hawkeye.
Woods flew to Taylor's hometown of Melbourne, Australia during the recruiting process to show how much the Iowa coaches wanted him.
"I think punting has kind of become one of those things, it's such an important factor in the way teams play football," Taylor said. "And moving forward, I think it's only going to get better. All three phases are just as important. I know it's that way here.
"I know it's a little different when you go to other schools. They probably don't take as much pride in their special teams, and you kind of see how much that hurts them. But I know here, we just take pride in the way we do things on special teams and all three phases."
Taylor grew up playing Australian rules football, which is a contact sport in which points are scored by kicking an oval ball between the central goal posts.
So, it helps to have size, which Taylor has at 6-foot-4 and 230-pounds, and a strong leg.
However, there still is a huge difference between playing Australian rules football and being a punter, and yet, Taylor has made the transition look easy.
He was named the Big Ten Punter of the Year as a freshman and 2020 and he averaged a whopping 46.1 yards on 80 punts last season.
Taylor also has a knack for pinning opponents deep in their own territory as 39 of his punts last season were downed inside the opponent's 20.
"Tory does a fantastic job week in and week out," said Iowa senior linebacker Jack Campbell. "He's a great human being, I'll start right there, but he's also a great football player.
"When he pins it at the one, there is just an energy with the defense, like hey, let's go get some points. He does a really good job at what he does and I'm just excited to continue to see what he can do."
Taylor's rise to stardom would be impressive under any circumstance.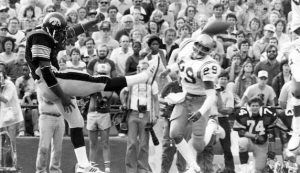 But he had never even stepped foot in a football stadium prior to making his debut as a Hawkeye at Purdue in 2020.
Taylor had watched some NFL and college football games on television while growing up in Australia, but that was the extent of his experience until he became a Hawkeye.
Taylor was raw to say the least. But he was also eager to learn, and he fit nicely in the Iowa culture.
That combined with a his powerful right leg made Taylor an intriguing prospect who has since paid huge dividends.
Learning About A Legend
Reggie Roby is widely recognized as the greatest Iowa punter of all time, and one of the greatest college punters of all time.
But a case could be made for Taylor being second on the list barely halfway through his Hawkeye career.
Taylor never had heard of Reggie Roby until he joined the Iowa program.
Taylor has since learned about Roby's greatness and there is a tribute to Roby in the specialists' room at the Iowa football facility.
Roby led the nation in punting twice as a Hawkeye, and the Waterloo native also broke a 32-year old NCAA record for punting average in a season when he averaged 49.8 yards during Iowa's 1981 Rose Bowl season.
Roby, who passed away in 2005 at the age of 43, also punted for 16 seasons in the NFL and twice made first-team All-Pro and second-team All-Pro once.
"I know he was probably one of the greatest punters to ever walk this earth," Taylor said.
Roby's punts often hung in the air for what probably seemed like forever to the opposing team. Fans used to show up early for Iowa games just to watch Roby punt in pre-game warm-ups.
"I don't really know too much about Reggie and I feel like that was kind of a different style of punting," Taylor said. "What was it forty or fifty years ago?
"But I certainly wouldn't put myself in the same group with him."
Perhaps the biggest edge that Roby had over Taylor at this stage is hang time on punts.
"Even from the weekend I really didn't have the best hang time," Taylor said of the season opener last Saturday. "There were probably a few balls that I didn't really hit the way I wanted to. And even to progress to the next level, you really need to get a little bit more hang time. So, that's one thing that I'm working on. But that's a work in progress and I'm working hard at it."
The fact that Roby became a legend as a punter despite often playing in adverse weather conditions makes what he accomplished even more impressive to Taylor.
"I haven't seen any film or videos of Reggie Roby, but I know he's in building, he's in the specialists' room," Taylor said. "I know a little bit about him.
"That's pretty impressive, and I don't think people understand, but to do that up here is pretty impressive."
A Noble Cause
Away from football, Taylor has also had a positive impact.
As an international student, Taylor is prohibited from cashing in on his name, image and likeness.
But that hasn't stopped Taylor from raising money for a cause that is dear to him.
He raised $11,000 by selling t-shirts with the now popular phrase "Punting is Winning" and then donated all the money to an organization called Count the Kicks," which focuses on stillbirth prevention awareness.
Taylor decided to raise money for the organization after Iowa offfensive coordinator Brian Ferentz's wife Nikki lost their daughter at 21 weeks in 2014.
Iowa head coach Kirk Ferentz, and his wife Mary, as a tribute to their granddaughter donated $1 million in 2017 to support researcher's work in the neonatal field at the UI Stead Family Children's Hospital.
"Just because I know it's close to obviously coach Ferentz and his son, Brian," Taylor said in a 2021 interview. "That was the reason. They've had a big impact on my life so far since I've gotten here.
"And I know, obviously, a lot of money gets donated to the children's hospital and things like that. And I thought about that."