IOWA CITY, Iowa – Don Patterson made his usual Monday guest appearance on the Hawk Fanatic radio show and podcast and there was plenty to discuss, including, of course, what's wrong with the sputtering Iowa offense.
Iowa is ranked last among the 131 FBS teams in multiple offensive statistical categories after having gained just 316 yards in the first two games against South Dakota State and Iowa State.
Iowa was held to just 150 yards in this past Saturday's 10-7 loss to Iowa State, which snapped Iowa's six-game winning streak in the series.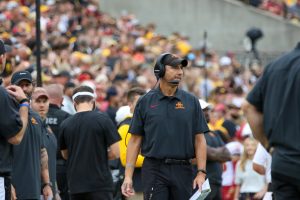 Patterson, who served as Hayden Fry's offensive coordinator at Iowa for a decade, gives his thoughts about why the offense is struggling so much, and what he thinks will happen at quarterback where Spencer Petras performed poorly in the first two games.
Patterson also predicted that Urban Meyer will be the next Nebraska head coach, which caught us by surprise.
He believes that Nebraska has enough donors that would be willing to spend whatever it would take to lure Meyer back into coaching.
Patterson also said on the show that he thinks Matt Campbell is too loyal to Iowa State to take the Nebraska job if it were offered to him.
Nebraska is looking to replace Scott Frost, who was fired as head coach on Sunday, and just a day after Nebraska fell to 0-2 with a loss to Georgia Southern.
We always appreciate Don's unique insight and are fortunate to have him on the show each Monday throughout the football seasoon.