By Pat Harty
IOWA CITY, Iowa – A friend reached out to me on Monday to say she was angry with Hawkeye fans for booing Iowa quarterback Spencer Petras.
She attended Iowa's 7-3 victory over South Dakota State in the season opener at Kinnick Stadium and was "disgusted" with the booing that occurred.
She wanted me to write a column telling fans to knock it off and she wanted to ask the fans that booed, whatever happened to the phrase, Iowa Nice?
She also said it's Kirk Ferentz decision to play Petras, and that fans should cheer for Petras and save the scrutinizing for Kirk Ferentz because the buck stops with him, and for Kirk's son, Brian Ferentz, because he's the offensive coordinator.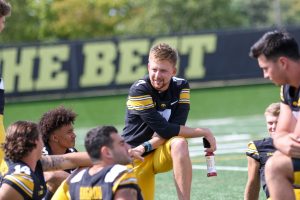 I admire my friend's loyalty and that she would stick up for an embattled Hawkeye student-athlete, but I also tried to explain to her why some fans are booing.
There was also booing that occurred in this past Saturday's 10-7 loss to Iowa State at Kinnick Stadium because the Iowa offense performed even worse against the Cyclones than it did against South Dakota State, gaining just 150 yards.
And there would almost certainly be more booing this coming Saturday should the offense struggle against Nevada.
I told my friend that some fans are just fed up with Iowa's dysfunction on offense, and booing is one way to express their frustration.
I also told her that they're not just booing Petras, but rather the product on the field.
They're booing Kirk Ferentz, Brian Ferentz and Petras because fans are upset about the ineptitude on offense, and they also invest a lot of time, energy and resources to attend games.
I told my friend that I couldn't rip the Iowa fans for booing Petras because fans have a right to express their emotions.
Why I prefer that fans didn't boo Petras?
Without question.
Petras is one of my all-time favorite Hawkeyes away from the field.
He's interesting, friendly and he always faces the media regardless of the circumstance.
But do I understand why fans are booing Petras and the offense?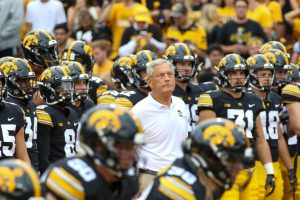 Without question.
I reminded my friend that booing is not unique to Iowa, and that college football at this level is big business, and with big business comes big emotions, good and bad.
I told my friend that Petras could silence the critics just by playing better.
Fans have reached the point where they're tired of hearing that Petras is a great guy, a great teammate, and a great practice player.
Fans want better results, and deservedly so.
Kirk Ferentz is paid a hefty salary to put a good product on the field, but right now, his offense leaves much to be desired.
Iowa is ranked last amongst the 131 FBS teams in multiple offensive statistical categories, including total offense at just a 158.0 yards per game, and it's not even close.
That's why fans are booing.
It's nothing personal against Petras.
It's just that he's the starting quarterback and booing goes with the territory.
The fact that Brian Ferentz is Kirk Ferentz's son is another reason fans boo because some will say that Kirk never should've hired somebody that would be so hard for him to fire.
I'm not suggesting that anybody, including Brian Ferentz, should be fired after just two games because this isn't Nebraska.
Those who have reached out to say that Iowa needs to clean house just like Nebraska did by firing Scott Frost this past Sunday need to step away from the ledge and put things in perspective.
There is no denying that the Iowa offense has performed woefully this season, and for much of last season, and that it falls on Kirk Ferentz and his son to fix things.
But to compare Kirk Ferentz's situation with the mess that Scott Frost left at Nebraska is just silly, misguided and not fair.
It's easy to forget with the offense performing so poorly right now that Iowa won the Big Ten West Division last season, and 10 games overall, and that Iowa has won 10 games in two of the past three seasons.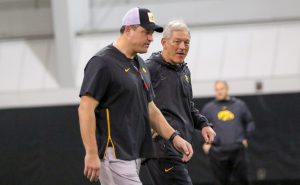 Iowa also finished a respectable 6-2 in the 2020 Covid-shortened season.
One of the problems with Kirk Ferentz being the longest tenured FBS head coach in the country is that some fans are suffering from Ferentz fatigue with this his 24th season as the Iowa head coach.
I told my friend that Ferentz fatigue also helps to fuel the booing.
I also told my friend to stay positive and to think about all the good things associated with Hawkeye football, including having one of the best defenses and punters in the country, having all seven home games sold out and having the best tradition in college sports, the Wave.
My friend is certainly entitled to her opinion, and if she is disgusted by fans booing Spencer Petras, that is her right to feel that way.
But again, fans also have a right to boo at this level regardless how anybody feels about it.