By Pat Harty
IOWA CITY, Iowa – Sophomore defensive back Cooper DeJean plays with a quiet confidence.
He speaks softly, but his performance on the field speaks volumes about his versatility, his preparation, and his ability to make pivotal plays.
In just three career starts, DeJean already has a team-high two interceptions, a team-high four pass breakups and 17 tackles, which ranks third on the team.
DeJean recorded his second interception as a Hawkeye in the first quarter of Iowa's 27-0 victory over Nevada on Saturday and Sunday at Kinnick Stadium.
The game lasted for nearly seven hours due to three lightning delays that stopped play for nearly four hours.
But even with all the interruptions in play, the Iowa defense never let up while pitching a shutout for the first time since the 2019 season when Iowa had shutouts against Rutgers (30-0) and Northwestern (20-0).
"That was good. It is gratifying," Iowa coach Kirk Ferentz said of holding Nevada scoreless. "Any time you get a shutout that's great. It's representative of the kind of work that guys have been doing. They were aggressive tonight. They played well and did a lot of good things. They can always feel good about that."
Iowa's defense was expected to be solid again this season with three starters returning on the defensive line, and with all three starting linebackers returning.
But there were some concerns in the secondary where three full-time starters had to be replaced, including All-Big Ten safety Dane Belton.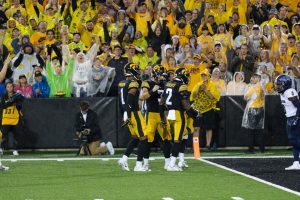 And though it's only been three games, DeJean and first-year starting free safety Quinn Schulte both have been pleasant surprises, although, DeJean showed flashes last season, so maybe his fast start shouldn't be considered a surprise.
"It's been a huge learning experience," DeJean said after the victory over Nevada. "I think my first game I was a little uptight, a little nervous, but I'm starting to feel more comfortable as the season is going on.
"So, hopefully just keep preparing and keep going, and looking forward to start Big Ten play."
Iowa (2-1) will face Rutgers (3-0) in the Big Ten opener next Saturday in Piscataway, New Jersey in what will be DeJean's first road game as a starter.
DeJean was known for his versatility in high school as a star in multiple sports, and now he's earning praise for his versatility as a Hawkeye defensive back.
He has played both cornerback and safety, and has also played the cash position, which combines both linebacker and defensive back responsibilities.
DeJean always seem in the right position to make plays, and he plays with both finesse and physicality.
He can play in traffic, and in space, and he has strong ball skills.
He also seems unfazed by the moment.
DeJean made his biggest impact last season on special teams and he continues to excel in that role on the punt team this season.
He and fellow defensive back Terry Roberts both have shown a knack for getting down field to be in position to down Tory Taylor's punts deep in opponent's territory.
Four of Taylor's punts against Nevada were downed inside the Nevada 20-yard line.
The 6-foot-1, 209-pound DeJean was a star quarterback and defensive back in high school.
He passed for over 3,400 yards as a senior while leading his team to the second of back-to-back state titles, and he also had nine interceptions as high school senior.
DeJean might have had a chance to play quarterback in college, but he also knew that he had more potential and upside as a defensive back.
He wanted to be a Hawkeye defensive back under defensive coordinator Phil Parker, and now DeJean is showing early signs of being Parker's next great defensive back.