By Pat Harty
IOWA CITY, Iowa – See what happens when the Iowa football team can run the ball.
Spencer Petras plays better at quarterback.
Brian Ferentz coaches better.
The receivers do a better job of getting open.
And the offensive linemen do a better job of pushing forward and winning the line of scrimmage.
All of those things occurred during Iowa's 27-0 victory over Nevada on Saturday and Sunday at rain-soaked Kinnick Stadium.
The game took nearly seven hours to play due to three lightning delays, but Iowa had 93 rushing yards and a 17-0 lead by halftime, and before the weather halted play.
True freshman running back Kaleb Johnson was the beneficiary of some top-notch run blocking, and he took advantage of it by scoring on touchdowns runs of 40 yards in the first quarter and 55 yards in the fourth quarter.
Johnson's first two touchdowns as a Hawkeye came about six hours apart, but on each play, the blocking was spectacular.
"It felt a little bit more like the kind of football you want to play," said Iowa coach Kirk Ferentz. "Spencer, I thought, made some beautiful throws tonight and some real near misses. Hopefully, in time, those will be completions. Whether it's thrown a little off or maybe the receiver a little bit off, that type of deal, it was encouraging because it looked like we were going to go somewhere there with it.
"If we can combine that with a good run game, hopefully, we can be able to do the things we want to do. It was encouraging."
Petras completed 14-of-26 passes for 175 yards and one touchdown against Nevada.
And while those aren't great numbers, they're a big improvement from the first two games against South Dakota State and Iowa State when Petras combined to complete just 45.1 percent of his passes for just 201 yards.
Petras also threw at least two deep balls against Nevada that probably should've been caught, but the receiver appeared to struggle with tracking the ball.
So, at least for one game, Petras's performance at quarterback wasn't a storyline for the wrong reasons, nor was Brian Ferentz's performance as the offensive coordinator and play caller.
Iowa finished the Nevada game with 162 rushing yards and a 4.6 yards-per-carry average.
That was drastic change from the first two games when Iowa combined to average just 57.5 rushing yards per game, and 1.9 yards per carry as a team.
"The run game wasn't perfect, but we did some better things, so that was encouraging," Kirk Ferentz said.
Iowa played without sophomore running back Leshon Williams against Nevada due to his father having passed away earlier in the week.
Williams started the first two games and led the team in rushing with 106 yards heading into the Nevada game.
But the combination of Kaleb Johnson and sophomore Gavin Williams helped to fill the void as Johnson rushed for 103 yards on just seven carries, while Gavin Williams rushed for 57 yards and had three catches for 34 yards.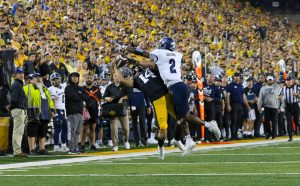 Kaleb Johnson is the first Hawkeye freshman to rush for at least 100 yards and score two touchdowns in a game since Marcus Coker had 219 rushing yards and scored two touchdowns in the 2010 Insight Bowl.
"I've been waiting for this since I got here," said Johnson, a 6-foot, 212-pound native of Hamilton, Ohio. "I love Hawkeye football. I love it."
Johnson made sure to praise his blockers as he should have because that's what really made the offense click.
It certainly helped to have receivers Nico Ragaini and Keagan Johnson back on the field for the first time this season.
But it was the Iowa running game, along with the defense and the punting of Tory Taylor that helped pave the way to a win.
Iowa also might have found its kicker as true freshman Drew Stevens made both of his field-goal attempts from 43 an 33 yards, and all three of his point-after kicks.
Stevens replaced Alex Blom as the field-goal kicker against Nevada, and Stevens took advantage of the opportunity.
Steven was told Friday by Iowa special teams coordinator LeVar Woods that he would be the field-goal kicker against Nevada, in addition to handling kickoffs.
"The guys have been going back and forth and I've been saying all along we're probably going to ride the roller coaster a little bit," Kirk Ferentz said of his kickers. "But pleased that both guys. Aaron, you haven't seen the last of him. He's done a good job. We have two good kickers right now. Hopefully they can get comfortable."
The Iowa defense has only allowed 13 points and one touchdown in three games this season.
All 27 of Iowa's points were scored either by a true freshman, or by a true sophomore as sophomore receiver Arland Bruce caught a 21-yard touchdown pass from Petras with 23 seconds left in the first quarter.
It was Iowa's first passing touchdown of the season.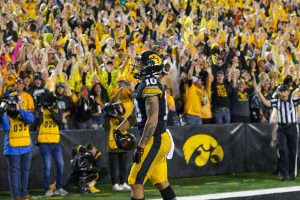 "The whole unit together, we just felt cohesive and I think everything just clicked today, and it just felt really good to be out there. It was really fun," Bruce said. "I was definitely excited for Kaleb as a true freshman to have two touchdowns tonight."
The offense was more cohesive and did click mostly because the running game helped to set the stage for success.
Now the challenge is to build off this win, and to further establish the running game as Iowa prepares to face Rutgers in the Big Ten opener next Saturday in Piscataway, New Jersey.
"You're always wondering what's going to happen, where we're going, where we're heading," Kirk Ferentz said. "But the guys pushed forward. They practiced well. I think we did make improvement this week. A couple things I'm excited about I think we have some strengths on our football team and I know we can get a lot better in some other areas.
"But to get a reward, it's important, it really is important. Hopefully, we can build on this a little bit. Haven't seen much of our next opponent, but I'm sure it's going to be another challenge for us."