By Pat Harty
IOWA CITY, Iowa – Iowa sophomore running back Leshon Williams is "full speed" for Saturday's Big Ten opener at Rutgers, but the status of sophomore receiver Keagan Johnson isn't as promising.
"I don't think so," Iowa head coach Kirk Ferentz said when asked Tuesday if Johnson would be available for the Rutgers game. "He hasn't practiced yet this week, so we'll see. It's just day-to-day."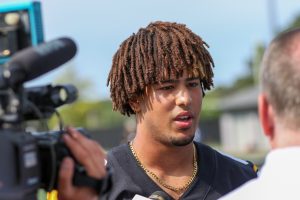 Johnson played in the first half of last Saturday's 27-0 victory over Nevada at Kinnick Stadium, but he was in street clothes by the time the game ended after having three lightning delays that halted play for nearly four hours.
"Yeah, he pulled out somewhere around the 34th, 35th play," Ferentz said. "It's a nagging injury, and there's nothing to say right now. We'll take it a day at a time."
As for Leshon Williams, who missed the Nevada game due to the death of his father, he will play on Saturday.
"He's full speed and doing great, and just a tough week," Ferentz said of Leshon Williams, who started the first two games against South Dakota State and Iowa State.
Leshon Williams's absence from the Nevada game led to more opportunities for true freshman running back Kaleb Johnson, who led Iowa with 103 rushing yards against Nevada and scored touchdowns on runs of 40 yards in the first quarter and 55 yards in the fourth quarter.
Kirk Ferentz said Tuesday that the 6-foot- 212-pound Johnson has earned the chance for more playing time.
"Yeah, no question," Kirk Ferentz said. "If you earn it, you're going to get it. He certainly has earned it. He's done a really good job. Part of it was circumstance this past weekend. Really for the first three games we've been a little shorthanded at that position.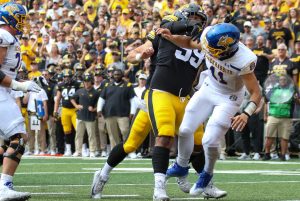 "During that time — and this is how it works, too, is if you earn the right to be considered for playing time, and he's certainly, I think, done a nice job since we got started back in August. He's improved every week. He wasn't perfect the other night, but he looked more comfortable and looked more like the kind of player you hoped he was going to be."
On the defensive side, Kirk Ferentz is hopeful that senior defensive tackle Noah Shannon will be available for the Rutgers game.
Shannon has been hampered by a nagging injury that limited his playing time against Nevada.
"We're hoping by middle of the week he'll be ready to go," Kirk Ferentz said of Shannon, who has 18 career starts. "We have — like a lot of teams, you have guys that are out and then you have other guys that are nursing injuries and just trying to play through it. We had a fair amount of guys miss yesterday and maybe a little less today, but that's one of the frustrating things.
"I was just in there thinking, putting on my tie, you think as you get older you would handle these things a little bit better, but I'm not sure I do. You want everything to be perfect, and it's an imperfect game, and then when you factor injuries in, that makes it a little bit less perfect even more. That's probably terrible grammar, but you know what I'm saying. It's hard and it's a challenge."