By Pat Harty
IOWA CITY, Iowa – Being just one-third of the way through the regular season means it would be premature to make any bold statements about the Iowa football team's defense.
But I'll do it anyway.
The current Iowa defense, which has allowed just 23 points in the first four games, has a legitimate chance of being the best defense in 24 seasons under head coach Kirk Ferentz, and that's saying a lot.
It's not there yet, obviously, with so many games still left to be played, including this Saturday's game against No. 4 Michigan at Kinnick Stadium.
The last time Iowa faced Michigan it didn't end well for the Hawkeyes as Michigan cruised to 42-3 victory in the Big Ten championship game last December in Indianapolis.
Michigan burned the Iowa defense on a few trick plays early in the game, but the Iowa defense still held its own until fatigue became a factor in the second half.
Michigan only led 14-3 at halftime, but then pulled away by scoring 21 points in the fourth quarter.
The Iowa defense certainly could've played better against Michigan, but the Iowa defense also received very little help from the Iowa offense, a pattern that has carried to this season.
A defense can only hold up for so long without getting help from its offense, and that's a concern heading into Saturday's game.
Former Iowa offensive coordinator Don Patterson made his usual Monday appearance on the Hawk Fanatic radio show and podcast, and he raved about the performance of the Iowa defense, which leads the nation in scoring defense, allowing just 5.8 points per game.
Iowa is also ranked third nationally in pass efficiency defense, fourth in red zone defense and sixth in the total defense.
"Inspired play is contagious," Patterson said. "On defense, it seems like a majority of our defenders are feeding off the energy of their teammates that are out there on the field with them.
"Think of it this way; no one wants to be the weak link and they do have fanatical effort that does cover up minor mistakes that are sometimes tied into alignment or technique. Incredible effort can make up for a lot sometimes."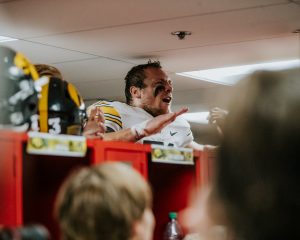 The Iowa defense is solid at all three levels, from having a deep and experienced defensive line, one of the best linebacker duos in the conference in Jack Campbell and Seth Benson, and a secondary that has nice blend of experience and youthful exuberance.
Fifth-year senior cornerback Riley Moss is the reigning Big Ten Defensive Back of the Year, while sophomore do-everything defensive back Cooper DeJean is showing signs of being Iowa's next great defensive back under defensive coordinator Phil Parker.
DeJean leads the team with three interceptions, including a pick-six against Rutgers in which DeJean made a spectacular over-the-head catch and then eluded multiple defenders on his way to end zone.
DeJean also was the beneficiary of at least five blocks by his defensive teammates.
"Here's the mindset of the defense now, it's no longer enough to simply generate turnovers," Patterson said. "We have the mindset that maybe, just maybe, we can turn them into touchdowns. Isn't that a radical thought?
"And as a result, you see defenders that are really rallying to be in position to help their teammate find pay dirt."
Iowa's pass rush was persistent throughout the Rutgers game as defensive line coach Kelvin Bell used multiple defensive linemen to help offset fatigue, but also because multiple defensive players deserve to play.
"It is absolutely relentless," Patterson said of Iowa's pass rush. "We're playing a lot of guys, of course, and doing our best to keep them fresh throughout the game."
Senior cornerback Terry Roberts missed the Rutgers game after having been injured in practice last Friday.
Iowa compensated by shifting DeJean from the cash position to cornerback, and by using redshirt junior Sebastian Castro at safety.
"I like him because he knows how to play defense," Patterson said of Castro.
Patterson also has been impressed with the performance of fourth-year junior Quinn Schulte at free safety where he is starting for the first time.
Schulte had seven tackles against Rutgers, including six solo stops.
"If a safety is making tackles they're out in the open field and there's nothing easy about that," Patterson said of Schulte.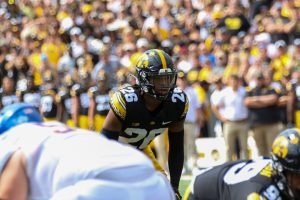 Iowa's other starting safety, senior Kaevon Merriweather, also played well against Rutgers, in fact, well enough to have been named the Co-Big Ten Defensive Player of the Week.
Merriweather scored the second touchdown on defense by returning a fumble 33 yards for a score in the second quarter.
He scooped up the ball after it had been knocked loose on a hit by Castro.
Merriweather also returned an interception 33 yards in the second half, and he could've had a second interception later in the game, but he wisely let the ball drop on fourth down to save Iowa field position.
Again, it's early and the toughest part of Iowa's schedule still remains, including road games at Ohio State and Minnesota.
But through four games, the defense has been special, in some ways historically good.
And while there are lots of reasons behind the success on defense, experience is certainly one of the biggest reasons.
Three of the four starters on the defensive line – John Waggoner, Noah Shannon and Joe Evans – are fifth-year seniors, while Campbell and Benson are both true seniors.
Iowa's four starting defensive linemen, which also includes junior tackle Logan Lee, have combined for 59 career starts.
Lukas Van Ness might have the highest ceiling of all the defensive linemen and he doesn't usually even start.
Van Ness is technically an underclassmen as a sophomore, but he's a third sophomore after having been redshirted in 2020.
Riley Moss, because of a free covid year, has the distinction of being a fifth-year senior without having been redshirted.
Moss has started 30 games as a Hawkeye and played in 45 games.
Merriweather has started 16 games and played in 37 overall as a true senior, while Quinn Schulte has played in 19 games as a redshirt junior.
DeJean is the baby on defense as a true sophomore, but his talent and instincts help to compensate for his lack of experience.
Roberts, who started the first three games at cornerback, has played in 30 games as a fifth-year senior.
There is experience up and down the defensive depth chart, and it's showing on the field.