By Pat Harty
IOWA CITY, Iowa – Iowa quarterback Spencer Petras passed for a season-high 246 yards against Michigan on Saturday, so at first glance it might seem that he performed exceptionally well.
But he really didn't play that well, considering Iowa was scoreless heading to the fourth quarter.
In fairness to Petras, however, he wasn't the biggest problem for Iowa's offense during the 27-14 loss to fourth-ranked Michigan at Kinnick Stadium.
Iowa's inability to establish a rushing attack was at the root of Saturday's loss.
True freshman Kaleb Johnson had a couple nice runs, as did sophomore Leshon Williams.
But it's hard for an offense to click when it only rushes for 35 yards on 24 attempts.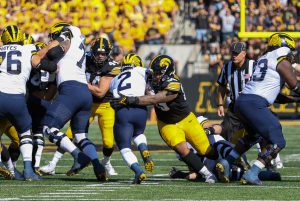 Michigan, on the other hand, finished with 171 rushing yards, giving it a massive 136-yard advantage on the ground.
"If you can't stop the run, it's tough," said Iowa coach Kirk Ferentz.
On the flipside, it's also tough when a team can't run as Iowa fans know all too well.
It would be easy to blame Petras and Iowa offensive coordinator Brian Ferentz for the ongoing problems on offense, and they certainly deserve part of the blame.
But Iowa's inability to run the football with any consistency is hurting the offense more than anything else.
That was also the case last season, but Iowa still managed to win the Big Ten West Division and 10 games overall largely because of its defense and special teams.
At some point, though, a team has to excel in all three phases to beat elite opponents. But it's hard for an offense to click when the running game sputters, especially for an offense like Iowa's that relies so much on tempo and field position.
In three of Iowa's four losses last season, it was held to fewer than 100 rushing yards.
Saturday's loss to Michigan was just a continuation of that disturbing trend, although, Kirk Ferentz saw some progress.
"As crazy as it may sound, from where I stood, I thought our guys played hard and I saw some growth in our football team," Kirk Ferentz said.
Iowa did show some growth on offense in Saturday's game, but not nearly enough from the running game to defeat an elite opponent.
The Iowa defense struggled in the first half to get off the field as Michigan scored on four of its first five possessions. But Phil Parker's defense regrouped at halftime and looked more like itself in the final two quarters.
Petras made some impressive throws, especially to sophomore tight end Luke Lachey, who finished with five catches for 84 yards, both of which were career highs.
But Petras also missed some open receivers, which has been an ongoing problem, and he was sacked four times for a minus-31 yards.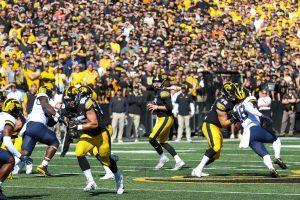 "There's that fine line between trying to stay in there and deliver the ball while taking a hit," Petras said. "Sometimes, that's maybe the wrong decision.
"Who knows on a lot of those if I made the right decision trying to hang in there, or if I should escape. It's hard to say now. I'll have to watch the tape."
Petras also got a chunk of his passing yards on Iowa's final scoring drive late in the fourth quarter when Michigan was in a prevent defense.
But again, Petras wasn't the biggest problem for the Iowa offense on Saturday.
Some fans probably don't want to hear that because they're tired of watching the offense struggle with Petras behind center.
Petras's lack of mobility, coupled with the fact that he rarely has the luxury of using play action is a formula for failure on offense.
Iowa's inability to sustain a rushing attack can be traced to several factors, including defenses loading the box and daring Iowa to throw.
The problem is that Iowa is desperately thin at receiver, making it hard to throw downfield.
There were some signs of progress in Saturday's game as Iowa's receivers combined to finish with seven catches for 117 yards.
That might not seem like much, but considering where the offense was two weeks ago, seven catches by the receivers is progress.
"I thought the offense had a little bit of a swag to ourselves in the second half, which I think is good, and we've just got to keep that going into next week," said Iowa senior receiver Nico Ragaini. "This game is behind us and we've got another Big Ten opponent next week, and we've just got to continue to grow and keep that swag we had right there."
Not to sound like a broken record, but the offense would have an easier time keeping that swag if it could just run the ball more effectively.
Iowa's longest run in Saturday's game was just 12 yards by Kaleb Johnson, although, his two longest runs were erased by penalties.
Iowa struggles so often to sustain a rushing attack that it seems to get overlooked due to all the other problems on offense.
But for this offense to perform at the level needed to defeat elite opponents, the running game has to improve substantially.
ASAP.