By Pat Harty
IOWA CITY, Iowa – As I was updating my Big Ten power rankings, news broke on Sunday that Paul Chryst was out as the Wisconsin head coach.
Former Wisconsin defensive back Jim Leonhard has been promoted to interim head coach, which could mean that Barry Alvarez just doesn't have it in him anymore to save Wisconsin football.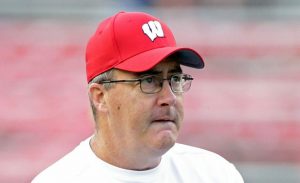 Wisconsin is saying loud and clear that mediocrity won't be accepted, and my latest Big Ten power show just how mediocre the Badgers have become.
The power rankings are always fluid, but even more so in the first half of the season because teams still are trying to figure things out.
That didn't help Chryst save his job, however, because Wisconsin officials apparently have figured out that he needed to go.
Ohio State, Michigan and Penn State are the only Big Ten teams still undefeated at this stage, so the conference's three traditional powers are living up to their reputation.
Eight of the 14 Big Ten teams are 1-1 in conference play, so yes, these rankings will change a lot over the next two months.
Ohio State, 2-0, 5-0 – Buckeye fans feel a little restless after watching their team fail to score at least 50 points in the 49-7 victory over Rutgers this past Saturday.
2. Michigan, 2-0, 5-0 – Jim Harbaugh finally gets to remove winning at Kinnick Stadium from his bucket list.
3. Penn State, 2-0, 5-0 – James Franklin updating his resume with each victory.
4. Illinois, 1-1, 4-1 – Bret Bielema is more popular right now in eastern Illinois than the Beef House.
5. Maryland, 1-1, 4-1 – Maryland coach Mike Locksley apparently is more than just a recruiter.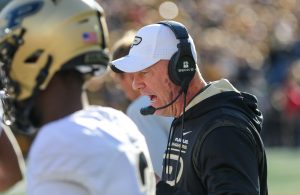 6. Purdue, 1-1, 3-2 – Purdue coach Jeff Brohm apparently is more than just an offensive coach.
7. Minnesota, 1-1, 4-1- Minnesota coach P.J. Fleck apparently can't handle success because it seems whenever his team is on the verge being special, it lays an egg like this past Saturday when the Gophers lost to Purdue 20-10 in Minneapolis.
8. Iowa, 1-1, 3-2 – His offense is sputtering and fans are frustrated about it, but Iowa still has a 13-6 record since the start of last season, and a 29-11 record since the start of the 2019 season, so it's business as usual for Kirk Ferentz.
9. Wisconsin, 0-2, 2-3 – All Paul Chryst would have to do is look at these power rankings to see why Wisconsin pulled the plug on Sunday.
10. Michigan State, 0-2, 2-3 – Mel Tucker might be losing games at an alarming pace in season No. 3 as head coach, but he always wins big on pay day.
11. Rutgers, 0-2, 3-2 – With lopsided losses to Iowa and Ohio State in the last two games, Greg Schiano can't decide if Rutgers needs more help on offense or defense.
12. Nebraska, 1-1, 2-3 – The name Mickey hasn't been this popular with Nebraska fans since Toni Basil released her mega-hit "Mickey" in 1981.
13. Indiana, 1-1, 3-2 – Tom Allen is a highly respected coach, and he seems to be a great guy, but he just lost to Nebraska, and is 1-10 in his last 11 conference games. He's just lucky he isn't the head coach at Wisconsin.
14. Northwestern, 1-1, 1-4 – Pat Fitzgerald should either pursue the Wisconsin job or convince the Big Ten to let Northwestern play all its home games in Ireland.