By Pat Harty
IOWA CITY, Iowa – Wisconsin and Iowa often get lumped together in football because they sort of play the same way on offense, although, the Badgers have usually been better at it.
At least it's been that way since Barry Alvarez resurrected the Wisconsin program in the early 1990s with a rebuilding plan that sort mirrored what Hayden Fry did at Iowa in the early 1980s.
Alvarez even hired two of Fry's assistant coaches to help carry out his plan, with Dan McCarney having served as his defensive coordinator and with Bernie Wyatt having spearheaded the recruiting effort on the East Coast, just as Wyatt did for Fry at Iowa a decade earlier.
Iowa and Wisconsin also recruit many of the same players, and both programs have devoted fans who've had it pretty good over the past three decades in Wisconsin's case, and over the past four decades in Iowa's case.
But as the sudden firing of Paul Chryst showed on Sunday, Wisconsin and Iowa are also very different when it comes to football.
It's hard to imagine a coach with Chryst's track record being fired at Iowa under any circumstance, outside of violating a behavior clause, let alone after just five games in a season.
That isn't to say that Wisconsin's approach is wrong, or that Iowa's approach is right.
They're just different.
Some are praising the Wisconsin administration for being aggressive, and for refusing to accept mediocrity for any length of time, while others are saying that Chryst deserved the rest of the season to try to fix things.
Barry Alvarez built a monster in Madison, and Wisconsin Athletic Director Chris McIntosh apparently felt that Chryst was no longer up to the task.
The 45-year old McIntosh helped Alvarez turn Wisconsin into a Big Ten power as a standout offensive lineman.
McIntosh helped to set a standard that he must have felt wasn't being met by Chryst.
This sudden decision could ultimately backfire as it did when Nebraska fired Bo Pelini in 2014, even though Pelini never had won fewer than nine games in seven seasons as head coach.
Pelini was his own worst enemy, however, due to being rude, vulgar and confrontational.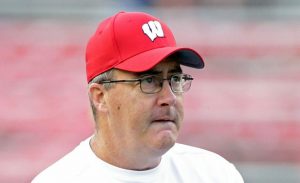 Nebraska felt that it had no choice but to take action.
But if Pelini had been more successful, he probably would've withstood the heat and criticism and kept his job.
Nine wins in a season should look pretty good to Nebraska fans right now, but in 2014, it seemed average because so many Nebraska fans and decision makers still were living under the delusion that Nebraska football was a dynasty that just needed a quick fix.
They couldn't have been more wrong.
Nebraska also fired Frank Solich as head coach in 2003 despite Solich having a 58-19 record over six seasons as Tom Osborne's successor.
The level of delusion about Nebraska still being a dynasty was even higher back then compared to when Pelini was dismissed about a decade later.
Some will say be careful what you wish for, while others will say don't be afraid to be aggressive and strike now.
Chris McIntosh decided to strike now, with one theory being that he was concerned that Nebraska might hire Wisconsin defensive coordinator Jim Leonhard, who's now the interim head coach, as its head coach.
Maybe that was the case.
But it seems hard to believe that Nebraska's top candidate would be a Wisconsin defensive coordinator who it seemed was being groomed to be the next head coach at his alma mater.
Whatever the case, Chryst is out as head coach and a message has been served that any stretch of mediocrity won't be accepted at Wisconsin.
Chryst is yet another head coach who is being paid to go away with a buyout.
It was the same with Scott Frost at Nebraska just two weeks earlier.
It seems that some schools are accepting the cost of a buyout perhaps because of how much money they get each year from television revenue.
That money allows them to take chances and to be aggressive.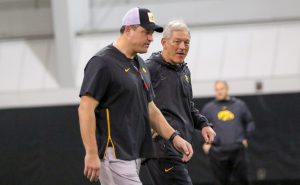 As for the situation at Iowa with Kirk Ferentz, it's silly to even think that his job could be in jeopardy, because for one, Iowa has a 29-11 record since the start of the 2019 season, and because Ferentz's buyout is worth somewhere between $40 million and $50 million.
That's a lot of money, even in this age of lucrative television contracts.
Iowa is devoted to Kirk Ferentz, and some will say too devoted.
However, unlike Paul Chryst, Ferentz took over an Iowa program that was in rough shape in 1999, while Chryst took over a Big Ten power that is now in decline.
Iowa Athletic Director Gary Barta is accused of being weak and afraid of taking a stand with Kirk Ferentz.
That is due partly to allowing Kirk Ferentz to have such one-sided contracts, and for allowing Kirk Ferentz to promote his son, Brian Ferentz, to offensive coordinator in 2017.
The offense has struggled under Brian Ferentz with the numbers from this season so far being the lowest of all the low points.
But Iowa is also the defending Big Ten West Division champion, and has won 10 games in two of the past three seasons.
So, as long as Kirk Ferentz keeps producing those types of numbers, any talk about his job security would be foolish, and a waste of time.
Because like it or not, Iowa isn't Wisconsin.