By Pat Harty
IOWA CITY, Iowa – The decision by Wisconsin Athletic Director Chris McIntosh to fire Paul Chryst as head football coach just five games into the season might have surprised some, but not Kirk Ferentz.
"No, not at all. Disappointed, but not surprised," Kirk Ferentz said at his weekly press conference on Tuesday. "I think it's the fifth one this season, right? The toll has mounted. Ball kind of got rolling last year.
"The one big one I remember was USC the second week of the year. And my question would be if it's that bad, why didn't you do it a year ago or a half year ago.
"But that's the world we're living in right now. I'm not surprised, but disappointed."
Kirk Ferentz was referring to when the University of Southern California fired Clay Helton as head coach last September after having played just two games,
Helton is now the head coach at Georgia Southern, while Lincoln Riley left Oklahoma to be the head coach at USC.
Chryst was fired in his eighth season as head coach at his alma mater despite having a 67-26 overall record, and despite having led the Badgers to three Big Ten West Division titles and to a 6-1 record in bowl games.
His dismissal this past Sunday came just a day after Wisconsin lost to Illinois 34-10 in Madison, Wisconsin.
The Badgers are usually one of the best running teams in the country, but they were held to just two rushing yards against Illinois, whose head coach is former Wisconsin head coach and former Iowa defensive lineman Bret Bielema.
Ferentz kept repeating himself when addressing Chryst's firing, saying it's a sign of the times.
Chryst is the second Big Ten head coach to be fired since the start of the season, the other being Scott Frost at Nebraska.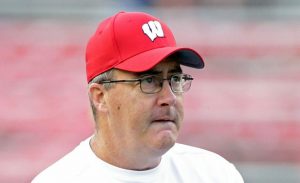 "I don't know all those details, but that's the world we're living in right now," Kirk Ferentz said. "It's a results-driven business, and it always has been. That's not new."
The 67-year old Ferentz is in his 24th season as the Iowa head coach, and he is the longest tenured head coach at the Division I level.
Ferentz also has a contract that runs through the 2029 season, and it includes a buyout that is currently worth more than $40 million.
Iowa has been extremely loyal to Kirk Ferentz, while Wisconsin fired Chryst during the season and despite having a record that compares favorably to Kirk Ferentz's record at Iowa.
Ferentz was asked Tuesday if he has had any conversations with UI administrators about the importance of being patient and about the importance of long-term thinking.
Iowa Athletic Director Gary Barta was in the back of the room listening to Ferentz speak.
"I haven't really had to," Kirk Ferentz said. "That's one of the things I appreciate. I think I've been able to — I've been really lucky in my career if you think about it. I've been places where people are pretty reasonable and they understand competition and they help you work through things, and to me there's only two ways to do it if you hit adversity: Just trash the thing and then start over again, or you try to work through it.
"For whatever reason, it's just kind of worked out and I'm appreciative of that. I've always been appreciative of working in a good, stable environment. Don't take it for granted."
Iowa is currently 3-2 overall and 1-1 in the Big Ten, but the offense has been ranked at or near the bottom nationally in total offense throughout the season.
The fact that Kirk Ferentz's son, Brian Ferentz, is the offensive coordinator has made it a delicate situation.
Kirk Ferentz was asked Tuesday if he could ever anticpate making changes to his staff during the season.
"For what purpose," he asked
The reporter then said any purpose.
"Yeah, if you thought it was going to serve an end, yeah, absolutely," Kirk Ferentz said. "But I've never been in that situation as an assistant or a head coach. Certainly as an assistant I never thought I should be changed out. That was never on my mind."