By Susan Harman
IOWA CITY, Iowa – Maybe it's OK to let offense be your identity
The Iowa women's basketball team was milling around on the floor of Carver-Hawkeye Arena Thursday for media day. Freshman Hannah Stuelke from Cedar Rapids was asked what she thinks of when she thinks of an exciting basketball team.
"The Iowa Hawkeyes," she said with a wry smile. "The way that we push the floor, the passion that you can just see that everyone has and the team chemistry is just really cool to watch."
Is this an exciting team with an All American point guard who can shoot the lights out and fire a pass through a bevy of bodies and a center with four years experience, a soft shooting touch and a strong physical presence?
A team that has two other long-time starters who both can make threes and who separately add defensive acumen and rebounding? A team with depth in the post and an experienced point guard off the bench?
"Of course, yes, oh my gosh, I hope it will be even more exciting," senior forward McKenna Warnock said, eyes wide with visions of end-to-end offense.
Clearly Iowa has embraced its offensive soul.
Iowa led the country in field-goal percentage (.502) and free-throw percentage (.846) and was second in scoring (84 ppg). All American Caitlin Clark led the country in scoring (27.0) and assists (8.0).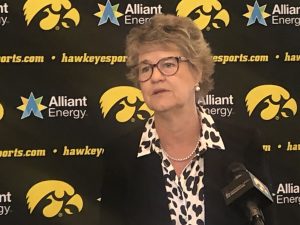 "You all know I'm an offensive coach, and I'm not going to sacrifice my offense completely for defense," Iowa coach Lisa Bluder told the media. "I want to improve defense, and I want to improve rebounding, but I'm not going to do that at the expense of our offense."
While there is a glow about this year's possibilities, Iowa was not invincible last year. It lost at home to IUPUI, and even though IUPUI ended up in the NCAA tournament, it was an ugly loss. It had a rocky stretch against top Big Ten teams, losing to Ohio State, Michigan, and Maryland in a two-week stretch that seemingly took the Hawkeyes out of the championship picture before it won seven Big Ten games in a row to win the regular-season and tournament titles.
Then there's the Creighton game, the two-point NCAA tournament loss at home before a raucous sellout crowd. The Bluejays outrebounded the Hawkeyes by 15 and had 15 offensive rebounds that led to 19 second-chance points. Creighton aggressively shut down Clark, and while Monika Czinano scored 27 the Hawkeyes didn't quite have enough.
The Hawkeyes are saying the right things about improving rebounding and defense.
"I think there's a lot more hunger for it, especially knowing how out-rebounded we got against Creighton," Czinano said. "It's like our No. 1 priority. It's what we talk about in practice. It's become a focal point, and it hasn't really been in the past."
"The point of rebounding is just heart and going to get the ball," Warnock said. "That's something we've really worked on this summer. We're not keeping track of points; we're keeping track of who gets the board."
Iowa's defensive stalwart, guard Gabbie Marshall, is more focused on that end of the floor.
"We've been working on that all (preseason)," Marshall said. "I think it just comes down to effort. Just getting in their shorts. We have struggled with offensive rebounds, and we've been working on that."
"Our identity is on the offensive side of the ball because that's what this program is built on," All-American guard Caitlin Clark said. "But we have other ways we can rely on to win basketball games."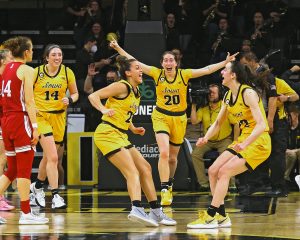 Bluder pointed out that Iowa's defense statistically improved last year, and she hopes it will be even better this season. But can this team, this offensive juggernaut, really be better? Clark thinks so.
"The commitment overall has been better," she said. "I think the focus on offensive rebounding, defensive rebounding is really there as well. But overall just the competitiveness. We haven't had that. It's been competitive, but it's nothing like it's been (now). I mean people are diving into chairs for loose balls. I mean we have all five starters back but there are minutes to be taken."
Fans may be frustrated if the same bugaboos surface this season and the likelihood is that they will to some degree. Defense, rebounding and finding offense when Clark has a rare off day will still be concerns.
But this isn't the time to temper expectations. It's the time to see where this very good but imperfect team can go. Maybe rebounding and defense won't be what it was 30 years ago for C. Vivian Stringer. But maybe be grateful for what you have, a veritable ballet of motion and chemistry all orchestrated by the best player in the country.
It's time for Iowa fans to just embrace their inner offensive soul and let the chips fall where they may. It will be exciting and probably a lot of fun.