By Pat Harty
IOWA CITY, Iowa – The announcement on Thursday that the Cy-Hawk football series has been extended through the 2027 season probably didn't sit well with some Hawkeye fans, and maybe a lot of them.
It's no secret that some Iowa fans are tired of playing the Cyclones every year in football because they think it limits Iowa from a scheduling flexibility standpoint, and that it prevents Iowa from scheduling home-and-away matchups against more appealing Power Five opponents, and because they just don't like facing their cross-state rival on an annual basis.
And while in some ways they're right about the scheduling limitations, they're wrong to think that Iowa would replace the Cyclones with better Power Five opponents.
Since Kirk Ferentz became the Iowa head coach in 1999, Iowa has played seven different nonconference Power Five opponents and that includes Iowa State.
The others are Nebraska, before it joined the Big Ten, Kansas State, Arizona State, Syracuse, Pittsburgh and Arizona.
No disrespect to those programs, but none are close to knocking on the door of being elite.
They're solid programs for the most part, but I'd much rather have Iowa play the other Power Five team from instate.
Because why wouldn't you want to celebrate and showcase the privilege of having two Division 1 teams from two different Power Five conferences in the same state that has a low population?
Wisconsin couldn't do it, nor could Minnesota, Nebraska or Missouri because they only have one Power Five school.
But little old, boring Iowa has two from two different conferences, so let them play.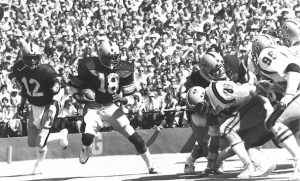 Let them compete for state bragging rights, and let them take advantage of the perks that come with playing this game, like for example, easy and cheaper travel, the fact that the Iowa media always treats the game like the first moon landing, and that both fans bases are locked in whether they want to admit or not.
Some like to complain and whine about playing the game on an annual basis, and so often when you ask what they would do instead, they'll say, why are we playing Iowa State every year when we could be playing teams like Notre Dame, Alabama and Texas on a much bigger stage.
Because it's highly unlikely that Iowa would schedule any of those teams in a home-and-away series. It would be hard to appease both sides and Iowa certainly doesn't want to lose a home game.
Kirk Ferentz, I believe, has no interest in playing a high profile Power Five nonconference opponent at a neutral site because that would mean sacrificing a seventh home game.
The Big Ten also plays nine conference games already, and with USC and UCLA set to the join the conference in 2024, the conference schedule could grow.
The circumstances are so fluid and unpredictable in college football that it's nice to still have something traditional and old-fashioned to hang on to.
I remember when Iowa and Iowa State renewed their rivalry in 1977 and the score of 12-10, which favored Iowa, will forever be etched in my mind.
I still remember where I was that day 45 years ago.
On a national scale, Iowa vs. Iowa State doesn't get much attention, but that's okay.
I can't remember when I last paid much attention to Florida vs. Florida State, Alabama vs. Auburn, Washington vs. Washington State, and I've never paid much attention to Kansas vs. Kansas State or Mississippi vs. Mississippi State.
The Cyclones have stumbled this season under Matt Campbell, but the good still far outweighs the bad under Campbell.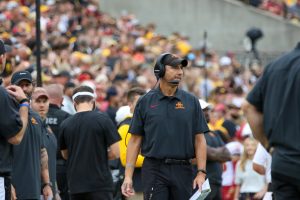 One of the arguments against playing Iowa State used to be that it was a no-win situation for Iowa because the Cyclones were always bad, but that hasn't been the case since the series made a dramatic shift in the late 1990s when former Hawkeye Dan McCarney was coaching the Cyclones.
Iowa had won 15 games in a row in the series, and some by wide margins, when the Cyclones finally ended the misery with a 29-7 victory at Kinnick Stadium in 1998.
That victory would be the start of a five-game winning streak for Iowa State in the series, and the 1998 season also marked the end of Hayden Fry's 20-year reign as the Iowa head coach.
Fry made beating the Cyclones look easy for most of the 1980s, and for part of the 1990s, but it hasn't been easy since he retired over 20 years ago.
Iowa has a 13-11 record against Iowa State since the 1998 season.
Iowa State defeated Iowa 10-7 at Kinnick Stadium in the second game of this season, ending a six-game losing streak in the series.
The game was boring at times, but competitive from start to finish.
The series has now been competitive for over two decades.
So, why would you not embrace it?
I know the reasons, but to me, it just makes more sense to play the game on an annual basis.
My preference to continue the series with Iowa State will undoubtedly be met with resistance from some Iowa fans, and so be it.
There is no right or wrong in this case.
Iowa and Iowa State both agree that playing each other in football on an annual basis is the right thing to do, and I just happen to agree with them.