By Pat Harty
All that stands between the Iowa football team winning the Big Ten West Division for the second year in a row is a 3-8 Nebraska squad.
Iowa made sure of that by extending its winning streak to eight games over Minnesota with a 13-10 victory at a frigid Huntington Bank Stadium on Saturday in Minneapolis.
And with Illinois losing 19-17 at Michigan on Saturday, Iowa now controls its own destiny, with only the struggling Cornhuskers to beat.
True freshman kicker Drew Stevens won the game with a 21-yard field goal with 31 seconds remaining, while senior linebacker Jack Campbell helped set the stage for the game-winning kick by making a spectacular interception off a deflected pass.
"At times, it didn't look pretty, but man, we kept fighting, and that's what Hawkeye football is about, honestly," Campbell said on the Learfield post-game radio show. "So we're just going to get back into it and get ready for the next game.
"It's a short week, so turn the page."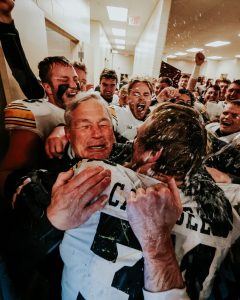 Campbell said he planned to celebrate with his teammates for a few hours and also meet with his family before shifting his focus to Nebraska.
It truly is remarkable that Iowa is in this position, considering where Iowa was after a 54-10 loss to Ohio State on Oct. 22 in Columbus, Ohio.
It was Iowa's third loss in a row, dropping its record to 3-4 overall and 1-3 in conference play, and the season appeared on the verge of collapse.
The offense was a national laughingstock, while quarterback Spencer Petras and offensive coordinator Brian Ferentz were national punchlines.
The Iowa offense was performing at a historically bad level and was the joke of college football.
But now almost a month later, Iowa has won four games in a row and only has to defeat a struggling Nebraska squad at home to clinch back-to-back trips to Indianapolis.
That's impressive any way you look at it.
And as for Petras, he was pretty darn good against the Gophers, completing passes 15-of-24 passes for 221 yards and zero interceptions.
Petras completed passes to seven different receivers, and he led the way to victory despite not having All-Big Ten tight end Sam LaPorta for the entire second half after LaPorta suffered what appeared to be a lower leg injury late in the first half.
LaPorta had four catches for 95 yards when he left the game, and then sophomore tight end Luke Lachey helped to fill his void in the second half, finishing with five catches for 77 yards.
But it was Campbell who made winning possible by making an incredible play with the game on the line.
The Cedar Falls native has been spectacular throughout the season, and his performance on Saturday was just another example of why Campbell might be the top college linebacker in the nation.
Iowa head coach Kirk Ferentz also deserves credit for leading his team through adversity and for staying on what has been a difficult course due mostly to the Iowa offense struggling under his son, Iowa offensive coordinator Brian Ferentz.
Floyd of Rosedale has resided in Iowa City since 2015, and now he gets to spend another year in town.
Minnesota rushed for a whopping 312 yards in Saturday's game, including 263 yards from Mohamed Ibrahim on 39 carries. while Iowa only had 280 yards as a team, and yet, Campbell and his cohorts still found a way to win.
Junior punter Tory Taylor also played a huge part in the win by pinning the Gophers inside the 20 four times.
The defense did a lot of bending, especially against the run, but it also allowed just 10 points and made the game-changing play.
This team won't go down as one of Iowa's best, but it is one of the most resilient teams in program history, and teams like that are built with a strong culture and with veteran leadership.
Nebraska certainly deserves Iowa's respect and will get Iowa's respect because no head coach respects the next opponent more than Kirk Ferentz does.
"It feels awesome," Campbell said of being one win away from winning the West Division. "But the full focus is on Nebraska, though, and they're going to come ready to play.
"I'm going to enjoy it for the next few hours and then get ready to go."
A season that could've unravled in late October is now thriving heading in the late-November holiday season.
That says al lot about the character, talent and resolve on the 2022 Iowa football team.
Kirk Ferentz also has tied Amos Alonzo Stagg for third place on the Big Ten's all-time win list with 115 victories.
That says a lot about his staying power.
"First off, I think he coached into his 90s, I don't plan on doing that," Kirk Ferentz said of Stagg. "But the other thing is back then they played about four games a year. So, a little bit if difference there, too, but I'm just really happy for our players. They did a great job of staying resilient and just kept fighting.
"There wasn't much easy today, obviously, and that running back is such a good player and he wore us out. But when it really counted, we had what we needed."
Quick trip north for Floyd. Headed home.#Hawkeyes 🐖🏆 pic.twitter.com/51DFUFGdxi

— Hawkeye Football (@HawkeyeFootball) November 20, 2022