By Susan Harman
IOWA CITY, Iowa – You didn't expect them to win all their games, did you?
The Iowa women's basketball team may have been anointed as the fourth-best team in the country by various voters in various preseason polls, but the reality is that sense of confidence rested on last season's spectacular finish. Iowa came from out of nowhere to win a share of the Big Ten regular-season title and went on to impressively win the Big Ten Tournament.
Even with the stumble against an underrated Creighton team in the NCAA Tournament, there was a glow about the Hawkeyes, their returning All-American and five returning starters. Maybe Caitlin Clark was special enough to lift the Hawkeyes to heights not seen since Vivian Stringer was here 30 years ago.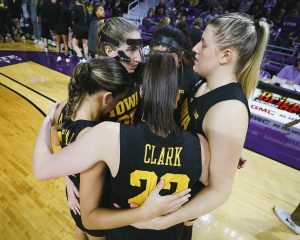 But again, the reality is that it was really difficult last year to get to those lofty places. After losing at home in mid-February to Maryland by 12 points, they had to beat good teams on the road and hold serve at home late in the year after not doing so earlier.
Maybe it's not so much losing a game but losing at Kansas State that bothered you. Yes, UConn or Duke is coming Thanksgiving weekend, and top-10 teams North Carolina State and ISU lurk menacingly in the near future. Losing to the big guys is one thing, but losing to an unranked team that lost its All-American center for the season with a knee injury, that's not what you expected.
Iowa looked lost on offense at times at K-State, and it could not contain KSU's 6-foot-1 guard Serena Sundell, who scored 24 points even though she made only 1-of-7 3-pointers.
Iowa used a zone defense more than it has this year, and KSU was able shoot threes over it and drive through it to the hoop.
Yet, Iowa led in the game for nearly 34 minutes. It's a game that could have and probably should have been won. Free-throw shooting was improved, but 3-point shooting (30 percent) was not. The Wildcats, with some propitious whistles at the end, eked out a one-point victory. Iowa won that kind of game at Drake but lost Thursday. Unless you're South Carolina or Stanford or UConn, that's what happens in a basketball season.
Now Iowa (3-1) plays host on Sunday to Belmont (1-2), which narrowly lost to No. 7 Louisville and is the preseason favorite to win the Missouri Valley Conference. The Bruins were an NCAA tournament team last season and won their opening-round game. They feature Destinee Wells, a 5-6 junior guard who is on all the major award watch lists for her position, and who was named preseason MVC player of the year. She has averaged nearly 18 points per game over her career.
Iowa will need to play well to win and considering the upcoming opponents it needs to get its mojo back. Clark injured her left ankle at KSU, but don't bet against her playing Sunday. This is a great opportunity for the Hawkeyes to get it together and feel good about themselves heading to Portland for Phil Knight tournament games on Friday and Sunday.