By Pat Harty
IOWA CITY, Iowa – If Jack Campbell had a choice between taking on three blockers at the same time or talking about himself, he would gladly take on the blockers.
To say that Iowa's senior linebacker is humble would be an understatement.
Campbell can't avoid the glare of the spotlight because it goes with the territory when you're a star player, but he certainly doesn't need the adulation to feel fulfilled.
Campbell's performance speaks for itself as a case could be made for him being not only the best linebacker in the Big Ten, but one of the best in the country.
The Cedar Falls native leads Iowa with 110 tackles heading into Friday's regular-season finale against Nebraska, and his average of 10.0 tackles per game also leads the conference.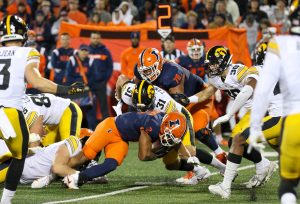 This marks the second consecutive season that Campbell has had at least 100 tackles, and his 143 tackles last season led the nation.
Campbell was named the Big Ten Defensive Player of the Week on Monday after having an interception and a forced fumble, along with 10 tackles in last Saturday's 13-10 win at Minnesota.
His interception came late in the fourth quarter and helped to set up Drew Stevens' 21-yard game-winning field goal with 31 seconds remaining, giving Iowa its fourth win in a row.
A victory over Nebraska on Friday would make Iowa the Big Ten West Division champion for the second year in a row.
Campbell was mobbed by the media when he arrived at Tuesday's weekly press conference, and he handled the attention like he always does – with humility and with a team-first mentality.
He answered questions for about 30 minutes, and when he was about to leave, I asked if he could answer one more question.
He was alone at the time, which is how I planned it because I knew my question would embarrass him.
I asked if he was aware that some are saying that he is the best linebacker to play for Kirk Ferentz at Iowa, which covers 24 seasons, and maybe the best to ever player linebacker for the Hawkeyes.
His answer was vintage Jack Campbell.
"I don't really listen to the outside world and in my opinion, there's been a lot of linebackers here that have been better than me, and that have paved the way for me," Campbell said. "So, at no time do I feel like that. I'm just so appreciative of the linebacker tradition here at Iowa and the standards that have been set by the guys before me because those guys are the original ones that paved the way for young guys like me.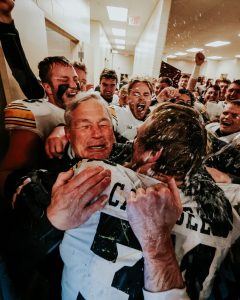 "I'm so appreciative of them and they deserve the credit one-hundred percent. Those guys made it possible for a young guy like me to walk in and look a the back wall and see guys on that back wall, Larry Station, Abdul Hodge, coach Hodge now, Chad Greenway, Josey Jewell, Pat Angerer, (Christian) Kirksey, (Anthony Hitchens, those guys have set the foundation and I'm definitely missing a bunch of names."
With all due respect to Jack Campbell, he's being way too humble.
He is right to pay tribute to the linebackers that paved the way for him, and the ones he mentioned were all exceptional in their own way.
But whether Campbell wants to admit it or not, there aren't many that were better than him.
I ranked the top 10 Iowa linebackers of all time as part of a series this past summer, but Campbell didn't make the cut, mostly because he had a full season yet to play.
Here was my list:
Larry Station, 1982-85.
2. Josey Jewell, 2014-17.
3. Chad Greenway, 2002-05.
4. Abdul Hodge, 2002-o5.
5. Pat Angerer, 2006-90.
6. Tom Rusk, 1975-78.
7. Brad Quast, 1986-89.
8. Andre Jackson, 1972-75.
9. Mel Cole, 1979-81.
10. Fred Barr, 1999-02.
Now 11 games into his senior season, Campbell obviously deserves to be on the list, and maybe as high as second.
It's hard to put him in front of Larry Station, who is one of just two Hawkeyes to earn consensus All-America honors twice.
Station started 42 games and still holds the school record with 492 tackles.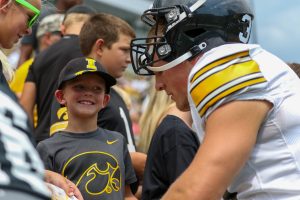 He made first-team All-Big Ten three times, and he earned All-America mention in each of his four years in the program from 1982 to 1985.
But after Station, a strong case could be made for Campbell being second on the list, or as a former Hawkeye great suggested on Tuesday, Station could be No. 1 and the 6-foot-5, 246-pound Campbell could be 1A.
"Just guys like that, that have laid the foundation for a young guy like me to come in and just strive to be like thm every single day," Campbell said. "That's my main focus.
"But to that question, I'm far from it, and I think those guys deserve all the credit, and I'm just appreciative of all the support for me."
Campbell might not want to acknowledge his greatness, but his teammates have a lot to say about him.
"Ever since I got here, I've always tried to be like Jack," said sophomore defensive back Cooper DeJean, who is also showing signs of stardom. "I know you guys don't get to see much at practice, but his energy and the way he attacks every practice is really inspiring to see. and I think it brings everybody as along as well."
Senior quarterback Spencer Petras was asked Tuesday what Campbell has meant to the program, and to him personally.
Petras and Campbell will be among 27 seniors honored before the start of the Nebraska game.
"Jack does everything right at every little level of everything," Petras said. "Awesome teammate. Great leader. Obviously plays extremely hard and just a talented football player.
"But just to me, what stands out more about Jack is just the way he does things, the way he conducts his business. You're not going to meet a more first-class guy, a true professional with just the way he operates."
Petras's public praise would probably embarrass Campbell as much as my question did.
Because it's never about Jack Campbell if you ask Jack Campbell.