By Pat Harty
IOWA CITY, Iowa – It appears the Iowa football team will be without senior tight end Sam LaPorta and senior fullback Monte Pottebaum against Nebraska on Friday.
"Injury-wise, don't expect Sam or Monte to play. Don't think that's realistic," Iowa coach Kirk Ferentz said at his weekly press conference on Tuesday.
LaPorta and Pottebaum both were injured in last Saturday's 13-10 victory at Minnsota. LaPorta was injured late in the second quarter and after having caught four passes for 95 yards.
LaPorta has started 30 games for Iowa and he leads the team with 53 catches for 601 yards this season. He also led Iowa with 53 catches and 670 receiving yards last season.
Sophomore Luke Lachey will start at tight end against Nebraska if LaPorta can't play.
The 6-foot-6, 252-pound Lachey has started nine games and played in 24 games overall. He is third on the team with 273 receiving yards and his two touchdown receptions lead the team.
"It changes things for everyone, not just me," Lachey said Tuesday's of LaPorta's absence. "I think everyone will have to step up and do some more things."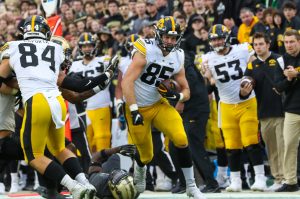 LaPorta has been a favorite target for Iowa quarterback Spencer Petras, and now Lachey is building that same trust with Petras, thanks to a lot of help from LaPorta.
"Sam has helped me a lot," Lachey said. "He has just helped me develop and helped me learn the game of football. He teaches me these little things in routes and blocking, and stuff like that, and watching film and watching the defense and the coverage everything. He's helped a lot with that."
LaPorta is among 27 seniors that will be honored before the start of Friday's game at Kinnick Stadium.
Iowa will win the Big Ten West Division for the second year in a row with a victory against Nebraska on Friday.
Lachey was asked Tuesday about if it's a good feeling knowing that Iowa controls its own destiney.
"Yes it is. That's kind of what we wanted to do," Lachey said. "Then you can control your own desitiny. It's really the best opportunity for you because no one is standing in front of you except you, and obviously the team  is. But we just want to go out there and do everything we can to get there."
True freshman tight end Addison Ostrenga moved into the No. 2 spot after LaPorta was injured against Minnesota and had one catch for six yards.
"Addison did a great job when his number was called, and I'm really proud of," Lachey said. "He's just continues to get better and get more confident in his ability."