By Pat Harty
IOWA CITY, Iowa – When it was announced that Reese Morgan would serve as the honorary captain for Friday's regular-season finale against Nebraska, I got to thinking about the best decisions that Kirk Ferentz has made in 24 seasons as the Iowa football coach.
Ferentz's decision to hire Morgan after the 1999 season would go on to pay huge dividends for Iowa, both on and off the playing field.
Morgan was a high school coaching legend at the time, and had built Iowa City West into a state powerhouse when Kirk Ferentz made him an offer that he couldn't refuse.
Iowa had finished 1-10 in Ferentz's first season as head coach in 1999, and it was painfully obvious that he needed more help to rebuild the program.
Morgan started out as Iowa's recruiting coordinator and tight ends coach and he had that role for three seasons before switching to the offensive line where he coached from 2003 to 2011. He then spent his final seven seasons coaching the Iowa defensive line before retiring after the 2019 season.
Morgan excelled in every role that Kirk Ferentz gave him.
Iowa posted a 151-91 record with Morgan on staff, appearing in 16 bowl games, including 11 January contests, and the 2015 Big Ten Conference championship game. Iowa earned a share of the Big Ten title in 2002 and 2004. The Hawkeyes finished in the Big Ten's first division 16 times in that span.
Morgan also coached three Outland Trophy winners during his career (Chad Hennings at Benton Community High School, Robert Gallery, Brandon Scherff), and John Mackey Award recipient Dallas Clark at Iowa.
Four of his players were named Big Ten Player of the Year at their position and three earned consensus All-America honors.
Seven players coached by Morgan earned first- or second-team All-America recognition. Nine earned first-team All-Big Ten honors and 14 were named second-team All-Big Ten. Thirteen of Morgan's players were selected in the NFL Draft, including five first-round selections.
Morgan's ability to recruit from within the state of Iowa also paid huge dividends.
He had the ability to identify talent and to relate to players from all different backgrounds.
Kirk Ferentz's decision to hire Morgan, and to hire Norm Parker as his first defensive coordinator, and Phil Parker as Norm Parker's replacement in 2012, are three of the best decisions that Kirk Ferentz has made as the Iowa head coach.
The decision to recruit Brad Banks as a quarterback, and the multiple position switches that Kirk Ferentz has approved, also standout as Kirk Ferentz's best decisions.
Morgan still has a close relationship with the Iowa coaching staff, and he spends a lot of time at the football facility.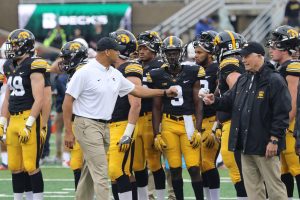 He and Kirk Ferentz worked well together because they share a mutual respect and admiration, and because they approach leadership in a similar fashion, with both being highly organized and methodical.
Morgan joined the Iowa staff after eight years as head coach at Iowa City West High School. West won state Class 4A titles in 1995, 1998 and 1999. Morgan left the program with a 26-game winning streak.
Morgan totaled 146 career prep victories and is a member of the Iowa High School Coach's Hall of Fame. In October, 2018, Morgan was listed by the Des Moines Register as one of the 50 Greatest High School Coaches in state history.
Morgan will accompany the Iowa captains to midfield for Friday's pregame coin toss. He will also be with the Hawkeyes in the locker room before and after the game.
Morgan deserves a loud ovation for a job well done, and that's exactly what he will get on Friday from the fans.
It might embarrass him somewhat because it's never been about Reese Morgan. He always has deflected praise to his players, or to his fellow coaches.
And that's part of being a leader.
A native of Lorain, Ohio, Morgan came to Iowa in 1971 to play football for Wartburg College. He was a four-year letterman at linebacker, and not surprisingly, a team captain as a senior.
Morgan had a gift for coaching that was rooted in his ability to earn his players' respect and trust.
And, of course, he also knows a lot about football.
So does Kirk Ferentz, and that's why he hired Reese Morgan.