By Pat Harty
IOWA CITY, Iowa – The Iowa men's basketball team enters the Emerald Coast Classic with a 4-0 record, a No. 25 ranking in the Associated Press poll, and with one of the most productive players in the country in junior forward Kris Murray.
Iowa will face 4-1 Clemson in the semifinals of the Emerald Classic on Friday at 6 p.m. in Niceville, Florida. The Hawkeyes will face either Texas Christian University or Cal-Berkeley in the championship game at 3 p.m. on Saturday.
Iowa will be making its second appearance in the Emerald Coast Classic. The Hawkeyes lost to Virginia and Memphis in the 2016 event.
Former Hawkeye Peter Jok holds the tournament record for most points in a game as he scored 42 in the loss to Memphis.
As for Kris Murray, he is the only Division I player over the last 25 years to have scored at least 95 points, grabbed at least 30 rebounds, had at least five or fewer turnovers, shot 60 percent from the fi eld, and 100 percent from the foul line over any four-game span during a season.
He scored 29 points in the 83-67 victory at Seton Hall last Wednesday and he set a career for points with 30 in the 100-64 win over Omaha this past Monday despite not playing much in the second half due to the lopsided score.
"He could have really gone for a big number, but we're not going to accomplish anything with that and I'm not going to get him hurt," Iowa coach Fran McCaffery said after the victory over Omaha. "I got him out of there, but he was really cooking for a while.
"And the good thing is we started looking for him and that's what you've got to do when you have a guy going good like that. You've got to load him up and you've got to wait to get it it him. You don't quick shoot the ball when you've got a guy on fire like that."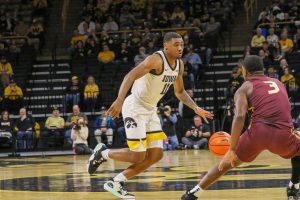 Kris Murray has sort of picked up where his twin brother, Keegan Murray, left off last season as a consensus All-America forward for the Hawkeyes.
Keegan Murray entered the 2022 NBA draft as a sophomore and was selected fourth overall by the Sacramento Kings.
"They still get into comparing us a lot and he definitely had a very good season last season, so it would e pretty easy to just kind of fall into his shadow, I guess," Kris Murray said of his twin brother. "But I know I'm not the same person as him. I'm doing my own thing at Iowa and I'm trying to take this team as far as I can."
Junior guard Tony Perkins is expected to play on Friday after having missed the Omaha game due to a thigh injury.
Perkins started at point guard in the first three games this season and the junior from Indianapolis has 16 assists to only three turnovers, while averaging 13.3 points per game.
Iowa vs. Clemson
When: Friday. 6 p.m.
What: Emerald Coast Classic semifinal
Where: Niceville, Florida (The Arena)
TV: CBS Sports Network
Radio: Hawkeye Sports Radio Network, SXM App-986
Series: Iowa leads the all-" me series with Clemson, 2-1. The Hawkeyes won the first two meetings in 1962 (Iowa City) and 1981 (Houston), while the Tigers won in 2011 (Iowa City). Iowa is 6-4 all-" me against Cal, having last played the Bears in 1996 (Maui). Iowa's longest game in program history came against Cal on Dec. 28, 1960; the Hawkeyes outlasted the Bears 83-80 in four overtimes in the Los Angeles Classic. The Hawkeyes lead the series against TCU, 2-1, having last played the Horned Frogs in the 2017 NIT. Two of the three games against TCU have been decided in overtime.