By Susan Harman
IOWA CITY, Iowa – The Iowa women's basketball team heads to Madison, Wis., Sunday for a 1 p.m. game to begin the Big Ten season. Such trips have generally been a salve for damaged confidence. Iowa has won 25 in a row against the Badgers dating back to the 2006-07 season.
While Iowa's coach and players insist the Badgers (3-6) have improved this season, Iowa (5-3) is counting on a victory after going 0-for-2 against ranked teams and having a third loss to unranked K-State.
There is some urgency to it considering eighth-ranked Iowa State (6-1) comes to Iowa City next Wednesday. It will be the last chance to add to Iowa's NCAA tournament resume before the meat of the Big Ten season. Iowa will be a prohibitive favorite in its remaining December games.
"We all know how hard losing is, so obviously everyone is thinking it's a new season," Iowa coach Lisa Bluder said. "I'm sure they're thinking that way. We certainly are.
"You're always a work in progress through March, so that's what we have to be. But opening up Big Ten play now, this early, we've got to be able to bring it."
If Iowa is to be what preseason prognosticators said it would be it needs to get back on track soon. Suggestions that Iowa was in a better place than most teams to accomplish that because of its veteran lineup provoked a frustrated response from Bluder.
"Yeah, we're not really acting like it right now," she said after the NC State loss. "I don't know why. You've got to go back to work tomorrow and stress help-side defense again, boxing out again. It's just going back to it. Going back to the basic skills of basketball and working on them. We just didn't pass the ball well either (Thursday). That's a basic skill."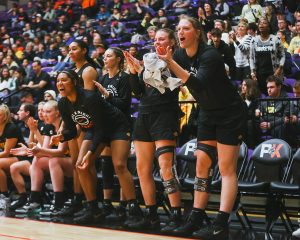 Bluder bemoaned Iowa's inability to get center Monika Czinano involved offensively against the Wolfpack. Czinano took only four shots and scored five points. And yet Iowa committed the vast majority of its turnovers in trying to feed the post.
"We watched the film (Thursday night), and there were at least 12 opportunities when we could have gotten her the ball or we had turnovers trying to get her the ball to her," Bluder said. "We have got to be better post passers. You've got to pass away from the side of the defense. It sounds so elementary, and it is, but it's an effective tool.
"We have to get her the ball. She's tremendous, and we have to be looking at her all the time."
That is what the film revealed. What it doesn't show is that NC State's 6-foot-3 Camille Hobby played three seasons in practice against 6-5 All-American Elissa Cunane. Mimi Collins, 6-3, played at Tennessee and Maryland before NC State.  River Baldwin, 6-5, was at Florida State. Collins and Baldwin are both grad students. So the hard-working Czinano was matched up against a host of veteran, physical bigs.
"Their post defense was good; they moved well, they moved their feet well, they got in the passing lanes, so give credit to North Carolina State for doing a good job against our posts," Bluder said.
Iowa lost three times last December to Duke, ISU and IUPUI before Big Ten play began, but Bluder said this is an entirely different situation.
"Last year we had Covid; we had people out; we had people miss practices," she said. "I do think traditionally our teams get better as time goes on, and I think that's because of our offense. But I wasn't expecting it to take so long this year."
For some perspective you have to remember that both UConn and NC State were preseason top-10 teams who reached at least the Elite 8 last year (UConn was national runner-up). But again Bluder said her expectations for the team are high.
"We want to be there too, and we're not right now," she said. "I mean we're just not. So we have a choice: do we want to get better, are we going to put in the effort to get better or are we just going to stay…an above-average team?"