By Pat Harty
Regardless of what happens in the game against No. 17 Duke on Tuesday at Madison Square Garden in New York City, Iowa men's basketball coach Fran McCaffery will leave as a winner.
Of, course, he'd love for his team to knock off one of college basketball's most storied programs, and to do it on perhaps the most famous stage in all of sports.
But Tuesday's game has a much deeper meaning for Fran McCaffery because it's part of the Jimmy V Classic, which is an annual event that raises money for cancer awareness and treatment.
The event started in 1995 and is named after former college basketball coach and television color analyst Jim Valvano, whose powerful speech from the 1993 ESPY Awards helped to inspire the event, and spark a movement.
Valvano died from cancer barely two months after making the speech.
But his legend will live on forever through events like the Jimmy V Classic, and because of people like veteran ESPN college basketball analyst Dick Vitale, who has dedicated much of his life to raising money for cancer research, as has Fran McCaffery and his wife, Margaret McCaffery.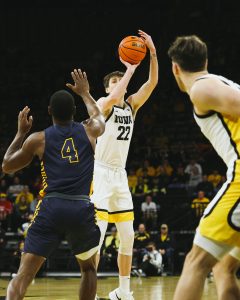 Fran McCaffery lost both of his parents to cancer, and his son, Iowa junior forward Patrick McCaffery, had a malignant tumor removed from his thyroid in 2014.
"It's one of the most memorable speeches maybe in history in this country," Fran McCaffery said. "How it impacted the future of fundraising to fight cancer.
"But it wouldn't happen without Dick Vitale. Dick Vitale, if you remember, he and Jim Valvano were (friends), so it really affected Dick when Jim passed. And he made a promise."
Vitale has recently had his own fight against cancer, but he is now healthy enough to be calling games again for ESPN, and will be a part of the crew calling Tuesday's game along with Dan Shulman and Holly Rowe, who is also a cancer survivor.
"I don't know if anyone else can do what Dick Vitale has done," Fran McCaffery said. "The amount of money and his ability to get people to engage with him in this fight is unprecedented."
Vitale hosts a fundraising gala at his home in Florida every year and Fran McCaffery has seen the money pour in thanks to Vitale's influence and hard work.
"He'll raise eleven million, that's who he gets into the room," Fran McCaffery said. "If you have an event and you can raise a hundred-and-fifty-thousand in one night, that's impressive. He's raising eleven-and-a-half million."
Iowa (6-1) will be making its first appearance in the Jimmy V Classic, while Duke will be appearing for the fourth time, but for the first time without legendary head coach Mike Krzyzewski, who retired after last season,
Former Duke guard Jon Scheyer was promoted to head coach and he has won eight of his first 10 games.
Scheyer had been an assistant at Duke under Krzyzewski since the 2013-14 season.
Duke's two losses came against ranked opponents on neutral floors: No. 6 Kansas, 69-64, and No. 24 Purdue, 75-56.
Duke's roster consists of seven freshmen, two sophomores, two juniors, and four graduate students.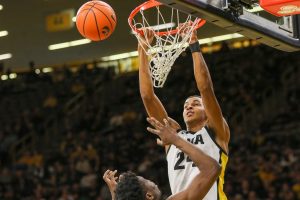 Following Tuesday's game against Duke, Iowa will face Iowa State on Thursday at Carver-Hawkeye Arena before opening Big Ten play against Wisconsin next Sunday at home.
The next three games won't make or break Iowa's season. But they will tell a lot about Fran McCaffery's team, which ranks second in the Big Ten and 12th nationally in scoring offense (86.4). The Hawkeyes have led the league in scoring five of the last nine seasons, including the last four.
"This is why you come to schools like Iowa, to play in games like this," Fran McCaffery said. "This is a great opportunity and a great cause."
Junior forward Kris Murray leads Iowa in scoring and rebounding with per-game averages of 21.0 and 10.6, respectively.
He had a career high in points (31) and rebounds (20) in last Tuesday's 81-65 victory over Georgia Tech, and he is the first Hawkeye to amass 30 points and 20 rebounds in the same game since Bruce King in 1977.
Kris Murray is also the only NBA, WNBA, or Division I men's or women's player in the last 20 years to total at least 30 points, 20 rebounds, four assists, four 3-pointers, and two blocks in the same game.
Iowa also has an 18-4 record since junior guard Tony Perkins became a starter last season.
Iowa vs. Duke
When: Tuesday, 8:30 p.m.
Where: Madison Square Garden, New York City
What: Jimmy V Classic
TV: ESPN
Radio: Hawkeye Radio Network
Series: Duke leads the all-time series over Iowa, 7-1. The last time the two teams met was in the 2001 ACC/Big Ten Challenge in Chicago (Duke won 80-62).
Iowa in the Garden: Tuesday will be Iowa's 11th game at Madison Square Garden and fi rst appearance since winning the 2018 2K Empire Classic with victories over Oregon and Connec! cut. Iowa's fi rst appearance in the Garden was when the Hawkeyes competed in the 1999 Coaches vs. Cancer Classic, beating top-ranked Connecticut before falling to Stanford. Other appearances include two games in the 2018 Big Ten Tournament (beat Illinois and lost to Michigan); two contests in the 2014 2K Empire Classic (lost to Texas and Syracuse); two games in the 2013 Postseason NIT (beat Maryland and lost to Baylor in the championship).