IOWA CITY, Iowa – Linebacker Jestin Jacobs and defensive back Reggie Bracy are leaving, while Michigan tight end Erick All could be coming.
That is is the latest update on the ever-changing transfer portal and how it relates to the Iowa football team.
Jacobs, a 6-foot-4, 238-pound native of Englewood, Ohio, reportedly plans to enter the portal on Tuesday, according to 247Sports, and it sort of comes as a surprise as Jacobs was expected to be perhaps the leader at linebacker next season with current starters Jack Campbell and Seth Benson both being seniors.
Jacobs only appeared in two games this season because of injury.
But he had 53 tackles in the 2021 season, along with one interception and one forced fumble.
Bracy, a 6-foot, 209-pound junior from Mobile, Alabama, entered the portal on Monday as did All, who played a key role in Michigan's 2021 Big Ten title run, but has been injured for much of this season.
Monday marked the first day that college players could officially enter the portal.
Bracy has appeared in 10 games this season, most only special teams, and has four tackles.
His decision to enter the portal means Bracy will not play for Iowa against Kentucky in the Music City Bowl on New Year's Eve in Nashville, Tennessee.
Bracy is among six Iowa players that have entered the portal, but the other five play on offense.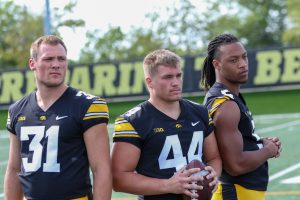 They are junior quarterback Alex Padilla, junior offensive lineman Josh Volk, sophomore receivers Arland Bruce IV and Keagan Johnson and sophomore running back Gavin Williams.
All, meanwhile, had 38 catches for 437 yards during the 2021 season when Cade McNamara was the Michigan quarterback.
McNamara lost his starting position to sophomore J.J. McCarthy early in the 2022 seasons and has since announced his decision to transfer to Iowa.
All caught a five-yard touchdown pass from McNamara in the fourth quarter of Michigan's 42-3 victory over Iowa in the 2021 Big Ten Championship game.
There are several reports from Michigan media saying that Iowa is the likely landing spot for All, who is from Ohio.
Iowa relies heavily on the tight end position and will have to replace All-Big Ten senior tight end Sam LaPorta after this season.
All could form a nice one-two punch at tight end with Iowa sophomore Luke Lachey next season.
Harvard cornerback Alex Washington also reportedly has interest in Iowa as a graduate transfer.
According to Hawkeye Report, Iowa defensive coordinator Phil Parker plans to meet with Washington this week.
Washington earned All-Ivy League honors twice as a cornerback.
Stanford running back Arlen Harris also announced on Twitter that he planned to visit both Iowa and Iowa State this past weekend.
Alabama receiver Traeshon Holden is another player in the portal that is being mentioned as a possibility for Iowa, which currently only has four receivers on scholarship.
Holden announced on Monday that he has entered the portal.
https://twitter.com/rbracyvii/status/1599892463530823681?s=20&t=7blk9ME_W4RpUQFa3uQ7OA