By Pat Harty
IOWA CITY, Iowa – Kirk Ferentz appears to be dealing with the loss of Kadyn Proctor a lot better than some Hawkeye fans that are upset that the five-star offensive lineman from Southeast Polk signed with Alabama after having been committed to Iowa since June.
While some fans continue to vent on social media and accuse Proctor of being disloyal, for stringing Iowa along, and for taking an NIL money grab, the head Hawk showed no bitterness or resentment when asked about Proctor at a Wednesday press conference to mark the early signing period.
"That's recruiting," Kirk Ferentz said. "I haven't read it or heard much. But one thing I think I've said before is you can't lose what you never had, and recruiting is not over until someone actually signs, not only commits, but actually signs.
"So, the part about that, you know prospects, people have a right to make up their mind right until that time. So, I respect that, and I'm sure that prospect had his reasons for doing what he's done. We would have loved to have…if we've offered somebody, we've done our research and homework. So, it was nothing on our end. It was not like we didn't want him here. But that's up to a prospect to decides what's best for him. And that's really how the process should work."
Proctor said to the media that covered his signing day press conference on Wednesday that he felt he would be settling if he had signed with Iowa. He said he wanted to compete against the best on a daily basis and compete for championships, which he is almost certain to do at Alabama, which has won six national titles under current head coach Nick Saban.
"I always tell recruits, we're never, hopefully, going to be presumptuous and act like we know what's better for them than what they know," Kirk Ferentz said.
Kirk Ferentz handled the question about Proctor about as well as he could have under the difficult circumstances.
To have come so close to signing the 6-foot-8, 340-pound Proctor, only to have a blue blood program swoop in at the very end had to be devastating for Kirk Ferentz, and for his staff.
Iowa put in a lot of time, effort and resources while recruiting Proctor, but it was all for not.
But while the biggest prize got away, Iowa did sign 23 players on Wednesday, including former Michigan quarterback Cade McNamara and former Michigan tight end Erick All.
Kirk Ferentz said he has seen enough of McNamara on film, and in person, to feel confident about his ability to lead the Iowa offense.
McNamara led Michigan to the 2021 Big Ten championship, and to the college playoff.
Michigan crushed Iowa 42-3 in the 2021 Big Ten Championship game as McNamara completed a five-yard touchdown pass to All in the fourth quarter.
"It was really kind of an easy decision just because we got first-hand exposure to him," Kirk Ferentz said of McNamara, who decided to transfer after losing the starting position to sophomore J.J. McCarthy early in the 2022 season. "And we saw him prior to that just going through the season's film. But we got first-hand exposure to him a year ago December and had great respect for him and the entire team coming into that game for obvious reasons and left the field feeling even more verified if you will, those thoughts and suspicions.
"I'm not a quarterback expert, but just watching what he did a year ago, just struck me as a winner and that's really what you're looking for at that position. A leader and somebody that's going to move the football team, and he did a great job of that at his previous school."
As for the addition of Erick All, he will help fill the void left by All-Big Ten senior tight end Sam LaPorta.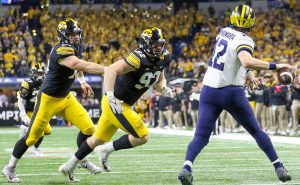 All was injured for most of the 2022 season, but he had 38 receptions for 437 yards and two touchdowns during the 2021 season.
"It just turned out that he became interested and available, and he and Cade have a good relationship, I believe, so I don't think that hurt us, at least in our attempt to try and recruit him," Kirk Ferentz said of All. "And we're losing a top-notch tight end in Sam LaPorta."
McNamara and All are both recovering from injuries, but Ferentz is optimstic that both players will be ready by the start of next season.
Even without signing Proctor, Iowa appears to have addressed some needs on the offensive line by signing four offensive linemen in the 2023 class.
Iowa also added Texas athlete Terrell Washington Jr. and Illinois defensive back Teegan Davis to the class this week.
Washington had previously been committed to Purdue, while Davis had previously been committed to Eastern Illinois.
The class also features two-sport star Ben Kueter from Iowa City High. Kueter plans to play football and wrestle for the Hawkeyes.
He is considered one of the top high school heavyweight wreslters in the country, and is also a four-star recruit in football as a linebacker.
And while the transfer portal played a key part in building Iowa's 2023 class with the addition of McNamara and All, Kirk Ferentz still seems reluctant to rely on the portal to fill spots.
He would prefer to develop his own players than use players that were developed elsewhere.
"The portal is out there. It's growing and will continue to grow as long as the rules stay as they are," Kirk Ferentz said. "We're not blind to that or against that. But I do want to just say our goal is to grow our own team, to have the core of our team be guys that we have recruited."