By Pat Harty
IOWA CITY, Iowa – Fran McCaffery has had plenty of weeks in which he has excelled as the Iowa men's basketball coach.
This past week, however, might have been his most impressive as the head Hawk based on what his team accomplished under very difficult circumstances.
A week that started with Patrick McCaffery announcing that he was taking an indefinite leave of absence to deal with anxiety, and with Iowa 0-3 in the Big Ten, ended in spectacular fashion as Iowa led Rutgers from start to finish and prevailed 76-65 this past Sunday at the RAC in Piscataway, New Jersey.
The 11-point win at Rutgers was preceded by a 91-89 victory over Indiana this past Thursday at Carver-Hawkeye Arena.
Iowa trailed the Hoosiers by 21 points in the first half, but instead of wilting under the pressure, the players chipped away at the deficit and then made enough plays down the stretch to prevail as Patrick McCaffery watched from the bench.
From a basketball standpoint, the loss of the 6-foot-9 Patrick McCaffery is significant because he is one of Iowa's best players and averages 12.8 points per game.
But from personal standpoint, it cuts even deeper for Fran McCaffery because Patrick is his son, and because Patrick already has endured way more than his share of hardship and adversity as a cancer survivor.
Fran McCaffery was asked last week how he balances being a father and head coach in this particular case.
"I think father first, just concerned about his well-being," Fran McCaffery said. "But then if he's struggling in the game, coach him up, then assess where he is physically, then that, of course, is going to affect his minutes if his stamina is an issue, which it has been recently.
"We keep an eye on it."
Iowa still has a hill to climb with a 2-3 record in conference play heading into Thursday's game against Michigan (9-6, 3-1) at Carver-Hawkeye Arena.
But there were concerns just a week ago that the season was in danger of unraveling and that Iowa was at risk of starting conference play with five consecutive losses.
Concern has now turned into optimism with Iowa having won back-to-back games against what are considered two of the best teams in the conference.
Fran McCaffery, who is in his 13th season as the Iowa head coach, deserves praise for pushing the right motivational buttons and for keeping his players focused on the task at hand.
He deserves praise for staying the course, and for not panicking when it would've been easy to do so.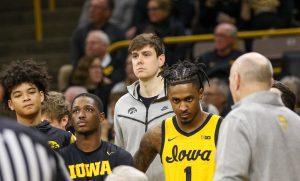 He did what a leader is supposed to do by navigating through rocky waters, and by having faith in his players.
Fran McCaffery has stuck with sophomore Payton Sandfort despite Sandfort having been in a season-long shooting slump, and now Fran McCaffery is being reward for his patience and loyalty.
Sandfort led Iowa in scoring with 22 points in the win at Rutgers, and he also scored 11 points against Indiana, including seven in the first half when Iowa was struggling big time on offense.
And though it was just two wins, the way in which Iowa stood up to adversity this past week is quite impressive.
Fran McCaffery has had to play the role of both father and head coach, and neither is easy under the current circumstances.
Sixth-year senior guard Connor McCaffery also deserves credit for stepping up in the absence of his brother.
Connor McCaffery's versatility on the court, and his leadership on and off the court, both mean a lot to this team, but even more so now with Patrick not playing.
It was easy to assume the worst about Hawkeye basketball just a week ago.
But now there is hope again, and it's due largely to Fran McCaffery having maybe his best week ever as the head Hawk.