By Pat Harty
IOWA CITY, Iowa – A Hawkeye fan whose glass is always half full would consider the Iowa football team's performance in the transfer portal so far to be a success, and would start with the addition of former Michigan quarterback Cade McNamara to support that narrative.
The glass-half-full fan would also say the addition of former Michigan tight end Erick All is another significant accomplishment for Iowa in the portal.
And fair enough because Iowa deserves credit for what appears to have been an aggressive approach with both McNamara, who announced his commitment over a month ago on Dec. 1, and with All.
The transfer portal is sort of like recruiting in that it inspires hope with each new addition, but also has some uncertainty.
It certainly helps that McNamara and All both have proven themselves at the Power Five level as they were both key pieces to Michigan's 2021 Big Ten championship team that also made the college playoff.
McNamara threw for 2,576 yards and 15 touchdowns in 2021, while All had 38 catches for 437 yards and two touchdowns, including one against Iowa in the 2021 Big Ten Championship game.
Both players are currently recovering from injuries, but Iowa head coach Kirk Ferentz said recently that he expects them both to be healthy by the start of next season.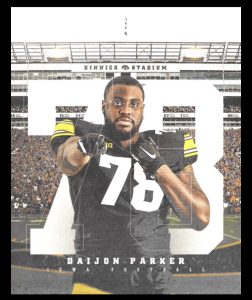 Iowa needed help at the quarterback position and help is on the way, and is bringing a reliable target with him.
So, yes, there is reason to be optimistic about Iowa having landed an established quarterback and a proven tight end from the portal.
But as the glass-half-empty fan would point out, there is also cause for concern due to some missed targets in the portal, one of the most recent being former Stanford offensive lineman Walter Rouse, who committed to Nebraska on Wednesday.
Rouse started 39 games at left tackle for Stanford, and just the fact that he attended Stanford speaks volumes about his academic prowess.
He recently visited Iowa, but a source close to the situation said it just wasn't a good fit for Rouse.
Iowa did recently close the deal with one offensive lineman in the portal as graduate transfer Daijon Parker announced his commitment to the Hawkeyes last Saturday.
The Michigan native played his first three seasons for Division II Saginaw Valley State in his home state, and he had previously been committed to Virginia.
The glass-half full fan would say that Iowa has taken a much-needed step to upgrade its offensive line, while the glass-half-empty fan would question the level of competition that Parker has faced so far in college.
And while time and performance will ultimately determine whether landing Parker was a success for Iowa, that's the case with every player in the portal because there is no way of knowing what will happen in each case.
Some players from the portal, obviously, are more likely to have success than others, but until it happens, you just don't know.
Kirk Ferentz has a knack for developing unheralded offensive lineman, and he must see something in Parker to have offered him a scholarship despite Parker having played at a lower level.
There was hope when McNamara committed to Iowa that some established receivers at the Power Five level would soon follow him from the portal to Iowa City.
But so far, that hasn't happened.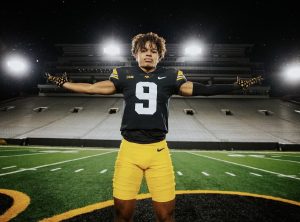 Iowa has added one receiver from the portal in Seth Anderson, who played last season for FCS Charleston Southern and had seven touchdown catches, which is how many Iowa had as a team this past season.
Iowa was one of the finalists for receiver Isaac TeSlaa, but he committed to Arkansas earlier this week.
TeSlaa played for Division II Hillsdale College in his home state of Michigan and was named his conference's offensive player of the year this past season after having more than 1,300 receiving yards.
It would be easy to question the level of competition that TeSlaa has faced in college.
But on the other hand, Iowa was among a long list of Power Five programs to have offered him a scholarship since he entered the portal.
The Iowa football team also benefitted greatly from the last time a player from Hillsdale College transferred to Iowa as former defensive end Zach VanValkenburg would go on to become a multi-year starter and an All-Big Ten performer.
The portal will close in less than a week before re-opening in May.
But in some ways, the portal never really closes.
Some players will wait to see what happens during spring practice before making a final decision about where to play next season.
Iowa's launch into this new era of Name, Image and Likeness has also produced mixed results, or so it would seem.
NIL money reportedly played a key factor in McNamara picking Iowa.
But the lines of communication and cooperation between the Iowa Athletic Department and the Iowa Swarm Collective leave much to be desired due largely to UI officials refusing to give the Swarm contact information for Iowa season ticket holders unless the Swarm agrees to distribute its money equally to all the athletic teams to meet Title IX requirements.
So far, those running the Swarm have refused to do that.
So, now every time Iowa falls short in landing a player from the portal it causes some fans to wonder if it came down to a lack of NIL money, while some fans just assume that was the case.
It seems fair to say that Iowa still needs to add at least one more receiver from the portal, and it would sure help from a public relations standpoint if it were an established Power Five receiver.
Iowa also needs help at linebacker after having lost all three starters from this past season, including 2022 Butkus Award winner Jack Campbell.
And a team never can have enough quality cornerbacks.
So, there still is work to be done in the portal, especially on offense where Brian Ferentz has a mess to clean up.
If his father insists on running the same offense despite recent results, then the level of talent on offense will have to improve dramatically.
McNamara excelled while playing behind arguably the best offensive line in the country at Michigan, and with three star running backs.
He won't have that luxury at Iowa.
Help still could come from the portal, but you have to wonder if Iowa's struggles on offense are scaring away some potential targets in the portal.
The glass-half-empty fan probably would say, duh, you think.