By Pat Harty
IOWA CITY, Iowa – One sign of a good basketball team is having multiple scorers that can step up when needed.
The Iowa men's basketball team is starting to show that strength on a regular basis with the latest example being Sunday's 81-67 victory over Maryland at Carver-Hawkeye Arena.
This time it was junior guard Tony Perkins who played the role of scorer as he poured in a career-high 22 points on 10-f-13 shooting from the field, including 15 in the first half as Kris Murray and Filip Rebraca spent much of the half on the bench with two fouls.
Perkins was among four Iowa players who scored in double figures in Sunday's game.
Iowa improved to 12-6 overall and 4-3 in the Big Ten and has now won four games in a row after starting 0-3 in Big Ten play.
The Hawkeyes will face Northwestern in their next game on Wednesday at Carver-Hawkeye Arena.
Perkins had only combined to make 6-of-28 field-goal attempts in the last three games and he only scored seven points combined in the last two games. But he more than doubled that total just in the first half on Sunday.
"I hadn't been hitting really a lot of shots, so I just said I'll make moves and get to the rim and do what I do best," Perkins said. "Hit pull-ups and just play my game and stop thinking a lot."
The fact that Perkins made shots early in the game helped him gain confidence.
"It let me know that I'm on today," Perkins said. "I can shoot a few shots and get me going and my energy started comin, so I knew what kind of game I was going to have."
Perkins brought the fans to their feet when he made a rim-rattling dunk in transition that gave Iowa a 49-44 lead with 14 minutes, 35 seconds left in the second half. His dunk also gave him a career high for points.
Perkins said his teammates during halftime teased him about passing up dunks on at least three occasions in the first half.
"So, I was like, okay, so when I got it I was like I'm just going to dunk so they'll shutup," Perkins said of his teammates.
To say that Maryland head coach Kevin Willard was impressed with Perkins' performance would be an understatement.
"I know he had struggled, but I'm a huge fan of he way he plays," Willard said. "I think he's kind of like their glue guy."
Perkins, a 6-foot-4 native of Indianapolis, also assisted on a 3-point basket by Kris Murray that expanded the lead to 53-44 with just over 13 minutes remaining.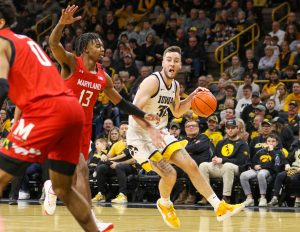 Sophomore forward Payton Sandfort continued his resurgence on offense by scoring 12 points off the bench in Sunday's game.
Sandfort had been in a prolonged shooting slump, but he has since combined to score 58 points in the last three games, including a career-high 26 in the win over Michigan this past Thursday.
Sixth-year senior guard Connor McCaffery stuffed the stat sheet with 12 points, four assists, three steals and two rebounds while playing all but nine seconds of the game.
Willard said he felt that was the best Connor McCaffery has played in the games that he has watched.
Junior point guard Ahron Ulis also had his moments on offense in Sunday's game as he finished with nine points on 4-of-8 shooting from the field.
When the game ended, Ulis and Perkins shared a moment together on the floor.
Perkins was asked afterwards what that moment with Ulis was like.
"If one of us has a bad game, I talk to him and he talks to me," Perkins said. "We come together because we used to be roommates and we kind of know when something is off.
"Coming into today, we just talked and said, hey, we didn't play that good last game and didn't play the minutes we wanted to play. But if we want to play those minutes, we've got to bring what we used to bring.
"So, that's what we did today."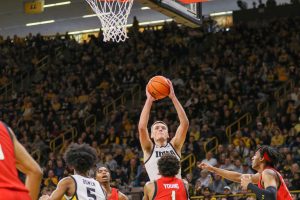 Connor McCaffery was asked after Sunday's game how important it was for Perkins to have success on offense.
"It was huge," Connor McCaffery said. "He brings energy and he brings toughness. He brings a lot to the team."
Perkins admitted after Sunday's game that his confidence had been affected by his recent slump.
"I'm more of confidence guy, but I was struggling, so I was just in my own head," Perkins said. "But now I'm back to myself."
Iowa also played with junior forward Patrick McCaffery, who has taken an indefinite leave of absence to deal with anxiety.
Patrick McCaffery is averaging 12.8 points per game, so, there were long stretches in Sunday's game when Iowa played without three of its best players, and yet, Perkins and his cohorts still found a way to win.
Iowa made 19-of-33 field-goal attempts in the first half and Perkins was a big reason why as he made 7-of-9 shots from the field before halftime.
Most of his baskets came either in transition or on aggressive drives to the basket.
Eight of the nine players that saw action for Iowa in the first half scored at least one point, including Payton Sandfort, who picked up where he left off against Michigan by scoring nine points on 4-of-5 shooting from the field.
Iowa often relies on the 3-point shot to fuel its offense, that wasn't the case in the first half on Sunday as Iowa only attempted eight threes in the first half and made three.
Iowa led 43-33 at halftime despite Kris Murray only playing eight minutes after having picked up two early fouls.
Rebraca also went to the bench with two fouls in the first half after having played just nine minutes.
There were times in the first half when Fran McCaffery used a lineup that featured five guards in Connor McCaffery, Josh Dix, Tony Perkins, Ahron Ulis and Dasonte Bowen.
The second half didn't star well for Iowa however as Maryland scored the first eight points to cut the deficit, 43-41.
Perkins then made back-to-back baskets to expand the lead 47-41, but then Maryland answered with its third three-point basket in the opening minutes of the second half.
Kris Murray helped to quell any chance of a Maryland rally in the second half as he scored 17 of his 19 points after halftime.