By Pat Harty
For the Iowa fan in me, this game had a bad feeling to it.
It wasn't just that Ohio State was facing Iowa at home on Saturday, the Buckeyes were also desperate for a win after having lost their previous five games by a combined 19 points.
They were also facing an Iowa team that had won four games in a row, so if Ohio State didn't have a sense of urgency under those dire circumstances, it probably never would.
Combine all that with the law of averages and it just felt as if Iowa was in trouble heading into Saturday's game at Value City Arena in Columbus, Ohio.
And as it turns out, Iowa was in trouble.
Big trouble.
Ohio State, which hadn't won since New Year's Day, led by double figures in both halves on Saturday and finally ended its misery with a 93-77 victory over the Hawkeyes, who fell to 12-7 overall and 4-4 in conference play.
Ohio State outscored Iowa 50-32 in the paint, 28-14 off the bench and 15-8 in points off turnovers.
The Buckeyes also had a 36-29 advantage on the boards.
Iowa head coach Fran McCaffery was clearly upset and disappointed with how his team played Saturday.
"Very poor performance by our team," Fran McCaffery said on the Learfield post-game radio show. "Too many turnovers and just got destroyed on the glass. Not acceptable today.
"It's just not a good performance. We've got to be better. And we'll be better in the next one."
The Hawkeyes shot just 41.4 percent from the field in the first half, committed nine turnovers and had just four assists on 12 their baskets, and yet, they only trailed 37-35 at halftime.
Iowa also went the last 5 minutes and 10 seconds of the first half without making a basket.
So, there was reason to be optimistic heading into the second half against a team that had lost five games in a row.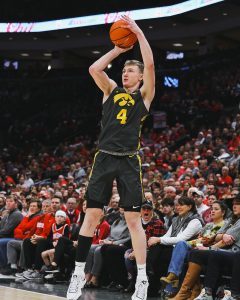 Keep the score close and maybe the Buckeyes (11-8, 3-5) would wilt under the weight of their losing streak.
But this time it didn't happen as Ohio State led for the entire second half, and by at least 10 points for long stretches.
Freshman Brice Sensabaugh led five Ohio State players in double figures with 27 points, while Kris Murray led three Iowa players in double figures with 22 points.
The Big Ten grind doesn't get any easier for Iowa with a road game at Michigan State up next on Thursday.
But after that will come three homes games in a row against Northwestern, Rutgers and Illinois.
The game against Northwestern was originally scheduled for this past Wednesday, but was postponed until Jan. 31 due to Covid-19 health issues within the Northwestern program.
Junior forward Patrick McCaffery traveled with the team to Columbus, but he didn't play in Saturday's game as he continues to address anxiety.
One bright spot for Iowa on Saturday was the play of junior point guard Ahron Ulis, who finished with 12 points and made all three of his free throw attempts.
"I thought that was good that he was attacking, but I don't think, and I'm not blaming this on him, we didn't play with any sense of intelligence today at all," Fran McCaffery said.
Senior center Filip Rebraca also scored in double figures for Iowa with 15 points, but he only had three rebounds, which is five below his per-game average.