By Susan Harman
IOWA CITY, Iowa – Iowa led Michigan State by three with five seconds left in overtime, and the Hawkeyes were about to inbound the ball in their offensive end. All they really had to do was get it inbounds to win the game.
All American guard Caitlin Clark was called for an intentional foul as players lined up to take or defend the inbounds pass. It could have been a killer because not only did MSU make two free throws to narrow Iowa's lead to one, the Spartans got the ball back by their basket with those five seconds left.
Fortunately for Iowa, MSU wasn't able to capitalize on the Hawkeyes' gaffe and Iowa won 84-81
Clark hasn't spoken publicly about the foul, but Iowa coach Lisa Bluder tried to lend some perspective and defend Clark, if not for the foul itself, but for its context.
"Caitlin is held; she is grabbed, pinched the whole game," Bluder said. "I don't know how Caitlin keeps her composure. I couldn't do it.
"They're in a situation where the official was right there, and there was a lot of jostling going on that he could have stopped it and straightened it out right there and he didn't. Emotions get hot in those situations. She (Clark) reacted, and I always tell her it's the second action that gets called. It's not the first action; it's the second action that gets called, and that's what's brutal about our game. That people have so much control over the outcome of our game."
Many fans would agree with Bluder that officials sometimes rule with tone-deaf whistles. But without Clark's take on what happened it's hard to pass judgment other than saying it should not have happened regardless of the provocation. Too much was at stake.
Bluder backed her talented, high-strung star.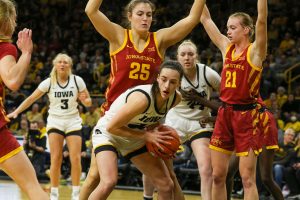 "I will defend Caitlin until the day I die," she said. "She puts up with so much on the floor, and I just can't believe that we let that happen to her. I just don't think that would happen to one of the best men's basketball players in the country. I don't. Unfortunately, she has to put up with a whole lot."
Bluder isn't concerned with run-of-the-mill trash talk. She's concerned about the basics of basketball, the freedom to move with or without the ball. It's the basis of the game's beauty and its allure. Clark is adept at moving without the ball and during dribble penetration either for her own shot or to feed an open teammate. Yet much of the time she is stymied by bumps and holds.
Of course, she is not the only player to be held, bumped or hacked and receive no compensation in the form of free throws. But she is one of the sport's headliners. Carver-Hawkeye Arena regularly draws 8-9,000 fans and, let's face it, Clark is a big reason. Bluder, we think, isn't saying no defender should breathe on Clark without being assessed a foul. She is saying that defenders have to be held accountable or we will lose that special sense of choreography that is good basketball.
Bluder was asked if Clark's flair for playing with her heart on her sleeve might contribute to the way plays are officiated.
"I do think Caitlin should get more calls. We should be protecting the best players in our game," Bluder said. "It happens in every realm whether it's the NBA, WNBA or men's basketball, and if officials are not calling things because (she rubs them the wrong way) then they should get a new job."
This issue comes up almost every season in women's basketball, which is the last bastion of a more pure game unadulterated by out-and-out physical play. Women can play the physical game; look at Ohio State. But is that where we want it to go? Are skills, smarts, finesse and precision outdated?
Regardless of that debate, Clark made a mistake, one that could have cost her and her teammates and coaches dearly. Presumably it's a lesson learned.