By Pat Harty
IOWA CITY, Iowa – One way to get Iowa fans talking, or arguing, is to share your Mount Rushmore for Hawkeye student-athletes.
I attempted to do that recently, but could only fill three of the four spots, and even that was difficult because there are just so many worthy candidates, including two that are carving their legend right now in Caitlin Clark and Spencer Lee.
These two generational talents are ascending to unprecedented heights with Clark a leading candidate for National Player of the Year in women's basketball as a dynamic scoring point guard, and Lee poised to become Iowa's first four-time national champion in wrestling as an unstoppable force at 125 pounds.
It seems very likely that Clark and Lee already have earned a spot on the Mount Rushmore of some Iowa fans, and a strong case could be made for both.
Should Lee go on to win a fourth national title he would be an easy choice to represent the Iowa wrestling team on Mount Rushmore, while Clark is barely past the midway point of her junior season, and yet, her spot on Mount Rushmore for women's basketball already seems well deserved, although, Megan Gustafson set a very high bar to reach.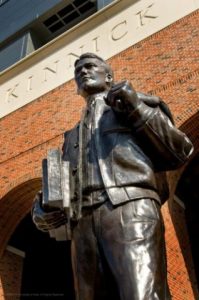 And that's saying something when you consider the long and distinguished list of star players that have represented both the Iowa wrestling team and the Iowa women's basketball team.
As for my Mount Rushmore, it starts with the great Nile Kinnick, as I'm assuming most Hawkeye Mount Rushmores would.
Kinnick is Iowa's only Heisman Trophy winner, an honor that was bestowed on him in 1939, and no Iowa football player has ever done more for a team than what Kinnick did for the 1939 squad that finished 6-1-1 overall.
In 1939, Iowa finished the year ranked ninth in the Associated Press poll. Kinnick threw for 638 yards and 11 touchdowns, and he ran for 374 yards. He was involved in 16 of the 19 touchdowns (11 passing, 5 rushing) that Iowa scored and was involved in 107 of the 130 points that Iowa scored that season. He also played 402 of a possible 420 minutes that season. All told, Kinnick set 14 school records, six of which still stand over 65 years later.
Kinnick would go on to serve his country during World War II, turning down a chance to attend law school or play pro football.
He was killed on June 2, 1943 during a training flight while serving as a United State navy aviator in World War II. Kinnick was inducted into the College Football Hall of Fame in 1951, and the University of Iowa renamed its football stadium Kinnick Stadium in his honor in 1972.
**********
The second spot on my Mount Rushmore is filled by the great point guard Ronnie Lester, who I'm still convinced would have led Iowa to the 1980 national title if he had been healthy.
But instead, Lester was hampered by a knee injury that stripped him of his explosiveness, and sadly, he never was the same after the injury.
He still helped Iowa make the NCAA Final Four in 1980 under Lute Olson, and then played seven seasons in the NBA on a bum knee.
Just think about that.
A strong case could certainly be made for Luka Garza or Keegan Murray to represent the Iowa men's basketball team on a Mount Rushmore.
But I've always held a special place for Ronnie Lester as my favorite Hawkeye of all time in any sport.
So, yes, I'm biased in this case.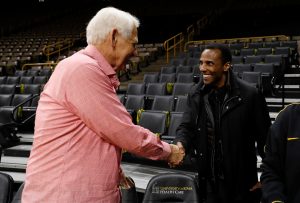 But every Mount Rushmore is built on some bias.
There is no right or wrong as it's just personal preference.
Lester is my pick because of what he meant to the 1980 team, and because that team seemed poised to win it all if he had just stayed healthy.
In the NCAA national semifinal against Louisville, Lester injured his knee 12 minutes into the game, after scoring 10 of Iowa's first 12 points on 4-for-4 shooting from the field and 2-for-2 from the line.
He never would play for the Hawkeyes again as Iowa fell to eventual NCAA champion Louisville, 80–72.
Lute Olson was asked later about Iowa's chances to win the NCAA Tournament had Lester not been injured.
"My feeling was yes, I feel we could have won," Olson said. "That was a fun team to coach."
Iowa had a 15–1 record with Lester fully in the lineup but was just 8–9 in his absence during the 1979-80 season.
Magic Johnson said Lester was the best player in college that he ever played against, and Magic's opinion certainly means a great deal in this case because Magic played against some of the best, including Larry Bird.
Before his injury, Lester was a human blur on the court as nobody went from baseline to baseline faster than him.
Lester was the glue, the heart and soul, and the best player on Iowa's last Final Four team, and arguably the best player in program history.
**********
My third pick is former strong safety Bob Sanders, and while some might question having two players from the same sport on a Mount Rushmore, there are no rules when filling your spots, and Sanders is just too influential and too dynamic to pass up.
He changed the culture and tempo of Iowa football under Kirk Ferentz like no other player, and it isn't even close.
Sanders was a ferocious tackler who terrorized his opponents by playing like a heat-seeking missile.
Some of his hits were so vicious and violent that you felt sorry for his opponent.
Sanders wasn't a dirty player, but he also played in a much different era than today where targeting is strictly enforced.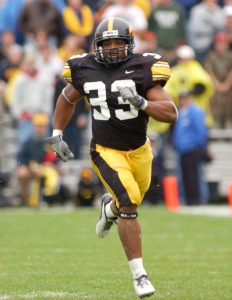 Iowa won three games in Sanders's freshman season in 2000, seven in his sophomore season in 2001, 11 in his junior season in 2002 and 10 as a senior in 2003.
Sanders served notice in his first game as a Hawkeye that he was special as he was a disruptive force on special teams against Kansas State in the 2000 season opener at Arrowhead Stadium in Kansas City.
It was hotter than the surface of the sun that day, but that didn't stop Sanders from sending a message that he was ready to lift Iowa back to respectability.
Of course, he didn't do it alone.
But Sanders, all 5-foot-8 of him, led the way to Iowa's resurgence under Kirk Ferentz, and he set a standard to which Iowa defensive backs now try to reach.
The Erie, Pennsylvania, native would go on to be named the NFL Defensive Player of the Year in 2007 as a member of the Indianapolis Colts, while also winning a Super Bowl with the Colts.
But it's what he accomplished as a Hawkeye that puts Bob Sanders on my Mount Rushmore.
**********
Now for the fourth spot where I could sure use some help.
Caitlin Clark and Spencer Lee, as previously mentioned, would certainly deserve consideration, along with the following short list in no particular order:
Chuck Long, football; Calvin Jones, football; Alex Karras, football; Duke Slater, football; Aubrey Devine, football; Larry Station, football; Luka Garza, men's basketball; Keegan Murray, men's basketball; Megan Gustafson, women's basketball; Tom Brands, wrestling; Ed Banach, wrestling; Joe Williams, wrestling; Jim Zalesky, wrestling; Lincoln McIlravy, wrestling; Barry Davis, wrestling; Kristy Gleason, field hockey…
See what I mean?
I could have kept listing worthy candidates because there are many more that would deserve consideration.
So, please share who you would pick for the fourth spot, or feel free to share your Mount Rushmore with me.
Some have mentioned Chris Street as being a worthy candidate, but sadly, Chris didn't have a chance to fulfill his promise and potential as he was killed in an automobile accident midway through his junior season in 1993.
Chris was on the verge of stardom as a 6-8 power forward when he was killed.
If you were to build a Mount Rushmore with the most popular and inspirational Hawkeye student-athletes, Chris Street would definitely be on it, along with football player Fred Becker, who was killed in World War I after having earned All-America honors at Iowa in 1916. Becker was the first Iowa student-athlete to earn All-America recognition.