By Pat Harty
IOWA CITY, Iowa – Carver-Hawkeye Arena gets criticized for having a stale and boring atmosphere, and some will say deservedly so, but it without question served its purpose against Rutgers on Sunday.
Fans were asked to wear white and many of them did, and that helped to create a hostile environment for the visiting team from New Jersey.
The Iowa players and coaches then did the rest as the Hawkeyes completed the season sweep against Rutgers with a 93-82 victory.
Iowa ended a two-game losing streak and improved to 13-8 overall and 5-5 in the Big Ten, while Rutgers fell to 14-7 and 6-4.
The 93 points is the most that Rutgers has allowed this season, and is nearly 36 points more than what opponents have averaged against Scarlet Knights.
Rutgers also committed 18 turnovers, including 13 in the first half.
"They played really well, and obviously, you can't turn the ball over 18 times against a team like this that can score like that," said Rutgers coach Steve Pikiell. "And they really had it going."
Iowa has another quick turnaround with a vastly improved Northwestern squad up next on Tuesday at Carver-Hawkeye Arena.
The game against Northwestern was originally scheduled for Jan. 18, but was postponed due to Covid-19 health concerns within the Northwestern program.
Iowa entered the Rutgers game on Sunday with just two days rest after having lost at Michigan State 63-61 this past Thursday.
But if the Iowa players were fatigued, they did a good job of overcoming it against one of the most physical and best defensive teams in the conference.
Rutgers had trimmed the deficit to 80-75 when Iowa junior guard Tony Perkins made two free throws with 1:51 remaining, pushing the lead to seven points,
Connor McCaffery then made a 3-point basket to give Iowa an 85-75 lead with less than two minutes remaining.
Rutgers wouldn't go away, but Iowa also refused to wilt as it had an answer for every Rutgers rally.
Iowa made 12-of-24 shots from 3-point range against Rutgers on Sunday after having just 3-of-17 threes in the loss at Michigan State this past Thursday.
Rutgers only made 6-of-15 attempts from three, giving Iowa an 18-point advantage from behind the arc.
Iowa also made 29-of-34 free throws, including 20-of-24 in the seccond half, while Rutgers only attempted 14 free throws and made 10.
So, between 3-point scoring and making free throws, Iowa had a 37-point advantage over Rutgers in Sunday's game.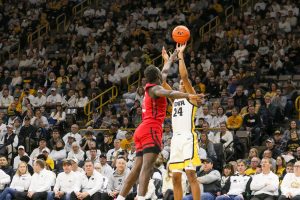 Junior forward Patrick McCaffery made a truiumphant return on Sunday after having missed the last six games due to struggles with anxiety as he scored nine points off the bench while making all three of his shots from 3-point range.
He received a loud ovation from the fans when he entered the game in the first half.
"It's been a pretty emotional couple of weeks," said Patrick McCaffery, who played slightly more than 13 minutes. "So, obviously going out there and getting the love from the Hawkeye fans was something that made me feel really great and made it feel like it was worth it to come back.
"It was good for me to come back and work through those things, and I'm really appreciative and grateful for the Hawkeye fans that come out today. And obviously that ovation meant a lot. It was a really emotional game and a really emotional day and an emotional couple of weeks."
Junior forward Kris Murray led Iowa with a game-high 24 points, while junior point guard Ahron Ulis continued his offensive surge with 16 points.
Ulis also made two free throws to give Iowa a 91-80 lead with 35.3 seconds remaining.
Iowa led 45-34 at halftime and then led for the entire second half against a Rutgers team that was only allowing 57 points per game.
The Scarlet Knights cut the deficit to one point with less than 10 minutes to play, but Iowa answered right back with a 10-2 scoring run.
Freshman guard Josh Dix made a 3-point basket to give Iowa a 75-67 lead with 6 minutes, 36 seconds left to play.
Senior guard Connor McCaffery was also open from three on that play, but he passed to Dix because he was even more wide open, and it paid dividends.
Senior forward Filip Rebraca was called for a technical foul with 5:18 left in the first half. That sent him to the bench for the rest of the half with two fouls.
Rutgers guard Cam Spencer then made both free throws to even the score at 27.
Iowa responded with an 18-7 scoring run to end the first half and led 45-35 at the break.
Kris Murray made a traditional 3-point play that gave Iowa a 43-34 lead with 39.6 seconds left in the first half.
Ulis then made a basket to expand the lead to 45-34, and he just missed making a 3-pointer right before the halftime buzzer as his attempt from the baseline bounced off the front of the rim.
Ulis and Murray both led Iowa with 12 points apiece in the first half, marking the third consecutive game in which Ulis has scored in double figures.
Iowa outscored Rutgers 24-6 from 3-point range in the first half, making 8-of-16 attempts from behind the arc, while Rutgers only made 2-of-5 shots from 3-point range in the first half.
Patrick McCaffery played eight minutes in the first half and received a loud ovation from the fans when he checked into the game. He made his first shot, which was a 3-pointer, and he also had a steal and a block in the first half.
Rebraca was hampered by foul problems throughout the game and only scored seven points before fouling out late in the second half.