By Pat Harty
IOWA CITY, Iowa – Patrick McCaffery isn't ready to speak in depth about his ongoing struggle with anxiety, but he made one thing abundantly clear after his triumphant return against Rutgers on Sunday.
He is so fortunate and grateful that he isn't in this fight alone.
In addition to the support that he has received from his own teammates and coaches, Iowa's 6-foot-9 junior forward also has the support from the entire Big Ten Conference, and that helped to get him back on the court.
"The support was unbelievable," Patrick McCaffery said after scoring nine points in 13 minutes of playing time in Sunday's 93-82 victory over Rutgers at Carver-Hawkeye Arena. "My phone, I'm still getting texts and calls from people checking in on me and making sure I'm okay. The support was almost overwhelming at times at the beginning of it.
"But it was so great knowing that there were so many people checking up on me. A bunch of guys from the Big Ten were reaching out, a bunch of players, the guys that we play against. Everybody would say something to me. I got to talk to a bunch of the coaches before the games."
Patrick McCaffery said the support he has received made him realize that stepping away from basketball was the right decision.
"The support really meant a lot and let me know that I was doing the right thing," Patrick McCaffery said. "Everybody gave me that confidence moving forward that I was doing the right thing for myself and what I needed to do.
"And most importantly, I was able to help myself and then come back and help the team."
Patrick McCaffery was asked after Sunday's game what he knows about his situation now compared to before he took an indefinite leave of absence.
"I think that's something I'll probably open up about a lot more after the season," he said. "Just kind of focus on basketball stuff right now. But I think some of the stuff I've learned, I've had I swear to God, 150 meetings the past how many ever weeks, just talking to so many people and listening to everybody's perspective and coming back on my terms and coming back when I felt ready and coming back when I wanted to. And then once I felt good mentally, then it's you've got to get ready physically and get my body right.
"But all that stuff, I think I'll really dig into it after the season. But just right now, I'm really focused on basketball and on what I can do to help this team win."
The Big Ten is known for being a physical conference in which there is very little mercy shown on the court.
Games can get rough and chippy at times.
But there is also a softer side to the conference that surfaced when Patrick McCaffery needed help.
The same players and coaches that he and his teammates battle against each week extended a helping hand, and that has been crucial to Patrick's recovery.
Patrick McCaffery singled out Michigan head coach Juwan Howard and Ohio State head coach Chris Holtmann for showing their support.
When Patrick went to the bench for the final time in Sunday's game, Patrick's father, Iowa head coach Fran McCaffery, gave him a fist pump as if it say, nice work son.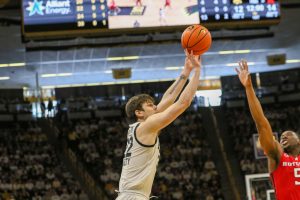 Patrick McCaffery made all three of his shots from 3-point range in Sunday's victory, and seeing the first one go in the basket brought the fans to their feet and made his father happy.
"It was awesome," Fran McCaffery said of seeing Patrick make his first shot. "I would say that I wasn't surprised because he practiced hard yesterday and shot it really well and played really well. He looked like himself.
"And I think the thing that was most impressive to me was that as soon as he got it he raised up and shot it. He didn't think about it. He didn't hesitate. He just pulled and did the same with the other two."
The fact that Patrick's older brother, Connor McCaffery, assisted on two of his three baskets from 3-point range made the moment even more special.
"It was obviously great," Patrick McCaffery said. "He's always looking for everyone. He's always trying to get everyone else involved."
Patrick McCaffery still has to improve his conditioning after having missed six consecutive games as he quickly realized in the first half.
"The legs are always the first thing to go when you sit a couple games," Patrick McCaffery said. So, those will come back soon enough. The wind usually comes back, too. But I was definitely feeling it there, especially in the first half. The second half felt a little bit better. But the first half, it was rough out there for a couple of minutes."
Rutgers coach Steve Pikiell began his post-game press conference with an opening statement in which he expressed his happiness about Patrick McCaffery's return.
The Rutgers players and coaches also gave Patrick McCaffery a letter expressing their support when the teams played in New Jersey earlier in the season.
"Patrick McCaffery, happy that he got back playing," Pikiell said. "You always want your players to be healthy and happy and they played really well."
Patrick McCaffery has dealt with more than his share of hardship and adversity as he also had a malignant tumor removed from his thyroid in 2014.
He had plenty of support from family, friends and the community during that scary situation, and it made a big difference.
That same thing is happening now, and it's heartwarming to see opponents and heated rivals show their softer side.
Welcome back, 2️⃣2️⃣. @patrickmccaff22 x #Hawkeyes pic.twitter.com/FNJBePbq9L

— Iowa Men's Basketball (@IowaHoops) January 29, 2023